NFL refuses to respond to Presidential criticism
Author

Section

Publish Date

Wednesday, 27 September 2017, 2:44PM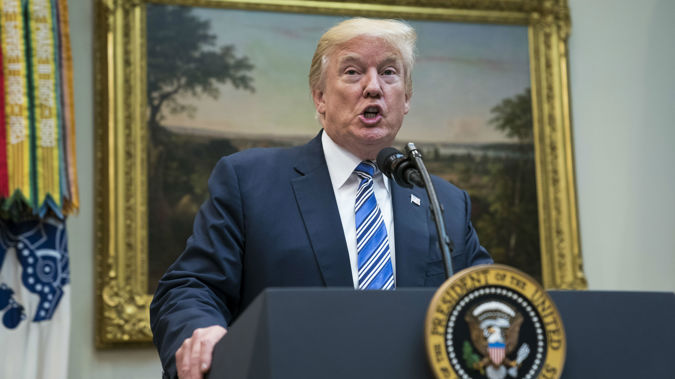 US President Donald Trump is keeping up his running commentary on the NFL.
On Tuesday he tweeted about the football league's TV ratings and suggested it bars players from kneeling during the national anthem.
The NFL, for its part, was not all that eager to continue the back-and-forth.
"He's exercising his freedom to speak," league spokesman Joe Lockhart said on a conference call with reporters, "and I'm exercising my freedom not to react."
Asked about the possibility of the NFL punishing players or league employees for actions during the pre-game anthems, Lockhart said: "I will leave the hypotheticals and the speculation to others. I'm not going to go down that road."
Trump brought up the topic for the fifth day in a row.
Last Friday he referred to an NFL player making a gesture during "The Star- Spangled Banner" as a "son of a bitch."
In response, more than 200 players knelt or sat on a bench or took other actions during the anthems at games Sunday.
On Monday night, Dallas Cowboys owner Jerry Jones -- a staunch supporter of Trump -- and his players knelt, arm-in-arm, before the anthem, then rose for the playing of the song ahead of the team's victory at the Arizona Cardinals.
Some spectators at Arizona's stadium booed while the Cowboys knelt, which Trump tweeted was the "loudest I have ever heard."
Trump also tweeted on Tuesday: "The NFL has all sorts of rules and regulations. The only way out for them is to set a rule that you can't kneel during our National Anthem!"
And this: "Ratings for NFL football are way down except before game starts, when people tune in to see whether or not our country will be disrespected!"
Tennessee Titans wide receiver Rishard Matthews, whose father is a retired Marine master sergeant and whose half-brother died in Afghanistan as a defence contractor, said he will kneel until Trump apologises.
"He was calling a lot of us, and I feel that he was calling myself, an S.O.B., and that's not OK and very disrespectful," Matthews told ESPN's NFL Live.
Former San Francisco 49ers quarterback Colin Kaepernick began kneeling during the anthem in the pre-season a year ago to make a statement about social inequality and police treatment of blacks in the United States.
Kaepernick currently does not have a job in the NFL; six players engaged in some form of protest during the anthem at games the week before Trump brought up the matter.
"Whatever you think about what has happened over the last four or five days, people are more aware of these issues than they were Friday at 9 o'clock," Lockhart said.
"It's our job at every level of the league to make sure that we use this for good."