Shooting in Las Vegas, reports of many dead
Author

Section

Publish Date

Monday, 2 October 2017, 7:21PM
UPDATED 12.17am: Las Vegas police say a lone gunman has been killed in a shooting at a country music festival that has left at least 50 people dead and over 200 others wounded.
Police previously tweeted he was "down" and authorities say they don't believe there are any more shooters on the loose. It's unclear how many people were involved in Sunday night's (Monday AEDT) attack.
At this time we do not believe there are any more shooters. More information to come shortly from @Sheriff_LVMPD.

— LVMPD (@LVMPD) October 2, 2017
Shots were reportedly fired at people attending a country music concert across the road from the hotel.
Thousands fled as bursts of gunfire could be heard for more than five minutes, a witness said.

A witness at the event said she heard multiple gunshots before fleeing, and said she "crawled over dead people" as she tried to get away.
One witness described seeing multiple bodies. "Everyone who I thought had passed on had articles of my clothing covering their eyes and bodies," said the man, who had few clothes on.
Local media reported a triage center was being set up at Las Vegas Boulevard and Tropicana Avenue.
University Medical Center spokeswoman Danita Cohen said the Las Vegas hospital is taking in "several" people with gunshot wounds. She didn't have any more immediate information.
Police are attempting to clear the area.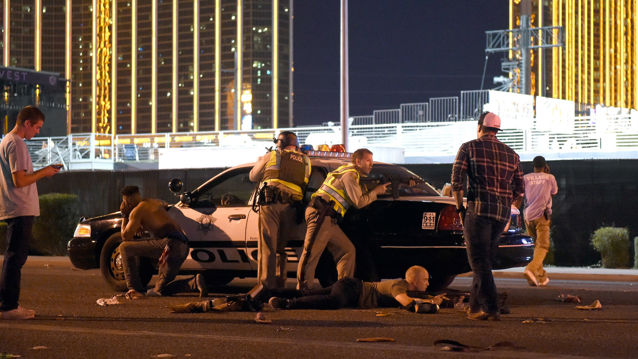 Las Vegas police stand guard along the streets outside the the Route 91 Harvest country music festival (Getty)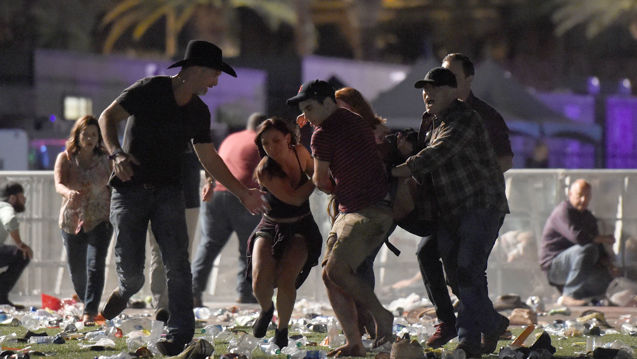 People carry a person at the Route 91 Harvest country music festival (Getty)
Videos posted to Twitter show concertgoers sheltering in places as gunshots rang out throughout the area.

University Medical Centre spokeswoman Danita Cohen said 26 people were admitted to the hospital and 14 were in a critical condition.

All had suffered gunshot wounds, she said.

Some officers took cover behind their vehicles while others carrying assault rifles ran into the hotel and casino.

One Twitter user posted that the hotel was in lockdown, while another, citing police scanners, said two gunmen who had shot at a bodyguard and police were on the 32nd floor, although there was no confirmation from police.

McCarran International Airport officials say all flights in and out have been temporarily halted.
Shooting in Las Vegas. People fleeing (video from the Mandalay Bay hotel) pic.twitter.com/hs98J5uK6T

— Eiki Hrafnsson (@EirikurH) October 2, 2017
There is gunfire coming from the 32nd floor at Mandalay Bay firing on police vehicles on Las Vegas Boulevard. Multiple people down.

— Stefinatrix (@Stefinatrix) October 2, 2017