'Crazed lunatic': Las Vegas gunman's 20 firearms
Author

Section

Publish Date

Tuesday, 3 October 2017, 6:59AM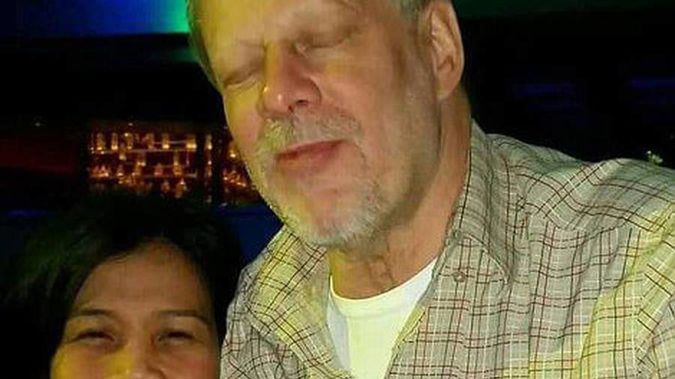 The man suspected of opening fire at concertgoers attending a country music festival in Las Vegas last night was a local resident with no prior criminal convictions in the state of Nevada.
Stephen Paddock, 64, lived just 90 minutes outside Las Vegas in the city of Mesquite, where he purchased a home in a retirement community for just over $369,000 in 2015 according to public records.
He was reportedly armed with 18-20 weapons including "AR-15-style and AK-47-style rifles" and opened fire from a hotel room on the 32nd floor.
READ MORE: Live: Vegas massacre: 58 dead, 515 hurt in worst US shooting
He lived there with his 62-year-old girlfriend Marilou Danley, the same woman police announced they were seeking to question on Sunday night as they began their investigation into the horrific terror attack.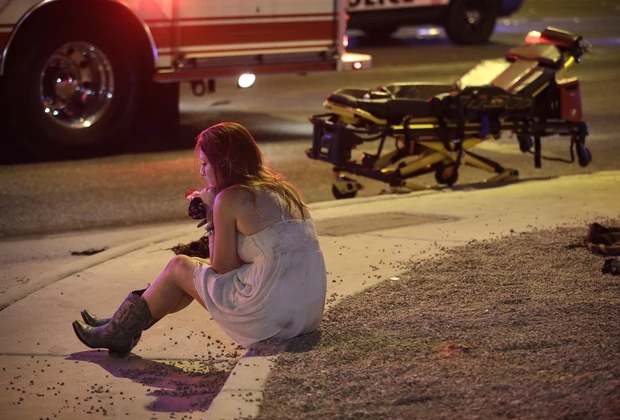 A woman sits on a curb at the scene of a shooting outside of a music festival along the Las Vegas Strip. (Photo / AP)
Paddock had both hunting and fishing licenses according to public records, as well as his pilot's license, but no criminal record in the state of Nevada.
He was retired but had worked for as an internal auditor at Lockheed Martin for three years in the late 1980s, and managed an apartment building complex in Mesquite, Texas.
READ MORE: Heartbreaking picture from Las Vegas shooting
Paddock was also the son of Benjamin Hoskins Paddock, a serial bank robber who ended up on the FBI Most Wanted list back in 1969 when he escaped from federal prison in Texas while serving a 20 years sentence.
The FBI kept him on the list for the next eight years, and he was eventually found one year after he was removed from the list in 1978 while outside an Oregon Bingo hall.
The agency said that the fugitive had been "diagnosed as psychopathic" and also had possible "suicidal tendencies".
Paddock had committed suicide by the time police breached the door to the room from which the gunman had opened fire at the Mandalay Bay Resort just after 10pm on Sunday night.
LISTEN: Kiwi describes panic as gunman fired into crowd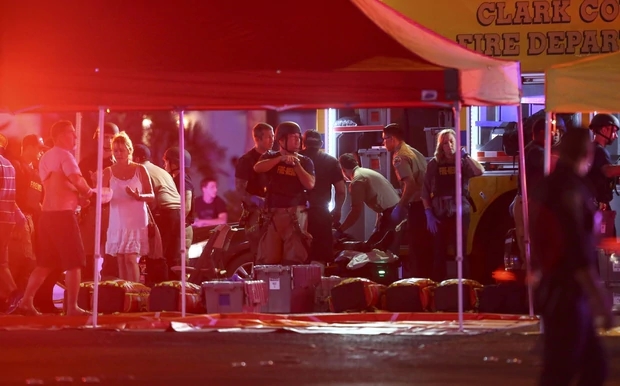 Medics treat the wounded as Las Vegas police respond during an active shooter situation on the Las Vegas Strip in Las Vegas. (Photo / AP)
It marked the end of what has now become the deadliest mass shooting in modern US history, which left at least 58 dead and 515 injured.
Gunman a high stakes poker player
Before he opened fire on Monday, killing at least 58 people at a country music festival on the Las Vegas Strip, gunman Stephen Paddock was living out his retirement as a high-stakes gambler in a quiet town outside Las Vegas.
Paddock, 64, would disappear for days at a time, frequenting casinos with his longtime girlfriend, neighbours said. Relatives also said Paddock had frequently visited Las Vegas to gamble and take in concerts.
WATCH: Las Vegas shooting 'I saw people plugging bullet holes with their fingers'
Eric Paddock said his brother often gambled in tens of thousands of dollars.
"My brother is not like you and me. He plays high-stakes video poker," he said. "He sends me a text that says he won $250,000 at the casino."
Eric Paddock said he showed the FBI three years of text messages from his brother and said he had no information whether Stephen Paddock had gambling debts or was financially troubled.
"I have absolutely no information he lost a bunch of money. The casino would know that," he said.
Eric Paddock said his brother previously worked as an accountant but also had real estate investments, including houses and apartments around Orlando. He said Stephen Paddock had no kids and plenty of money to play with.
Eric Paddock said he did not know of any mental illness, alcohol or drug problems in his brother's life.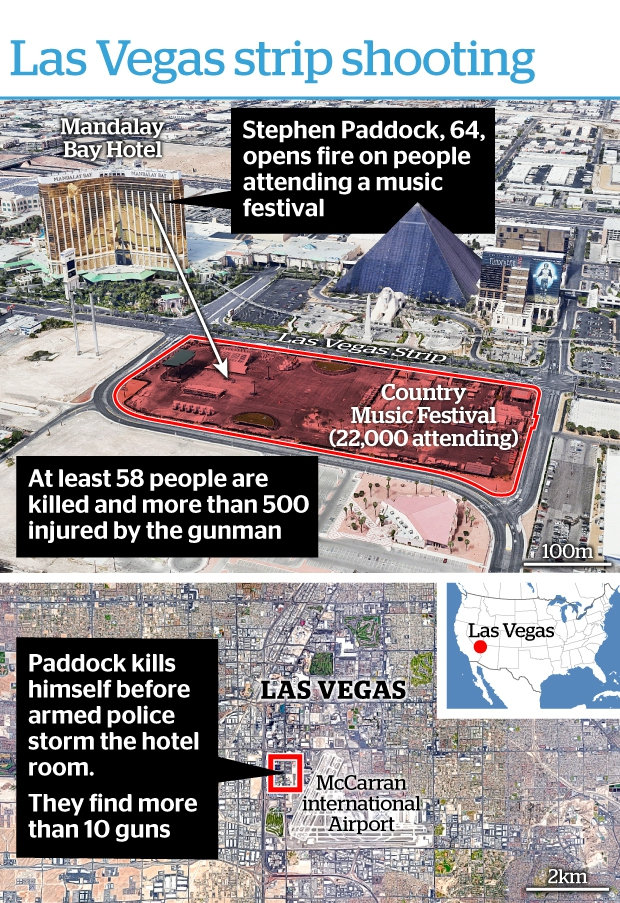 'We are dumbfounded': Gunman's brother
Eric Paddock said his brother was a normal guy who must have "snapped" before carrying out the worst mass shooting in American history.
Eric Paddock said that "something happened" to make his brother Stephen kill 58 and injure 515.
Eric said that there was "absolutely no indication he could do something like this" and said that Stephen had no political or religious affiliation.
He said: "He was just a guy. Something happened, he snapped or something".
Speaking from his home in Orlando, Florida, Eric said: "We know absolutely nothing, this is just, we are dumbfounded.
"We have absolutely no idea. Our condolences go to the victims and all their families."
Eric said that he and Stephen, 64, lived on different coasts - Stephen's last address was in Mesquite, Nevada - and that they did not speak that often.
He added that his brother had 'no political affiliation, no religious affiliation, as far as we know'.
ISIS has claimed responsibility for the shooting, but are as yet to offer any proof.
Shooter had up to 20 weapons
The attack played out as Jason Aldean performed on stage to close out the third and final day of the Route 91 Harvest Music Festival, which was taking place across the street from the resort.
Over 20,000 people were in attendance at the event, and described the attack as 'nonstop gunfire,' which only stopped when the gunman went to reload his weapon.
It is not yet known what weapon or weapons the gunman used in the attack.
Police said in a press conference early Monday that they discovered in 'excess of 10 rifles' in the room, and that Paddock's death was the result of a self-inflicted gunshot wound.
However The Wall St Journal later reported the Vegas gunman had 18-20 weapons in hotel room, including "AR-15-style and AK-47-style rifles".
He is believed to have acted alone at this time, despite early reports that stated there may have been multiple shooters on the scene.
Images of the Mandalay Bay Resort taken after the attack show two large windows on the 32nd floor of the building completely blown out.
Paddock had been staying there since last Thursday, arriving on September 28 to the hotel.
His Mesquite home was searched by officials early today, who closed off a large perimeter around the Nevada property to keep the public and media at bay.
Authorities said that Danley is not believed to have been an accomplice in the attack after locating her outside the country.
Paddock used Danley's ID when he checked himself into the hotel according to a source with knowledge of the investigation, despite the fact that she was not with him during his stay.
Police were also on the lookout for two motor vehicles in the wake of the attack which they have also since located.
Paddock and Danley live in a upscale community that includes an 18-hole golf course, indoor and outdoor swimming pools and a recreation center with gym.
Residents must be over the age of 55 and no children are allowed to live in the development of over 1000 homes.
In addition to his pricey Nevada property, Paddock was also the owner of two planes, and according to the FAA records was certified as a private pilot back in 2003.
His address on that 2003 certification is listed as Mesquite, Texas, where he lived for in a $200,000 home for 12 years from 1998 to 2010.
Records do not show him owning or living at any home however between 2010 and 2012, when he moved to Reno after two decades in Texas.
Isis claims responsibility, police not convinced
Police have not said at this time whether or not Paddock had ties to any domestic or foreign terror groups, but he is not believe to have any connections per multiple sources including his brother.
ISIS meanwhile claimed responsibility for the attack early Monday, saying the gunman was a recent convert to Islam.
That claims was quickly discredited by multiple officials, who stated that there is no evidence to support that allegation.
In an interview on Monday morning, Eric Paddock spoke about how shocked he was to learn that his brother was the suspected gunman.
Eric said that his brother was "not an avid gunman" and "has no military background" while speaking with CBSN, adding that he had no idea how he might have been able to obtain automatic weapons.
"He had a couple of guns but they were all handgun, legal...he might have had one long gun, but he had them in a safe," explained Eric.
Eric stated later in that same interview: "His life is an open book. It's all in public record. Once again, there is nothing. He went to college. He had a job."
He also said that his brother had "no religious affiliation, no political affiliation," adding: "He just hung out."
Danley meanwhile was a nice woman who baked cookies for her mother-in-law said Eric, who conducted the interview outside his Florida home.
READ MORE: Las Vegas shooting: Gunman killed after firing on music festival
Eric did admit that he and his brother do not speak often on account of the fact that they live on opposite coasts, but did share a recent text he received from his brother, asking how their 90-year-old mother was holding up in the wake of Hurricane Irma.
He closed out the interview by saying of his brother: "He's just a guy who lived in Mesquite who liked burritos."
During that interview Eric also made mention of the fact that his brother would often go to Las Vegas to gamble, and that Danley worked in one of the hotels as a hostess.
In an interview with Florida Today, two former neighbours of Paddock also spoke about his gambling, saying he would stay up all night with Danley placing bets.
"He seemed normal, other than that he lived by gambling. He was very open about that," revealed Sharon Judy.
"First time we ever met him, he handed us the key to the house and said, 'Hey, would keep an eye on the house, we're only going to be here every now and then'."
Judy lived next door to Paddock in Melbourne, Florida, where he and Danley had a home from 2013 through 2015 that they only visited a handful of times according to their neighbour.
That home was located at Heritage Isle in Viera, another retirement community that only admitted residents over the age of 55.
Paddock bought his Mesquite, Nevada home at around the same time that he sold the Florida property.
Three years prior he filed a lawsuit against Cosmopolitan Hotels & Resorts following an incident that occurred at their Las Vegas casino.
Paddock spent two years in court fighting his case after submitting his initial complaint citing "Negligence - Premises Liability".
It was ultimately dismissed in late 2014 with prejudice, though exact details of the case were not available on the Clark County Courts website.