Las Vegas gunman Stephen Paddock 'a multi-millionaire'
Author

Section

Publish Date

Tuesday, 3 October 2017, 12:07PM
Las Vegas gunman Stephen Paddock - the man behind the worst mass shooting in modern US history - was a multi-millionaire real estate investor, his brother says.
Stephen Paddock, 64, was identified by police as the gunman who killed at least 58 people after opening fire from the 32nd floor of a Las Vegas hotel.
The owner of the gun shop where Paddock bought his cache of weapons says he never gave any indication he might have been unstable.
The Nevada native targeted concert-goers at the Route 91 Harvest Festival on the Las Vegas Strip on Monday night (NZ time).
Records show Paddock lived in a two-bedroom house in the tiny desert community of Mesquite, 80 miles northeast of Las Vegas, close to Nevada's border with Arizona.
Eric Paddock told reporters his brother was a multi-millionaire who made much of his fortune by investing in real estate.
He added that his brother was also an accountant for many years, but he was not aware of any recent financial difficulties he may have had.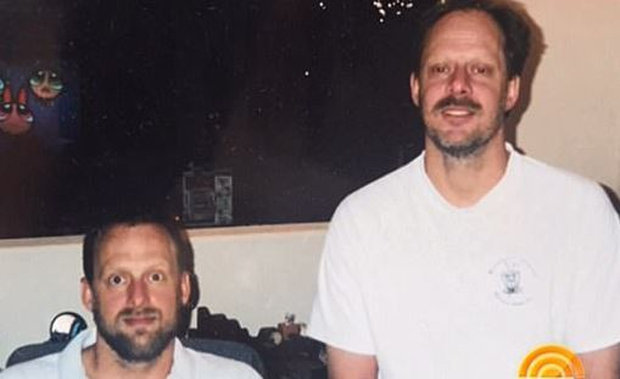 Eric Paddock, left, with his brother Stephen.
Stephen Paddock, 64, lived just 90 minutes outside Las Vegas in the city of Mesquite, where he bought a home in an upscale retirement community for just over $369,000 in 2015 according to public records.
He checked into the Mandalay last Thursday. He was reportedly armed with 18-20 weapons, including "AR-15-style and AK-47-style rifles" when he opened fire from a hotel room on the 32nd floor of the Mandalay Bay Resort, killing 59 and injuring at least 500.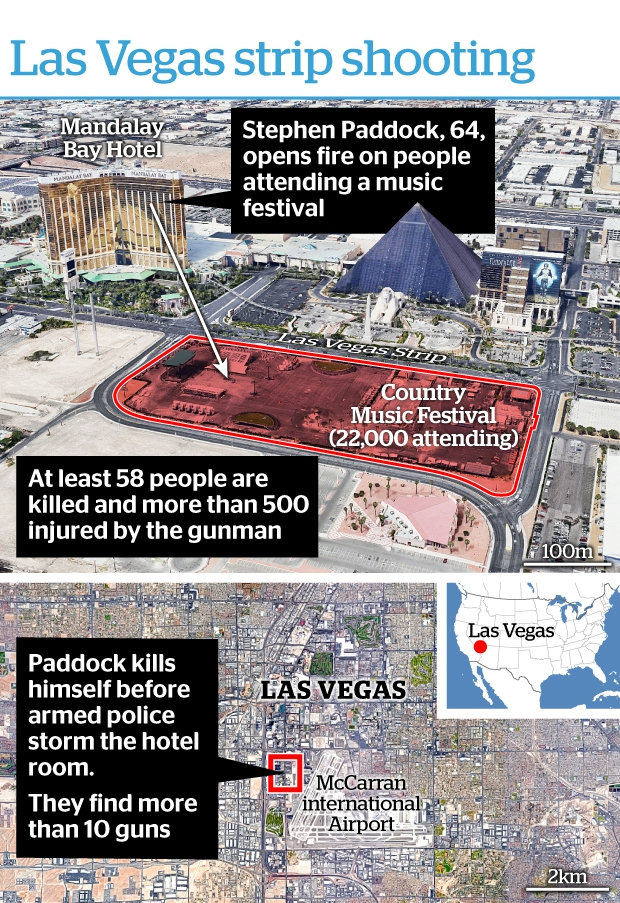 Meanwhile, the owner of a gun shop in Mesquite, Nevada, says the Las Vegas shooter bought firearms there and never gave any indication he might have been unstable.
Guns & Guitars general manager Christopher Sullivan said that Stephen Craig Paddock, 64, showed no signs of being unfit to buy guns.
Store spokesman Shawn Vincent declined comment on how many guns Paddock bought and said those details could only be shared with authorities.
Sullivan said all necessary background checks and procedures were followed and he was co-operating fully with law enforcement.
Paddock lived in a house in a retirement community in Mesquite. A Utah gun store owner has said Paddock visited his shop about a 40-minute drive from Mesquite and bought a shotgun.
Paddock lived with his 62-year-old Australian partner Marilou Danley, whom police announced they wanted to question on Sunday night as they began their investigation into the horrific attack. She has since been found outside the country and is no longer considered a suspect.
Paddock was the son of Benjamin Hoskins Paddock, a serial bank robber who ended up on the FBI Most Wanted list in 1969 when he escaped from federal prison in Texas while serving a 20-year sentence.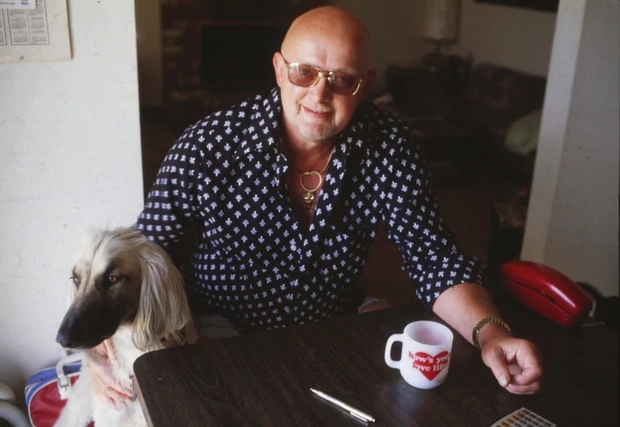 This 1979 photo shows Benjamin Hoskins Paddock, the father of Stephen Paddock. (Photo / AP)
The FBI kept him on the list for the next eight years, and eventually found him one year after he was removed from the list in 1978 outside an Oregon Bingo hall.
The agency said that the fugitive had been "diagnosed as psychopathic" and also had possible "suicidal tendencies".
Before he opened fire on Monday at a country music festival on the Las Vegas Strip, Paddock was living out his retirement as a high-stakes gambler in a quiet town outside Las Vegas.
Paddock, 64, would disappear for days at a time, frequenting casinos with his longtime partner, neighbours said. Relatives also said Paddock had frequently visited Las Vegas to gamble and take in concerts.
Eric Paddock aid his brother often gambled in tens of thousands of dollars.
"My brother is not like you and me. He plays high-stakes video poker," he said. "He sends me a text that says he won $250,000 at the casino."
Eric Paddock said he showed the FBI three years of text messages from his brother and said he had no information whether Stephen Paddock had gambling debts or was financially troubled.
"I have absolutely no information he lost a bunch of money. The casino would know that," he said.