'She has will and clarity': English pens Theresa May profile for Time magazine
Author

Section

Publish Date

Friday, 21 April 2017, 1:09PM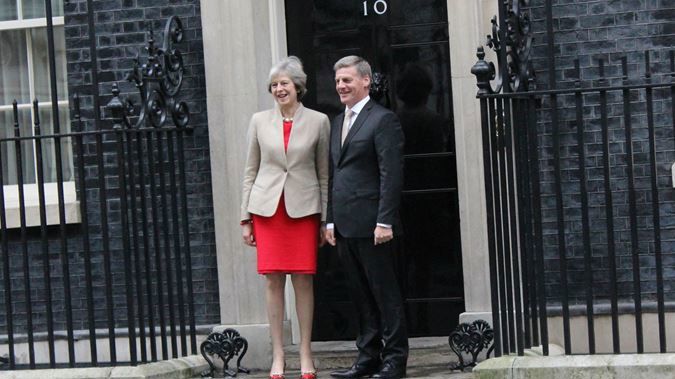 Prime Minister Bill English has written glowingly about his UK counterpart Theresa May for Time's annual 100 Most Influential People issue.
Time approached English's office asking if he would write about May for the issue, and he was happy to oblige, having met her for the first time during a visit to the UK in January.
"I learned quickly why she emerged from the Brexit aftermath as leader: she has will and she has clarity. In charting the UK's renewed relationship with Europe and the rest of the world, she has met the deepest demand of leadership: to provide direction and reassurance in a time of upheaval and confusion," English wrote.
"She is the right person to guide the democratic will of Britain through the complexity of separating the UK from the European Union. And in the midst of this highly charged process she can talk with warmth about her concerns for the disenfranchised and disadvantaged, and listen and learn.
"With gracious determination but without ego, this is remaking a nation. From the other end of the world, it looks like she will succeed."
English's submission was made before May called for a snap election on June 8 - less than a year after Britain voted to leave the EU. May took office in July after a Conservative Party leadership race following former British Prime Minister David Cameron's resignation.
.@Lin_Manuel on Riz Ahmed: "To know him is to be inspired, engaged and ready to create alongside him" #TIME100 https://t.co/RwGqsF24qi pic.twitter.com/BkWc14UBzP

— TIME (@TIME) April 20, 2017
English and May met at 10 Downing Street in January and spent 90 minutes talking over a lunch. They emerged with warm words about the long relationship between the two countries.
While Britain can't enter any free trade agreements until it has left the EU - something that will take at least two years - both leaders made it clear New Zealand would be among the first.
However, asked if she had any intention of improving access for New Zealanders after presiding over a tightening of the rules in the past few years, May was unapologetic.
She said most visa applications from New Zealanders were approved and schemes like the two-year visas under the Youth Mobility Scheme gave opportunities to live in the UK. At the time, English described May as "engaging".
"She listens carefully, a very determined woman and a clear thinker. I was left with the impression these are the kind of qualities you need, the UK needs, to get through what is going to be a complex process."