English raised Muslim ban concerns in Trump call
Author

Section

Publish Date

Monday, 6 February 2017, 12:17PM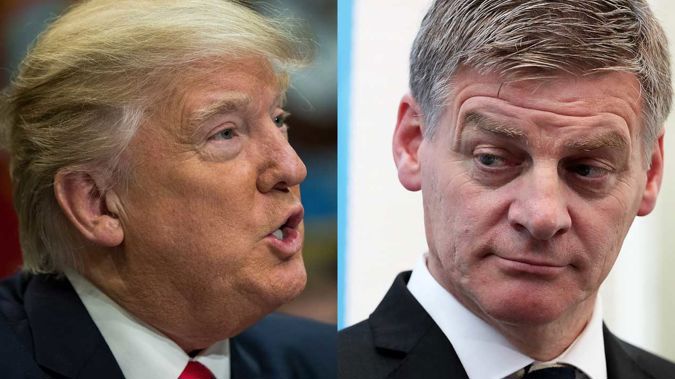 UPDATED 6.02PM: Prime Minister Bill English raised his concerns about the recent Executive Order barring travel by those from seven Muslim countries in his first call with US President Donald Trump this morning.
READ MORE: Trumps's appeal to restore Muslim ban struck down
The prime minister spoke with the US president for about 15 minutes, while he was travelling between Waitangi Day events in Auckland.
He says he had a positive talk about New Zealand's trade, security and defence relationship with the United States.
The prime minister said he also voiced his opposition to the president's recent executive order barring travel from seven Muslim countries.
"I just said to him what iv' e said publicly; that we don't agree with the policy, it's not something we'd put in place, [but I also] noted that the accommodation had been made for New Zealand dual -passport holders."
Mr English said Mr Trump respects New Zealand's position but won't be changing his.
A spokesperson for the PM also said that the "Prime Minister English thanked the President for the US support during the Kaikoura earthquake."
Spoke with @POTUS @realDonaldTrump about the economy, trade, defence and immigration. I also thanked him for US support for Kaikoura. pic.twitter.com/ZZFpnnsYFF

— Bill English (@pmbillenglish) February 5, 2017
The Prime Minister said there was discussion about trade, but not climate change.
"He (Trump) just outlined his trade agenda."
They also discussed security matters, English said.
English said "at the top" of Trump's agenda appeared to be security and the safety of US citizens.
English described the US president's mood as "friendly, warm and thoughtful."
Trump used positive language and said he thought New Zealand was a fantastic place.
Prior to the call, English had said he would raise the travel ban the Trump executive order had imposed on nationals from seven countries, and the suspension of refugee processing. That order has currently been suspended by the courts in the US.
English expected the call to be "civil" despite the reports of a fractious phone call between Australia's Prime Minister Malcolm Turnbull and Trump.
That was over the deal struck between the Australian Government and the Obama administration for the US to take about 1200 refugees from Manus Island and Nauru.
The details of that call emerged a few days after it took place.
The White House is expected to put up a 'readout' summarising the call later. In its summary of Trump's 'second week of action' it says the aim of the calls are to "promote an America First foreign policy."
English is about the 15th leader Trump has spoken to since his inauguration. Former Prime Minister John Key had a brief conversation with him after the US elections. He has spoken to leaders from Israel, Russia, Germany, Mexico, India, Japan, France, Saudi Arabia, United Arab Emirates, Korea, Jordan, China, Britain and Australia.