Tonga welcomes 'Jacinta Ardern'
Author

Section

Publish Date

Wednesday, 7 March 2018, 12:15PM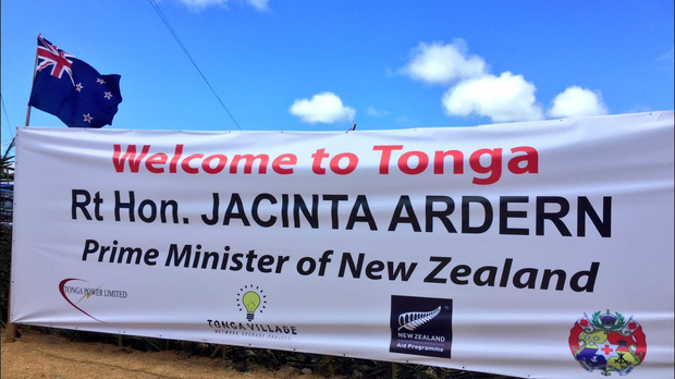 Tonga is giving a warm welcome to "Jacinta" Ardern, the latest bungle of the Prime Minister's name.
In giant type on an enormous banner, the spelling error was hard to miss.
"Welcome to Tonga Rt. Hon Jacinta Ardern Prime Minister of New Zealand", it read.
Ardern and her delegation are making several stops in the Pacific, departing Niue for Tonga yesterday afternoon.
She has also visited Samoa and is to stop by the Cook Islands.
Welcome to Tonga, Jacinta! pic.twitter.com/DHtYlctj1Q

— Gia Garrick (@giaisonline) March 6, 2018
The gaffe has overshadowed the announcement that New Zealand is to give Tonga $10 million to help the Pacific island nation recover from Tropical Cyclone Gita.
The aid package will help Tonga restore its electricity network and continue schooling for children, Prime Minister Jacinda Ardern says.
She made the announcement on Wednesday at Fasi Government Primary School, where Gita has flooded classrooms and destroyed most of the reading materials.
"Nineteen primary schools and 10 secondary schools suffered major damage during Cyclone Gita and we want to ensure Tongan school children do not suffer further disruption to their education," she said.
Earlier, the prime minister and her delegation were welcomed with roaring cheers from students, a large banner with Ms Ardern's face hanging from the front gate.
Tonga was the worst struck as tropical cyclone Gita tore through the Pacific in February, leaving as much as 80 per cent of the kingdom's homes without electricity, flattening its parliament building and damaging 40 per cent of houses in the capital.
New Zealand had already committed more than $2 million in relief aid for the Pacific after Gita and, earlier in the week, Mr Ardern announced an additional $3m for nearby Samoa's recovery.
- additional reporting, NZN