Lightning storm lights up SkyTower
Author

Section

Publish Date

Sunday, 13 August 2017, 7:45PM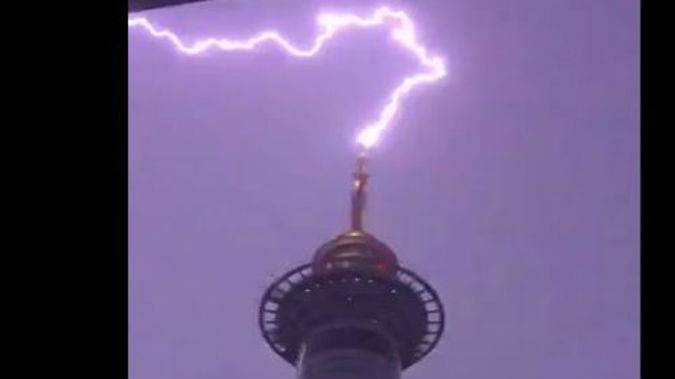 Dramatic lightning strikes on Sky Tower in central Auckland are lighting up social media.

A thunder storm in Auckland arrived as predicted on Sunday evening, bringing heavy rain and lightning.

Fire and Emergency NZ said it had some calls during the storm but most were false alarms.

One person tweeted they heard a cracking sound every time lightning hit Sky Tower and there were at least six hits.

The tower owner, SkyCity, tweeted one person's video of a lightning strike at the top of the tower.

There were at least 100 lightning strikes in the Auckland region, according to MetService.
KABAM! @SKYCITYAkl #Auckland ⚡️ pic.twitter.com/3kySly3km3

— Glenn McConnell (@GlennMcCNZ) August 13, 2017
Massive storm right over Auckland. Caught this video of Sky Tower getting struck by lightning ⚡️⚡️⚡️@SKYCITYAkl pic.twitter.com/5cKJnfBSwx

— Nick (@nickbassett1981) August 13, 2017
caught the lightning 😍 #Auckland pic.twitter.com/7ryEOFYYAl

— 🦄liaoverhere🦄 (@iliaminati_) August 13, 2017
I waited 3 years to get this shot. pic.twitter.com/TtCS2hHvv9

— Chef Dan Dan (@Dan_Nation) August 13, 2017
Heavy rain is making its way across western parts of the country tonight prompting the MetService to issue a severe weather warning.
It says heavy rain and thunderstorms can be expected in Wairarapa, Kapiti Horowhenua, Tararua, Westland and Buller.
Fifty to seventy millimetres of rain could accumulate in a seven hour period in the Tararua Range.
People in the area, especially trampers, are advised to look out for rapidly rising rivers and streams and localised flooding and slips.