Stars pay tribute to music legend Chuck Berry
Author

Section

Publish Date

Sunday, 19 March 2017, 11:25AM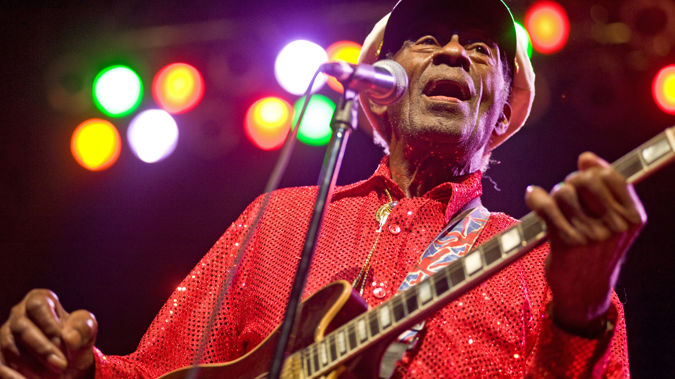 UPDATED 3.58PM: Rock 'n' roll musicians influenced by Chuck Berry have paid tribute to the guitarist who has died aged 90.

Former Beatles drummer Ringo Starr tweeted a photograph of the US rock pioneer captioned: "Just let me hear some of that rock 'n' roll music any old way you use it I am playing I'm talking about you. God bless Chuck Berry Chuck."

He was joined on social media in tribute to the writer of hit songs including Johnny B Goode and Memphis, Tennessee, by Bruce Springsteen who tweeted: "Chuck Berry was rock's greatest practitioner, guitarist, and the greatest pure rock 'n' roll writer who ever lived.

"This is a tremendous loss of a giant for the ages."

Brian Wilson of The Beach Boys said on Twitter: "I am so sad to hear about Chuck Berry passing - a big inspiration! He will be missed by everyone who loves Rock 'n Roll. Love & Mercy."

The Rolling Stones, who said they were "deeply saddened" by his death.

They said: "Chuck was not only a brilliant guitarist, singer and performer, but most importantly, he was a master craftsman as a songwriter.

"His songs will live forever."

Mick Jagger also tweeted: "I am so sad to hear of Chuck Berry's passing. I want to thank him for all the inspirational music he gave to us.

"He lit up our teenage years, and blew life into our dreams of being musicians and performers.
"His lyrics shone above others & threw a strange light on the American dream. Chuck you were amazing & your music is engraved inside us forever."

Another British veteran rocker Rod Stewart said: "It started with Chuck Berry. The 1st album I ever bought was Chuck's 'Live at the Tivoli' and I was never the same. He was more than a legend, he was a founding father. You can hear his influence in every rock & roll band from my generation on. I've been performing his 'Sweet Little Rock & Roller' since 1974 and tonight, when my band and I perform it at Caesars Palace's Colosseum, it'll be for Chuck Berry - your sound lives on."

Guns N' Roses guitarist Slash said he was "heartbroken" by the news, and that Berry was "undisputedly the king."

Singer-songwriter Huey Lewis said Berry was "maybe the most important figure in all of rock and roll".

"His music and his influence will last forever."

Australian country star Keith Urban wrote: "RIP Chuck Berry!!!! Thank you for the poetry, the passion and the potency! GO JOHNNY GO."

Joan Jett said in a statement: "Hail hail rock n roll. I'm glad I had a chance to know, love, and work w Chuck Berry during my life and career. Original Pure Rock n Roll."

Lennie Kravitz echoed Jett's tribute, via Twitter: "Hail Hail Chuck Berry!!! None of us would have been here without you. Rock on brother!"

"RIP Chuck Berry !!!! Thank you for the poetry, the passion and the potency! GO JOHNNY GO. - KU" - tweeted Australian country star Keith Urban.

Author Stephen King said: "Chuck Berry died. This breaks my heart, but 90 years old ain't bad for rock and roll. Johnny B. Goode forever."

With songs like Maybellene, Roll Over Beethoven and Johnny B. Goode in the late 1950s, Berry helped lay the foundation for modern rock and was a major influence on scores of bands.

Berry was still touring as recently as 2014 and his website heralds his first new album in 38 years, which reportedly includes new material, as coming "soon".

He leaves behind wife Toddy and four children.