Mother and daughter escape unscathed from slip that destroyed part of home
Author

Section

Publish Date

Saturday, 2 September 2017, 1:32PM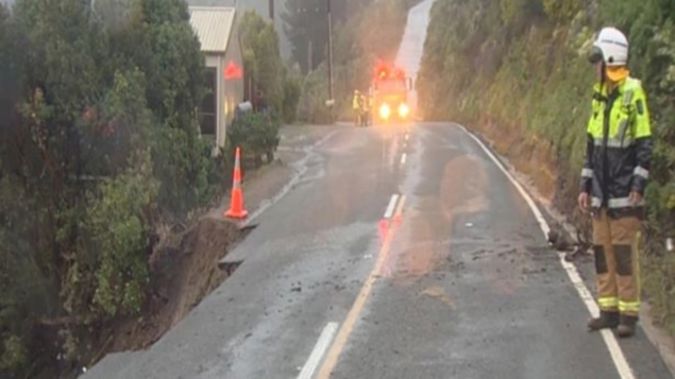 A mother and daughter have miraculously escaped unharmed after a slip pushed a garage on to their home, destroying one end of the house and knocking it off its foundation.
But the two women were shaken after the 6am event at Charteris Bay on Banks Peninsula, telling rescuers the rumbling noise from the slip, which pushed the garage down the hillside onto the roof of the house, "seemed to go on forever".
Diamond Harbour Volunteer Fire Brigade deputy chief fire officer Barry Craw said the kitchen and dining end of the house on Marine Dr was "unrecognisable".
"Of course the whole house was shaking and shuddering and they just said it seemed to go for a long time," Craw said.
"There's significant damage to that end of the house. It's pushed it off its foundations."
He said the double garage built on to long poles and previously at road level, collapsed onto the roof of the house when the slip uprooted a chunk of the roadside and sent it crashing down the steep terrain.
To make matters worse the women were renting the house because their own neighbouring property was undergoing repairs for earthquake damage.
The women have been taken in by a neighbour after firefighters were able to retrieve some of their belongings.
Fortunately both of the women's cars were not damaged in the slip and have also been retrieved.
Craw said the area of hillside, which overlooks Church Bay and is dotted with holiday homes, was prone to slips but he had never seen one cause damage to a house before.
"We lose half the road sometimes but not damage to a house like this."
The slip was estimated to be 15 metres wide and came after heavy rain last night.
The road remained closed while linesmen worked to secure the power pole that was left "hanging in the breeze and held up by 11,000 volt wires", Craw said.
He expected a one-way lane would be opened at 3pm today.
In the meantime Bay View Rd was being used as a detour.
The damaged house was between James Dr and Black Rock Rd.
Engineers have been assessing the damaged road but emergency services had now vacated the scene.
Craw expected it would take several weeks to repair the road with retaining walls because of the extensive drop-off the side of it.
A resident who had lived in the area seven years said she had not seen a slip like it before.