Staff told that Dunedin Cadbury factory will close
Author

Section

Publish Date

Thursday, 16 February 2017, 11:02AM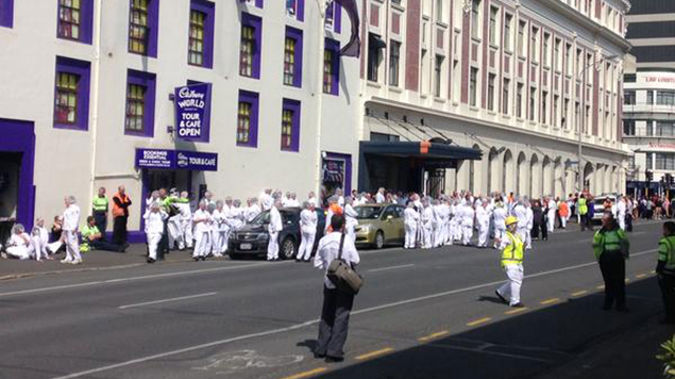 UPDATED 12.36pm The Cadbury factory's owners have told staff they want to close the factory down.
Hundreds of workers have been gathering at the iconic factory in Dunedin, which been making Cadbury products for more than 80 years.
Mondelez International said it's a very difficult announcement because of the factory's proud history.
It said there have been issues affecting local production, and they are operating in an increasingly competitive market. It said the business has been absorbing costs from the factory for a number of years.
If the closure goes through, the first round of redundancies would take place late this year with just 100 staff staying on until the closure in early 2018.
Production will be moved to the company's Australian factories.
The E tu union said workers are reeling and in shock. It said the announcement is devastating and has come out of the blue, with Mondelez previously saying it was doing well.
The union said the factory is the city's fourth biggest employer.
Local MPs are also devastated by the news.
Dunedin North MP David Clark said the loss of 362 jobs is shattering for the people working there and for the city.
He said those that work there have been so proud to work at what is an iconic Dunedin institution.
Dunedin South MP Clare Curran said closures like this affect whole communities, and this is certain to have a huge impact across the city.
Both Labour MPs are calling on the Government to make sure those who've lost their jobs, will have job training and transition opportunities into secure, well-paid work.
The proposed closure throws into doubt the future of the annual Jaffa race, which sees thousands of the round sweets race down Dunedin's Baldwin St, which claims to be the steepest street in the world.

The event has been going for 15 years and raises money for charity. Last year an estimated 15,000 people crammed into Baldwin St for the race. Some 75,000 Cadbury Jaffas were rolled down the 19-degree gradient track.
The 2.8g balls go as fast as 100kmh (or 28m a second) on the street, which drops from 100m above sea level to just 10m over its 350m length.
There are usually three races, with 25,000 of the chocolate-filled red sweets in each race.
Though the company says it's ready to keep investing into the popular tourism attraction Cadbury World.
A final decision on redeveloping that will be made in April.