Gates briefly loses world's wealthiest title
Author

Section

Publish Date

Friday, 28 July 2017, 10:12AM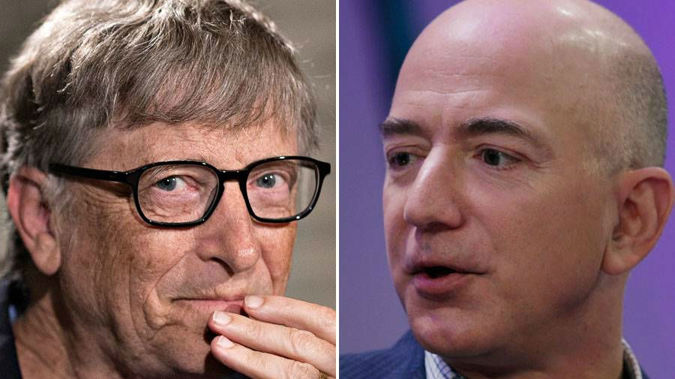 Amazon.com founder Jeffrey P. Bezos briefly became the richest person in the world, displacing Microsoft founder Bill Gates.
Bezos' rise to No. 1 followed a surge in Amazon.com shares ahead of the online retailer's earnings report due out today. The company's shares have been on a tear over the past year, passing the US$1000 ($1335) mark and hitting $1082 about noon on Thursday (US time), propelling Bezos, 53, to $90.6 billion compared with Gates' $90.1b. Gates, 61, who built his fortune through Microsoft, has long been among the world's richest and had held the top spot since May 2013. Bezos also owns the Washington Post.
However, Amazon shares gave up much of the gain, and Gates reclaimed the top spot on Forbes Magazine's real-time measure of the fortunes of the world's wealthiest people.
Amazon.com's market cap, which is the total value of all its shares, also broke the $500b mark recently, joining other exclusive members of the $500b-plus club such as Alphabet, Microsoft and Apple.
Amazon, which is often referred to as the "Everything Store", has built on its online retail empire and pushed more heavily into groceries and apparel in recent quarters. Investors and analysts will watch its earnings report for signs of success on those fronts.
A cornerstone of its success is its Prime membership programme, in which shoppers pay $99 a year for unlimited two-day shipping on many purchases. Amazon does not disclose its number of Prime shoppers, but analysts estimate it is about 50 million. In February, Bezos said that "tens of millions of new paid members" had joined Prime in the past year.
Amazon's surprise announcement in June that it would buy Whole Foods, the purveyor of organics and healthy fare, for $13.7b is already rattling the grocery sector, and competitors' share prices dropped on the news.
Amazon's move to buy Whole Foods has raised the spectre of antitrust issues. The United Food and Commercial Workers International Union has filed a complaint with the Federal Trade Commission arguing that the deal would trigger store closings, job losses and eventually wipe out competition and customer choice.
Amazon Web Services, its cloud-computing unit with large government contracts, also accounts for a sizable portion of its profits.
The vast majority of Bezos's wealth is comprised of his Amazon.com shares. He owns just shy of 17 per cent of the company. He also owns space rocket company Blue Origin.
"Mae West said, 'Too much of a good thing can be wonderful'," said Michael Farr, who runs a Washington investment firm. "We presume Mr Bezos agrees. The power and value of technology can't be overestimated. We believe Mr Bezos will continue to set records."