Fletcher could take massive multi-million dollar hit
Author

Section

Publish Date

Monday, 20 March 2017, 11:04AM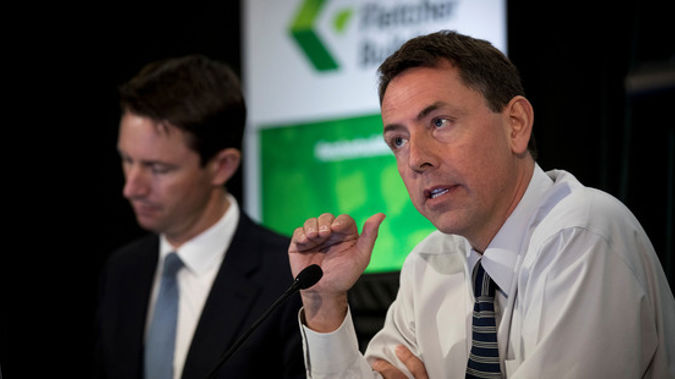 NZX giant Fletcher Building has forecast a huge bottom-line earnings hit of up to $150 million after construction division losses expected in its current financial year.

Fletcher Building, dual-listed on the Australian stock exchange, has just issued an update on earnings guidance for the June 31 financial year.
"The company now expects operating earnings before interest, tax and significant items (EBIT) to be between $610m to $650m for the year ending 30 June 2017.
"This compares with the previous EBIT guidance range of $720m to $760m. The revised guidance is due to the identification of additional estimated losses and downside risk in the buildings and interiors (B+I) business unit of the construction division.
"A thorough review of the B+I business and projects began in late calendar year 2016 and led to new management and governance processes.
"A significant loss was recorded for B+I in the half-year results based on the best estimate available at the time. However, management has now identified an increase in the estimated loss on the major construction project which was referenced at the time of the announcement of the H1 17 results, and the identification of downside risk on other B+I projects, with the majority being a provision for expected losses on one other major project.
Chief executive Mark Adamson said: "All other business units within the construction division have continued their strong trading performance."
Fletcher went into a trading halt just after the market opened on Friday, saying it was a review of the financial performance of its construction division and the impact on earnings guidance previously provided to the market.
Mark Lister, head of private wealth research at Craigs Investment Partners, warned about the announcement.
"It doesn't sound good. It's a little bit unusual to go into a trading halt just because you're putting out an update. I'm not sure why they've been forced into that for a whole day just to provide an update, but my read would be we'll see a downgrade to their earnings forecast for the full year," Lister said.
Fletcher said on Friday: "Removal of the halt is pending completion of a review of the financial performance of the construction division and its impact on earnings guidance previously provided to the market."
An announcement regarding earnings guidance for the 2017 financial year was made before the NZ and Australian exchanges opened today. The trading halt was lifted at 8.30am.
In late February, Fletcher announced its half-year result to December 31, 2016 and at a media briefing after the interim result was released, chief executive Mark Adamson referred to "losses on one large construction project" saying large projects were those worth $150m or more.
Adamson would not expand on a one-off construction job loss, estimated by one analyst to be $30m.
"We won't, we can't, we never will," he said of the refusal to name the project which cost the giant listed entity such a large sum that it hit the construction unit's performance.
However, no more money would be written off on the build, he said.
"If on Day One, you think you are going to lose money, you have to book it straight away," he said. Asked if it was $30m, he replied: "It's commercially confidential. It's a detailed programme management issue."
Kar Yue Yeo of First NZ Capital estimated losses of about $30m on that one project alone.
Fletcher won contracts to build the two largest New Zealand construction projects: Precinct Property's $850m 39-level Commercial Bay waterfront office/shopping tower and SkyCity Entertainment Group's $700m NZ International Convention Centre in Auckland.