Mike Yardley: Winter's embrace in Tassie
Author

Section

Publish Date

Thursday, 20 April 2017, 4:57PM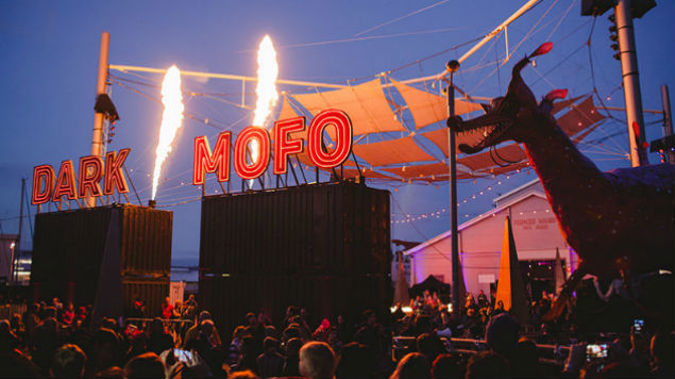 You can feel winter's early bite in the air, already. As the mercury continues to tumble, you can try and ignore it or escape from it, or as they so in Tasmania, just surrender to its embrace.  Yes, Australia's southernmost state has a power-packed calendar of winter festivities, so if you're angling for a winter break with a difference this year, why not head to Tassie? From Dark Mofo and Steampunk, to the Chocolate Festival and Tasmanian Whisky Week, there's a kind of winter revelry for every persuasion.  Here's a sneak peek.
Dark Mofo 8-21 June.  Promising new wonders and new horror, Mona's winter festival, Dark Mofo brings centuries-old winter solstice rituals to life across small, intimate exhibitions, performances and large public gatherings like the dockside Dark Mofo Winter Feast. There are so many incredible acts, it's hard to say who's headlining. But don' miss UK artist Chris Levine's large scale laser work the iy_project 136.1 Hz, which will emit pure lightwaves spanning beyond greater Hobart. And don't forget there's a nude swim in the Derwent to really see who's committed to renewing themselves this solstice. www.darkmofo.net.au
Bay of Fires Winter Arts Festival 9-12 June.  Follow the winding trail of arts and music along the pristine East Coast to celebrate the Bay of Fires Winter Arts Festival. The festival opening ceremony kicks off in fiery fashion and includes the $20,000 Bay of Fires Art Prize and exhibition, Sunday's Arts Market, the Open Studio Trail and open gardens and the official Australasian Barbecue Alliance Championship Competition. www.bayoffireswinterartsfestival.com.au
Steampunk Tasmania 24 June. So what is Steampunk you ask? Well, it's an eccentric marriage of retro futurism and Victorian-era heritage, with mechanisation, invention, art, literature and photography. Make sense? It's ok if it doesn't, it's a hell of a day regardless. Enthusiasts take this sci-fi subculture pretty seriously and the costumes are proof of that. Steampunk Tasmania is a playful day of music, exhibitions, displays and workshops across Georgetown, an historic town with a strong European maritime history. www.steampunktasmania.com.au
Great Chefs Series July and August.  Imagine a world class chef on the pans, cooking with exquisitely fresh Tasmanian produce, alongside the state's best emerging talent. This winter, TasTAFE Drysdale continues their groundbreaking Great Chefs Series in Launceston and Hobart. The lineup is practically a who's who of the chef world, with names like Dominique Crenn, Jacques Reymond and Christian Puglisi wowing diners so far. www.greatchefsseries.com.au
Winter on the Farm, 12 July.  We think winter is for getting outside in your gumboots, beanies and jackets, then getting inside to defrost by the fire, consuming copious amounts of slow cooked, nourishing comfort food with a tipple of wine on the side (Tasmanian of course). At Winter on the Farm, do exactly that with a tour of Fat Pig Farm, just south of Hobart, with Gourmet Farmer Matthew Evans, meet the pigs and harvest the produce for a late lunch. www.fatpig.farm
Huon Valley Mid-Winter Fest 14-16 July. Sing to the apple trees they said. The Huon Valley Mid-Winter Fest celebrates the region's apple picking heritage and shares the ye olde worlde tradition of wassailing - a method of scaring any bad vibes and nasties from the orchard's cider trees, ensuring a bumper crop. Besides lots of banging and yelping, there are costumes (think dark, pagan-inspired numbers, donning greenery, feathers, fur and leather), the Friday Night Feast of fireside rustic food, local tunes and hand crafted cider to welcome the Burning Man, the Big Wassail on Saturday evening and the family fun day on Sunday. www.huonvalleymidwinterfest.com.au
Indulgent Winter Weekend of Tasmanian Pinot Noir and Truffles, 28-30 July. If there's a food match that defines winter in Tasmania it's Pinot Noir and truffles. Hosted by acclaimed Stillwater Restaurant in Launceston, it's like an adult 'choose your own adventure' weekend. Piece together your itinerary from events such as the tasting of 40 top Tasmanian Pinot Noirs alongside their makers, under the master palate of Pinot Shop owner Michele Round, the Truffled Egg breakfast at Stillwater or the six course feast, laden with Tasmanian truffles. ​www.stillwater.com.au
Devonport Jazz Festival, 27-30 July. Devonport transforms into a sultry jazz club as leading Tasmanian and interstate jazz musicians take the stage for the Devonport Jazz Festival. They don't do things by the book here, adding to a diverse programme of traditional, contemporary, swing, Latin or even be-bop jazz,  fantastic food, visual art, dance and film program, join local music fans for this much-loved festival. This year's headline acts are The Idea of North and Monica Trapaga, as well as Django's Tiger, Annia Baron and Tucker, Ottaway & Watkins. www.devonportjazz.com
Tasmanian Whisky Week 4-13 August. Tasmania is hot stuff in the whisky world right now, with internationally significant awards under its belt. Over ten warming days, Tasmanian distilleries, bars, barns, stables, restaurants and hotels will host behind-the-scenes tours, meet-and-greets with local distillers, unreleased whiskies on tasting and dinner events showcasing the golden drop. If anything is going to warm your cockles in Tasmania this winter, it should be fine, fine whisky. www.taswhiskyweek.com
Chocolate Winterfest, 13 August.  Hot chocolate and winter are inextricably linked, and we know where to find a good one. In the pretty town of Latrobe on Tasmania's North West Coast, the indulgent Chocolate Winterfest celebrates the pleasure of chocolate in all its forms, including hot! Home of Anvers Chocolate (if you haven't tried their chocolate truffles, you haven't lived), Latrobe opens its doors to pay homage to the ancient 'food of the gods' - with tastings, workshops and exhibits to enjoy. www.chocolatewinterfest.com.au
For full details on the winter festivals, visit www.discovertasmania.com.au
Mike Yardley is our Travel Correspondent on Jack Tame Saturday Mornings.