Mike Yardley: Out West in Buller
Author

Section

Publish Date

Tuesday, 29 August 2017, 2:30PM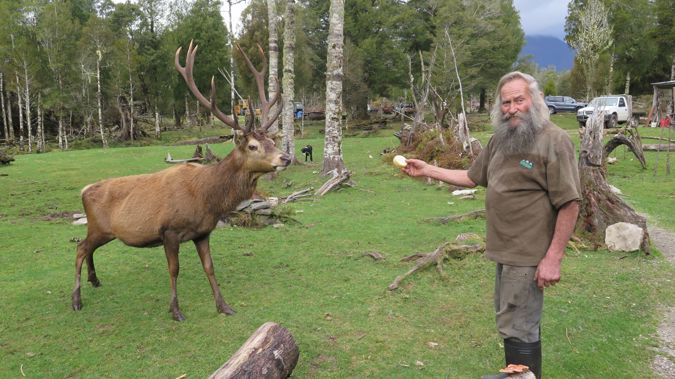 Occupying the northern end of the South Island's West Coast, how well do you know the Buller region? If you're keen to tap deep into the heart and soul of Buller, you won't find a more impressive local tour operator than Out West Tours. They run a variety of off road tours in superbly reconditioned Unimogs, to the likes of the Denniston Plateau, Warren Stratford's astonishing John Deere Museum and deep into the heartland. Owned and operated by Mickey and Doreen Ryan, they've been sharing the riches of the Buller region for 16 years. 
Their passionate command of local history and the natural environment is vast, compellingly imparted with superb story-telling finesse. And those Unimogs boast the benefit of elevated seating, for superior wraparound views.  Their newest offering is a 6 hour tour, called Johnny's Journey, mixing an assortment of coastal gems with the wilderness. Mickey Ryan is the quintessential nuggety Coaster, who regaled me with an unfurling spool of vivid stories and unvarnished insights, in disarmingly honest fashion.
Heading out from Westport, we talked about the region's recent gut-punches, ranging from the downturn in coal mining to the recent closure of the Holcim Cement plant. Mickey wryly remarked that despite 84% of the West Coast being locked up in the Crown estate, DOC don't pay one dollar in rates to the local councils. And as much as tourism is opening up economic opportunities, the region certainly can't survive on the visitor industry alone.
By Virgin Flat Road, he pointed out a local eccentric living in his house-bus who is busy building a circular stone castle, ringed by a moat. We admired lancewood trees growing on the roadside, which as Mickey explained, evolved so that their leaves were protected against the roaming moa.  I also became acquainted with the 'bushman's friend', the Rangiora plant - the leaf can be used as writing paper. Many early explorers did exactly that.
We popped into Charleston, named after Charley Bonner, which during the 1860s gold rush, groaned with 80 hotels, quenching the thirst of the hordes of gold-diggers labouring along the Nile River. New Zealand's first toll bridge was erected across the river by Constant Bay, just one gem in a necklace of stunning little bays off the tourist trail. A paddle steamer formerly plied the river and Constant Bay was once used as a harbour, with ships squeezing through a narrow gap between the bay's rocky headlands.
Todd Heller has a gorgeous holiday home, overlooking Constant Bay. "There's clearly money in sausages," remarked Mickey. I marvelled over the quaint old harbour master's house at Joyce Bay, and collected smooth quartz stones, like readymade jewellery, from the shoreline of Ladies Bay. Then we headed inland into Madmans Valley, where Mickey led me to the most dramatic limestone cliff gushing with a water spout, which has been nicknamed Cowpiddle Bluff. It's very self-explanatory.
Mickey recently built a magnificent flight of wooden steps to reach this striking formation. Heading even deeper into the heartland, we forded some streams and headed over a saddle into the gob-smacking bucolic splendour of Awakari Valley, a sprawling rainforest valley neighbouring Paparoa National Park.  The panoramic ridgeline lookout is mouth-watering, like casting your eyes over a frozen-in-time lost world. It's the world's biggest privately owned rimu forest, under the purview of a true living West Coast legend, Johnny Currie.
He's 76, as fit as a buck rat with the mind of a steel trap, and a bit like a cross between the Wizard of Christchurch and Barry Crump. He's done it all. Farming, logging, deerstalking, mining, caving and tour guiding. He's the bushman's bushman. And the 1800 hectares of this valley is his realm. An immense Garden of Eden, four and half times the size of Hagley Park. Previously owned by Hardie & Thomson, the Christchurch timber company, they sold it to Johnny in 1980, for $26,000. Johnny's family connection with the Awakari Valley, reaches back more than a century to the settler years.
As a child, Johnny would hunt wild goats with a dog and a flick knife. By the 1960s, he was leading bush gangs logging rimu. But since the 80s, Johnny has lived here, in a 50 year old bush hut not dissimilar to what his forebears sheltered in, when surveying the bush for its timber and minerals, a century ago. His son, Curtis, still lives in the valley in a separate hut. Some years ago DOC offered him over a million dollars for the valley, but he told him they were dreaming.  It's the sort of place you'd hate to see fall into foreign hands.
Before descending into the base of the valley, Mickey pin-pointed some of the scores of wild red deer, free-roaming across the terrain.  They originate from Scotland, introduced to New Zealand in the 1920s. 30 years ago, Johnny prohibited deer hunting from the valley, dedicating his kingdom of regenerating native forest and tinkling gin-clear streams as a wild deer reserve. It's another unique aspect of the valley, where you can ogle these beautiful creatures nonchalantly grazing on the river flat and frequently duelling for leadership rights.
Another startling discovery is that Johnny lives completely off the grid. It's absolutely back to basics. No power. No running water, although though the pristine Awakari River runs right outside his tin hut. I chatted to Johnny alongside his cracking wood fireplace, about his poacher-turned-game-keeper conversion from clear-felling logger to forest protector, the surprises kept coming. I was taken on stroll through radiant green valley glades, to admire an ancient Maori cave bordering the river.
The cave was used by moa hunters, centuries ago, where they set up camp for their food gathering. Moa bones were found in the area's caves and given its deep history, Johnny gifted his cave to DOC, to safeguard it in perpetuity. But there was still one more huge revelation to come. Did you know that there are Pancake Rocks beyond the feted formations at Punakaiki? I certainly didn't. Johnny's got a towering chain of Pancake Rock formations, rising up from the valley bed. He's cleaned a lot of them, so they shimmer like vast ivory-coloured stacks of limestone.
The only way you can access the Awakari Valley, meet Johnny and marvel over his bewitching paradise is with Out West Tours. They are the sole operator and Mickey's team are gearing up for their first summer sharing the Awakari with the world. It's an irresistibly unique celebration of Kiwi heritage and culture, swathed in paradise. Sampling Johnny's world is like savouring spectacular, larger-than-life version of Country Calendar in 3D. It's an incomparable encounter. www.outwest.co.nz
After a day of riveting heartland discovery, I was lulled to sleep by the rhythm of the ocean's at Omau Settlers Lodge Motel, Cape Foulwind. Swathed in lush, manicured grounds, all rooms at this tranquil coastal roost boast a private balcony with stirring ocean or mountain views.  Accentuate the blissfulness of the surrounds by enjoying a soak in the outdoor hot tub, or relax by the fireplace in the shared lounge area.
You'll enjoy free WiFi and a complimentary continental breakfast with homemade breads, preserves and jams, cereal and fresh fruit. Accommodations are well appointed with en-suite bathrooms, quality New Zealand timber furnishings, flat-screen TV and cloud-comfortable beds. It's just a short walk to Cape Foulwind lighthouse, the sublime Omau Cliffs and the characterful Star Tavern is right across the road. Karen and Lee are delightful hosts who'll ensure your stay is a memorable one. www.omausettlerslodge.com
For more regional touring tips in this sublime pocket of New Zealand, head to www.westcoast.co.nz
Mike Yardley is our Travel Correspondent on Jack Tame Saturday Mornings.