Mike Yardley: Fiordland foray with the Hollyford Track
Author

Section

Publish Date

Friday, 21 July 2017, 4:06PM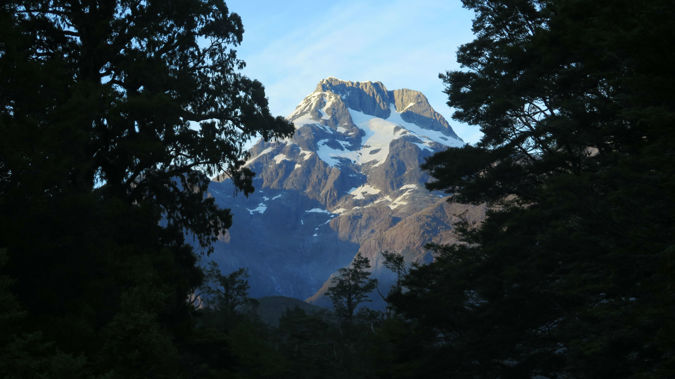 Fiordland's ancient and untamed natural realm rocks my socks off on every visit. Whether it's a day trip to Milford Sound, or a boat ride across the Manapouri to access Doubtful Sound, every foray leaves me tingling in awe at nature's unbridled grandeur. 
Earlier this year I took my abiding love-affair with Fiordland to the next level, by undertaking a three day guided walk on the Hollyford Track. As a wide-eyed virgin to multi-day trekking, I plumped for agruelling of assignments, joining Ngai Tahu Tourism's 3 Day Guided Wilderness Experience on the Hollyford Track. It is the only major low altitude track in Fiordland National Park.
Well-appointed private lodges with twin share rooms, piping hot showers, flush toilets, first-rate cuisine, jet boats and chopper rides, which were just some of the all-inclusive indulgences, to soften any qualms about physical discomfort. It's a very pampered pathway from the mountains to the sea! My sister and I joined our nine fellow guests, from the US, Britain, Russia and Australia, as we departed Queenstown at first light, on our scenic coach transfer down to Te Anau and into the Eglinton Valley, to the start of the track in the Hollyford Valley.
Our lead guide for the three-day hike was Justin, who had a pitch-perfect resume for guiding in the Hollyford. Sporting a mountain-man beard, the gregarious 30 year old exuded an instantly agreeable easy-going, free-spirited Kiwi demeanour. Originating from Nelson, he'd served several years in the army, before guiding in Patagonia and the Scottish Highlands. He was like a walking, talking wilderness Wikipedia, with a trusting, first-hand sense of authority, knowledge and reverence for this wild and woolly pocket of New Zealand - exactly the kind of person you'd want to be with, if you got lost in the mountains.
Trundling along the Milford Highway to the start of the track, we passed Mirror Lakes which Justin dubbed "over-sized puddles." As many a traveller can testify, these lakes are inundated with sand flies, where the average unwitting tourist is eaten alive within two minutes. Throughout my journey in the Hollyford, I marinated myself in insect repellent, while wearing long sleeved tops and leggings at all times, is recommended for good reason. Justin referred to a Maori theory that God didn't want the beauty of Fiordland sullied by too many people, so the sandflies were deployed to safeguard to the region from over-development.
Turning off the main highway onto Lower Hollyford Road, we grabbed a group shot in front of the track entrance by Humboldt Creek, before embarking on what would be our longest day of the walk, clocking up 19.5km, with the packs on our backs. (The only day we'd actually have to endure such first-world hiking strain.) Despite Fiordland's notoriety for inclement alpine weather, where the rainfall is counted in metres, the weather gods were on their best behaviour as the sun was blazing and the mercury was nudging 25C. 
What a thrill to be able to quench your thirst by regularly re-filling your bottle from the gin-clear water, running freely in unmolested streams, rivers and waterfalls all through the valley.
Beneath the exalted gaze of the serrated Southern Alps, our first day's assignment followed the crisp, swift blue-green waters of the Hollyford River, on a gently undulating track through native beech forest, along the valley at the base of the steep and dark-forested slopes of the Darren Mountains. Refuge from that beaming sun soon unfurled as we walked in dappled light under the cooling shade of the vast canopy of beech and ferns. The pace was leisurely and frequently punctuated by illuminating breathers, as Justin brought to life the fascinating history, geology, botany and ecology of the Hollyford.
I learnt about onga onga, the most powerful stinging nettle in the world, which you certainly wouldn't want to fall into. The sap in its root is the antidote to its toxin. Then there is toot, another neurotoxin. One stone in a toot berry will kill you. On the flipside, Justin pointed out koromiko to us, a trusty plant remedy to tackle stomach ulcers, dysentery and water-borne illnesses.  During World War I, koromiko was sent to our troops in Europe and used as tea.
I was enchanted by the tree ferns - the male tree ferns have nuts in their fronds. They're hard, hairy and hungry. How apt. The female trees have a skirt, which you can sleep on, to avoid getting hypothermia if you're lost in the bush. Top tip! Then there's the green-hooded orchid that traps insects like a venus fly-trap to ensure they gather pollen. Clever plant. Sections of ribbonwood and podocarp forest, liberally draped in mosses, ferns and lichens, added great variety and texture to the dominance of the silver beech, before the relatively flat track served up a short climb over Little Homer Saddle.
With an elevation of 182 metres, it was entirely manageable, after which we took in the gushing cascades of Little Homer Falls ahead of the day's triumphant finish line of Pyke Lodge.  As the lodge shuffled into view, a frisson of ecstasy rippled through my body, as lodge hosts, Jesse and Skye, warmly greeted us on the lawn with an inviting tray of thirst-quenchers.  There a few sensations quite as joyful as removing your tramping boots after a long day's toil. If you could bottle that sensation – you'd be an overnight billionaire.
After settling in to our private rooms and savouring a steaming hot shower, we retired to the lodge lounge, to be showered again, with an evening of pampered hospitality and fabulous cuisine. I gazed out the window at the dreamy view of Mt. Madeleine, tinged in pink, as the lowering sun spangled her peak. Justin had a playful nocturnal encounter lined up for willing night owls.
We followed Justin by torchlight to the banks of the Hollyford River, where a voracious feeding frenzy fast ensued, as he fed the native eels the leftovers from the evening's venison. They're possibly the best fed eels in New Zealand, growing 3 metres long – and some are 70 years old! A writhing, slippery mass-assembly of river life to resemble Hollyford's version of jelly-wrestling. This frenetic riverside exposition brought the curtain down on a cracking day.
The Hollyford Track is a three day easy-paced walk, across 43km, from the mountains to the sea. The walk is suitable for all ages – it's particularly popular with 40-70 year olds. This is 'glamping', or glamorous tramping so you carry little and are well catered to. Expert guides, top-rate cuisine, comfortable lodges with private bedrooms, transport from Queenstown or Te Anau, day packs and rain jackets are all included. Hikers carry a light pack with clothing and lunch on their first day and thereafter an even lighter day pack. The guided walk departs every second day from mid-October to late April.
Mike Yardley is our Travel Correspondent on Jack Tame Saturday Mornings.