Mike Yardley: Club Med Bali
Author

Section

Publish Date

Saturday, 19 August 2017, 3:18PM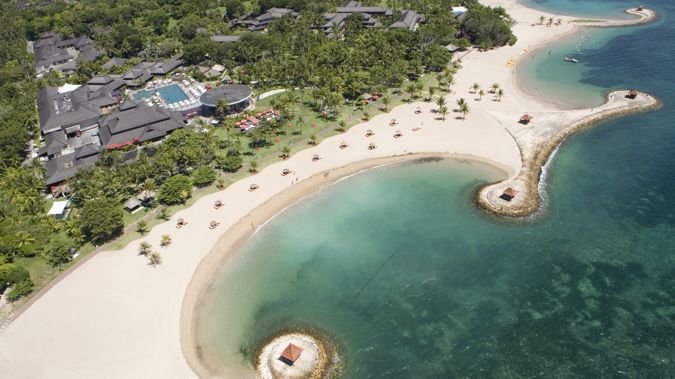 Whether you're honeymooning, enjoying a family holiday or travelling solo, Club Med Bali sure knows how to deliver a fuss-free vacation.  The brand pioneered the all-inclusive resort holiday and Bali was my first foray with Club Med. The experience struck me as a cross between the feel-good fizziness of Disneyland and the indulgence of a cruise ship. It was a veritable haven of fun, adventure, luxury and relaxation. 
There are numerous Club Med customs, including the notion that the resort is a village, the manager is the chief, the staff are known as "GOs" (Gentle Officers) and the guests are "GMs." (Gentle Members) The GOs wear different coloured shirts each day to make them easy to identify and you'll thoroughly enjoying engaging with them, throughout the resort.
They operate all of the resorts activities, run the kids' club, serve at the restaurants and bars and even perform in the nightly entertainment extravaganzas. Club Med recruits their GOs from around the world and rotate them throughout their resorts, every couple of years. During my stay at Club Med Bali, the GOs derived from 33 countries, including one Kiwi! Before long, you'll notice them greeting you by name and intuitively knowing your drink preference.
Since Club Med is all about all-inclusive, your food and beverages are already taken of, including fruit juices, beer, wine, spirits and cocktails. The only additional charges I came across were for premium beer brands and champagne. Not dissimilar to an ocean cruise, the food just keeps on flowing, with unbelievably expansive buffet presentations, for breakfast, lunch and dinner.
The globe-trotting gastronomy features quintessential Balinese food including nasi campur,  a signature French "dish of the day," Italian woodfired pizza and pastas, Japanese sushi and kimchee dishes, and a fabulous fresh salad bar and fruit bar. The lavish buffet affair takes place at the magnificently furnished Augung Restaurant, while a la carte dining is also available at The Deck. It's an experiential must – the gourmet seafood selections are fabulous.
In addition to the main dining services, tasty snacks and tapas are always available at the Kintamani Bar, a spectacular circular poolside structure, which lights up like a UFO at night. One night a clutch of Balinese food carts were wheeled out around the bar, sizzling away with grilled food on skewers. It's those sorts of unexpected extra thrills, alongside the flawless guest service which makes Club Med Bali such a star performer.
 With 393 rooms colourfully designed in traditional Balinese style, across five buildings, accommodation spans three categories – club, deluxe and suites, fresh from a major makeover. Balinese motifs of gold, wood, stone and soft red paintwork celebrate the sense of place. Suites boast acres of space with a separate living area and super-sized bathtubs. All accommodations feature a lounge area and furnished terrace or balcony with day bed.
The air-con is great if the weather gets steamy, you've got free wifi, a complimentary mini-bar, cable TV and a beautifully appointed bathroom with rain shower.  Like Nusa Dua itself, Club Med is a sprawling and manicured place, far removed from the hustle and chaos of Bali's choked streets. The lawns and gardens are impeccably maintained, bursting with tropical foliage, from the blaze of bougainvillea and Birds of Paradise to the fragrant radiance of the ginger plants.
My runaway Club Med highlight was the aptly-named Zen pool. This multi-tiered hideaway is an adults-only, quiet-zoned watery sanctuary. A triumphant celebration of luxury tropical tranquillity, the tinkling water feature feeding into the sky-blue pool, wrapped in hanging day beds, was my kind of perfect. Order up a drink and soak up the serenity.
Club Med Bali lays its on thick with activity offerings. Families swoon over the smorgasbord of Kids' Club activities, which are tailored to all junior guests, from babies to 17 year olds. There's kayak lessons, Balinese cooking classes, craft sessions, treasure hunts, pool games…all bases are covered. For kids and adults alike, the on-site Trapeze School is an incredible spectacle, whether you want to bring your inner-circus fantasies to life, or just want to watch.
There's golf (mini and a nine hole course), badminton, squash, tennis (on floodlit courts), watersports including paddleboarding, sea kayaking and windsurfing. And the fitness centre operates a variety of complimentary classes, from power yoga to pilates. But the full-tilt entertainment extravagance climaxes every night around 9pm with Showtime. The main pool and stage roll out a nightly production ranging from a Balinese cultural show and water ballet to an exuberant Wizard of Oz performance.
Spilling out on to sun-kissed Nusa Dua Beach, with loungers and day beds at your disposal, I loved watching the local fisherman haul in a fresh catch, at twilight, from a surging water channel that intersects with the deep ocean, funnelling the fish in. It's also a dreamy spot to witness a sunrise and ogle Balinese locals flying their ginormous kites. Fringing the beach, a gorgeous public boardwalk shadows Nusa Dua's coastline, weaving past all of the area's resort hotels and ending up at the fantastic shopping precinct, The Bali Collection.
I loved strolling along this path, admiring the virtuous rising early for sunrise group yoga, to meditate or burn off last night's buffet dinner with a seriously sweaty work-out.  As much as Nusa Dua is a gated community of holiday resorts, if you want to immerse yourself in the region's riches, Club Med offers a wide platter of excursions for purchase, or you can make your own arrangements.  But with everything laid on, many Club Med guests, particularly families, seemed more than content to fly and flop for a week, during my visit to this ravishing Bali resort. www.clubmed.co.nz
I travelled to Bali, via Brisbane, with Virgin Australia. Enjoy specially curated menus, wireless entertainment, spacious seating and sparkling service. Resident chef, Luke Mangan, oversees top-notch in-flight meal options, across all classes. Economy fares include food, entertainment and a 23 kg checked-in baggage allowance. If you're splashing out, Business Class to Bali includes exceptional personal service, priority check-in, access to Virgin Australia's excellent lounge facilities, an extra-generous dining and beverage service and super-wide leather seating with great recline.
I managed to snooze all the way back to Brisbane on my overnight flight from Denpasar, after a quick and tasty dinner. On the daytime flight over to Bali, an attractive range of movies kept me fully entertained on the complimentary iPad. A very welcome initiative by Virgin Australia is the recent roll-out of new Economy X seats, across all flights. If you crave extra legroom along with priority boarding and preferred overhead locker space, Economy X is just the ticket. Grab a great deal and seat to suit at www.virginaustralia.com