Mike Yardley: Bite-sized Bali
Author

Section

Publish Date

Saturday, 19 August 2017, 3:20PM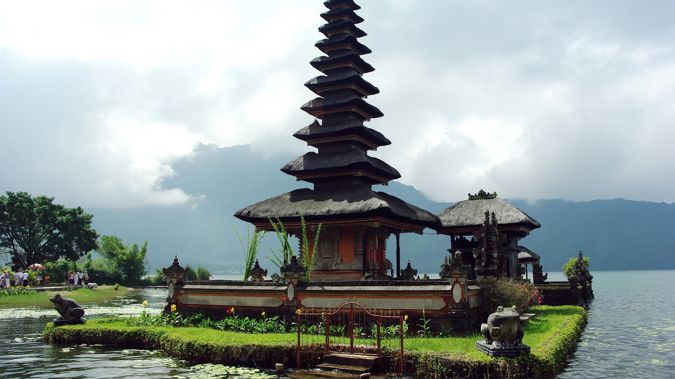 Whether you want to binge on Bintang on Kuta Beach, get your hair braided or fill your Instagram feed with those grasping forest monkeys, you're never short of options in Bali. If you're planning your first foray to the Island of Gods, here's a few sightseeing suggestions that you may want to weave into your holiday schedule.
Bali binges on temples. Synonymous with its worship of Hindu gods and ancestral spirits, there's over 10,000 officially registered temples, but you can add to that the endless procession of ornate shrines that adorn every traditional family compound. Some of the most visited temples include the sunset hot spot of Tanah Lot, Besakih and Uluwatu, but my pick of the bunch is Ulun Danu Beratan, a superlative 17th century temple complex that flaunts the finest features of Balinese architecture, on the shoreline of Lake Beratan.
The smooth reflective water surrounding the temple's base creates a dreamy impression of a multi-tiered floating temple, while the mountain range encircling the lake completes the picture-postcard setting.  Hire a traditional jukung outrigger and head out on the water for a different perspective.
Among the many indelible scenes in Bali, what always strikes me the most, are the vast battalions of  stone sculptures and statues lining roadsides, all over the island. The magnificently carved sculptures are sold to adorn temples, gardens and cemeteries. Lined up in impressive ranks, you could be forgiven for thinking they're Bali's answer to China's Terracotta Army.  
I ventured to Ubud with on a private tour with Okar, thanks to Tour East, who've been operating guided sightseeing experiences across Bali for decades. Okar, who was a superb guide, led me in to a typical family compound just out of Ubud, where the family shrine was being meticulously renovated, with traditional bamboo scaffolding surrounding the structure. The compound consisted of a cluster of spartan sandstone and mudbrick structures, thatched in pandanus.
I admired the effort a mother and her young daughter were putting in to the folding of some banana leaves, to carry some afternoon offerings to the gods. Living standards are stripped back to the bare basics, with a complete absence of any contemporary creature comforts. It's a humbling reality-check on how most Balinese live. www.toureast.net
Enchanting Ubud, the village of painters, is feted for its artistic verve. I called into the astonishing  Puri Lukisan (Painting Museum) before venturing to the insatiably popular Ubud Art Market, which is opposite the Royal Ubud Palace. Whether you want to haggle for beautiful silk scarves, batik shirts or sublime handicrafts, you'll be in seventh heaven. The artistic value of the craftwork is exemplary at this market, unlike many inferior and imported imitations elsewhere across Bali. You may well recognise the market from Eat Pray Love, where Julia Roberts strolled through the stalls.
Ubud is also home to the Sacred Monkey Forest, a natural sanctuary that is home to a horde of grey long-tailed macaques. I was happy enough to watch these macaques swinging through canopies, lazing on temple walls and guardian statues, and feeding on bananas. The sanctuary offers restoratively cool walks along paved pathways through a leafy nutmeg forest. You'll notice many tourists getting right up close with these creatures, trying to feed them and cuddle them. They can turn rather vicious and if you're scratched or bitten, they can transmit rabies. 
Hankering for some dreamy rice paddies? Tegallalang Rice Terraces in Ubud is the big-gun, famed for its three-tiered terraced paddy fields, spreading across the valley. Another knock-out spectacle is the white heron colony of Petulu, just north of Ubud.  The villagers of Petulu are incredibly proud of this natural spectacle, whereby every evening around 5.30pm, 20,000 big white herons, flying  in formation, flock in from the west, wheel about Petulu, before descending on two giant fig trees.
They'll squabble like fishwives for prime perching places, as they settle in for the night, as the vivid green trees becomes increasingly speckled in white. After snacking on coffee cherries and rice all day, this is where the roost. And these two fig trees have been their residence of choice since 1965. Despite the smell and the constant splatter of white bird poop plastering the street below the trees, villagers believe these birds bring good luck. They've certainly given Petulu a thriving tourist trade.
Being a caffeine fiend from way back, I was particularly excited to visit a Balinese coffee plantation, Lumbung Sari, which produces a staggering range of coffee, including Luwak coffee. Luwak is the local name for the Asian Palm Civet, a possum-like critter that eats the coffee cherries that house the bean. The civet loves the fleshy pulp of the cherries. The digestive process ferments the beans, improving its flavour profile, before it is excreted and collected by coffee farmers for production.
The shell of the coffee bean is removed and cleaned, before being roasted. Yes, it took me a while to get my head around drinking coffee that had partly been produced by the excretion process of a feral animal. But the intensity of the taste is strikingly good. Some snooty cafes in Melbourne sell Luwak coffee for $50 a cup! My coffee tasting flight at Lumbung Sari also spanned a range of flavour-enhanced brews. The ginger and ginseng coffee was surprisingly superb.
Finally, some travellers are weary about eating from the street stalls in Bali. ABC in Australia recently exposed a horrific racket, whereby stray dogs are being rounded up in Bali and slaughtered for their meat, which ends up as "things on sticks" from grilled food stalls along Kuta Beach. Unsuspecting tourists are the target market. In Bali, authentic hawker-like food stalls are called warungs and you're best to only frequent the stalls that locals happily line up at. Steer clear of the touristy ones – it could be dog that's sizzling. 
One of the best spots to nosh from the warungs is at Jimbaran Bay, south of Kuta. Every night over 30 warungs, which specialise in seafood, set up shop along the beachfront, as the sinking sun sets the sky flaming pink and tangerine.  In Ubud, Warung Iba Oka, opposite the royal palace, draws an early morning crowd who line up for their fill of spicy spit-roasted suckling pig, oozing in ginger, garlic and chilli. The locals call it babi guling. For just $5, it's a steal. Since Anthony Bourdain declared it was the best pig he'd ever tasted, the daily lines outside this warung have never stopped forming.  
On my latest swing through Bali, I stayed at Club Med Resort in Nusa Dua. This magnificent all-inclusive and family-friendly resort is power-packed with superb dining options and on-site activities. Trapeze School, anyone? It was a great base from which I explored Bali from, before returning to its pampering array of amenities. The adults-only Zen pool was my kind of perfect. www.clubmed.co.nz
I travelled to Bali from New Zealand, via Brisbane, with Virgin Australia. Enjoy specially curated menus, wireless entertainment, spacious seating and competitive fares. Grab a great deal at www.virginaustralia.com