THE WATCH WE'VE BEEN WAITING FOR
Author

Section

Publish Date

Thursday, 5 October 2017, 2:50PM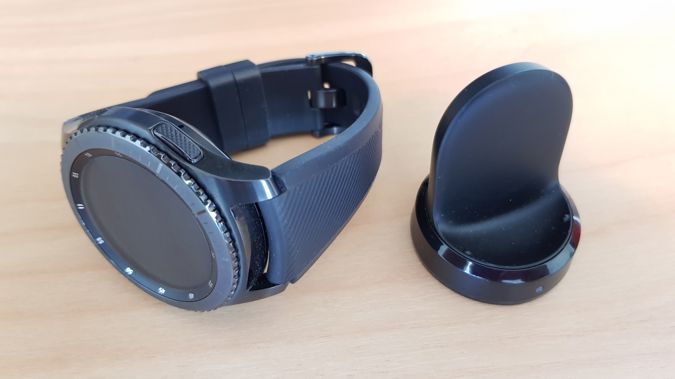 Samsung has been making smart watches for a while now.

I know you think I'm biased. You think I'm a Samsung sellout. I've drunk the Samsung Kool-Aid and all I ever talk about is Samsung.

But here's the thing; Samsung just does some stuff better. The reason is simple - they've been doing it longer.

While their latest watch is just a logical progression in Samsung's line of wearable accessories, remember, it's now a very long line.

I've been using the Samsung Gear S2 since its launch in 2015. It's probably the device I've come to rely on most and it's definitely proven to be the most surprisingly useful. The S2 was Samsung's reinvention of the boxy, square, oversized Star Trek-style devices that preceded it. When it introduced the unique bezel controller and with its round face and wireless charger, the Gear S2 made smart watches more accessible than ever before.

The only thing missing was the ability to take and make calls like I could with previous versions.

The Gear S3 Frontier has that feature, due to its speaker, but it takes it a step further with its independent, built-in sim.

This means the watch retains full functionality even when out of range of the phone it's paired with. You can receive and compose emails and texts while you're out and about. In fact, at one point I literally called my mum on the run. That sure confused the hell out of her, but what does she expect when she texts me while I'm exercising?

The S3 Frontier is bigger and I guess (to compound sexist stereotypes) more masculine than the S2. What's more, it feels a bit more rough and tumble too. The bezel controller is more tactile and the watch is quite a bit heavier. In short, the S3 Frontier is definitely more solid, but perhaps a little less comfortable than the S2.

My biggest issue with this device is the strap. I don't exactly know why, but the default band is just too hard and rubbery and I find if I think about it too much I develop a serious case of wristy-claustrophobia. Luckily, you can easily swap it with any other 22mm band, so it's only a minor problem.

Performance-wise, there's a definite improvement in the speed and smoothness of operation, which you'd expect given it now has twice the processing power. In saying that, in terms of navigating your way around, the S3 Frontier works pretty much the exact same way as it's predecessor. Samsung have stuck fast to their Tizen OS (which you'll now find running other products in their range, like TV's). This is a double edged sword. As an OS, Tizen totally rocks. Everything is smooth and clear and so, so stable. The downside? A lack of content. There just aren't anywhere enough developers creating stuff for Tizen devices, or even adapting existing apps... especially compared to the endless armies queuing up to create software for Apple or Android. Don't let this put you off though, because it's really a kind of quality control and it means only high-performing apps end up making the grade.

For example, due to a partnership with Under Armour, their range of fitness apps including stellar performers like Map My Run and Endomondo have all been formatted for Samsung Gear devices.

The big upgrade with the S3 Frontier is the independent sim - something the latest Apple Watch is promising in some places, but NOT New Zealand. This may be because currently the Spark network is only the one that can support these kind of devices.

This is where it gets a bit complicated, but stay with me, I'll try and make it worth your while.

Because the S3 Frontier connects directly to Spark's mobile network, you'll get all your notifications wherever you are. As I've already said, (but it's important, because very few wearables have this kind of functionality) you can answer back too. Emails, texts, phone calls - not a problem. The catch? Obviously you need to pay for that connection. In saying that, given you're not consuming video, or uploading pictures, that connection doesn't need to cost very much at all.

But what if, like me, you're not with Spark already?

This is where it gets really complicated. There's now a function in the Gear app that lets you forward calls to your watch when it's not connected to your phone.

Trouble is, I couldn't get it to work. I have absolutely no idea why. I got emails. I got texts. Ironically, I even got missed-call notifications. Even more ironically, when I received those missed-call notifications, I could call the missed caller back - so really, no dramas. Odd though. Maybe it's something that'll be sorted with a future update.

I'm assuming everything's a lot more seamless when paired with a Spark mobile.

Other than that, this watch delivers. It has its own GPS, so you really can map those runs. There's also 4GB of internal storage which is plenty for a workout playlist or two. Pair some bluetooth earbuds and you're good to go. Transferring music from your phone to the watch is pretty straight-forward, but I'd love someone to come up with a dedicated podcast app for Tizen, because exporting them for a one-time listen is a bit more labour-intensive.

Basically, if you're sick of lugging your phone with you everywhere you go, especially running, hiking or biking, the Gear S3 Frontier is the obvious choice. It works, it works well, it's totally reliable and best of all - it looks like a normal watch.

Well, a really cool watch.


Click here for more information and pricing on the Samsung Gear S3 Frontier