THE TECH THAT COULD SAVE MARRIAGES
Author

Section

Publish Date

Wednesday, 20 September 2017, 4:44PM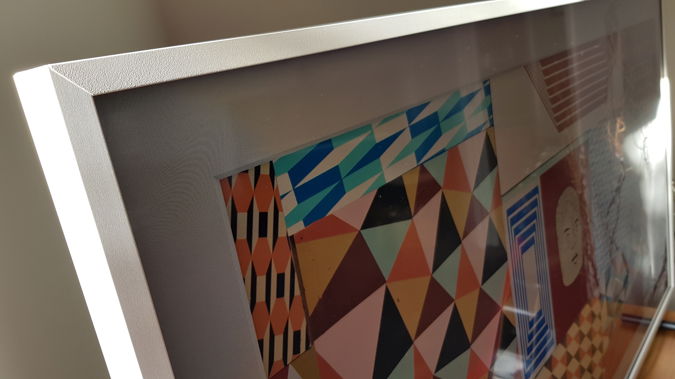 Okay, embarrassing confession time.

I don't own a smart TV.

I know, I know. What kind of self-respecting tech reviewer doesn't have his own 4K telly hardwired into the matrix?

Strangely, and you might find this hard to believe, but not everybody in the glennzb household thinks a man's existence is defined solely by his diagonal screen measurement and the number of online streaming services he has access to.

Turns out, Domestic Manager seems to think other trivialities like food, heating and clothing our children should take precedence over setting up the ultimate home theatre experience.

So what if my dream TV didn't have to look like an elephant in the room?...

Samsung have been pushing the boundaries of television tech for some time now, really shaking things up a couple of years ago with their cool, curvy, 4K screens.

The curve wasn't the only thing to set this new breed apart. By introducing a separate control unit(or "One Connect Box") these TV's created the illusion of being a super thin screen and nothing else. In fact. with only one power lead and one AV cable from the One Connect Box, you ended up with something that was almost as pretty from behind as it was from the front.

This was a major breakthrough because for too long TV's had been getting bigger and bigger while doing almost nothing to make them more aesthetically pleasing to the eye of the interior decorator - or Domestic Manager, for that matter.

At least a crazy-slim curved television with virtually no cable cluster was a step in the right direction - although all too often any TV still becomes the main focus of whatever room it inhabits - even when it's switched off.

So Samsung went back to the drawing board - or in this case, the easel.

The Frame is one of those, "Why didn't I think of it?" concepts that is so elegant in its simplicity, there is no doubt it's a work of art in its own right.

By combining some innovative tech solutions with a unique wall-mounting system, Samsung has once again done what should have been done years ago.

The Frame is a high spec 4K UHD TV anyone would be happy with. Its 55" or 65" screen is flat, not curved, but it still features the latest enhancements Samsung has to offer.

The difference with The Frame is you might not even know it's there. I'm not even joking. And it's not because it's got so skinny it's disappeared completely. It's because when The Frame is off, it displays a piece of art of your choice, essentially becoming just another picture on the wall.

If you think it sounds too good to be true, like I'm exaggerating the effect, let me give you a bit more detail. Samsung uses a few clever little tricks that make this thing a lot cooler than a glorified digital photo frame.

Firstly, by sensing the ambient light, The Frame automatically dims or brightens the artwork on display so there's no artificial illumination blaring out into the room, resulting in a surprisingly natural effect.

Combine that with your choice of mattes (to match the either the artwork or your decor) and your choice of frame (walnut, beige-wood or white) and the illusion is complete.

Best of all, you have a large choice of art available, either via Samsung's Smart View app, or online using the options menu on the TV itself.

While there's a wide selection of images you can choose for free, ranging from landscapes to abstracts to photography and more, you can also subscribe to Samsung's ever-expanding Art Store. Here you can choose from hundreds of pieces by artists from all over the world for just $7 a month.

This thing is literally the artwork you will never tire of.

Or, just put your own family photos up instead.

The idea is executed brilliantly, with great attention to detail. The frame you choose to fit around The Frame is one of the most cunning parts of the equation. We've recently repainted with what is basically a white on white colour scheme. As a result, a black telly is just a bad look. So I chose a white frame for The Frame and it looks fantastic. (How many other white TVs have you seen recently?) What's more, the wood-look frame is very easy to attach, as it comes in 4 separate pieces that magnetise easily to the TV itself. The pieces are precisely engineered and fit together exactly. This took me a total of about 64 seconds.

There is a basic stand (or rather, two subtle, slide-in feet) included in the box, as well as the genius wall mount which lets you fit The Frame completely flush with the wall, or you can choose to tilt it out slightly, just way a real picture would hang.

If you want to get really carried away, you can go for the Studio Stand, which looks like a painters' easel. 

Another nice touch is Samsung's Clear Connection cable, which is almost transparent and very skinny. How this nearly invisible lead transfers all the data it needs to between the screen and its One Connect Box is a mystery, but combined with the light-coloured power cable, setup is very inconspicuous indeed.

As far as the operation of the TV itself? It's just about the best available, so it'll do pretty much what you expect. As I've already admitted, I've never owned a smart TV so I've been like a kid in a streaming candy store.

Even Samsung's universal remote is a thing of beauty.

This telly doesn't sound too bad either. Somewhere (don't ask me where, because you definitely can't see it) is a 40 watt speaker array which pumps out enough volume. Unfortunately, my home theatre is as old as my existing TV, so it wasn't particularly compatible with such a thing of technological grace.

And it really is beautiful, before you even turn it on. Could this be the bigger television even Domestic Managers wouldn't mind upgrading to?

At just under $4000, The Frame is at the higher end of the mainstream TV market but what price art? Especially a work of art you can change every day.