THE PEAK PHONE DEBATE
Author

Section

Publish Date

Thursday, 14 September 2017, 6:32AM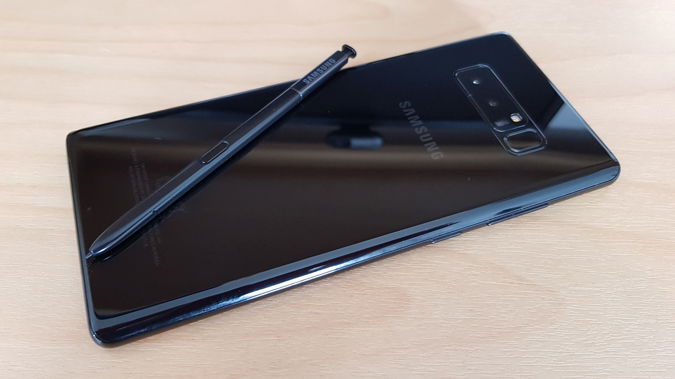 What more could we possibly ask for?

How good do these phones need to get before we're satisfied?

For some time now, we've been offered features and functions we hadn't even thought of, let alone demanded.

Turns out, there's always something better and besides, after a firey 2016, Samsung is still on the road to redemption...
Without dwelling on the disastrously flammable fate of last year's Galaxy Note7, there's no escaping the fact Samsung has taken a bold step continuing with the Note brand at all. It's a testament to the devotion of Note users that many of them have simply waited all this time to upgrade their existing phablet.

This means they could still be using the Note5, released this time in 2015 and will be itching to get their hands on some of the developments Samsung have offered over the last 2 years.

Of course, the Note5 was (and probably still is) a fantastic phone. Big screen, curvy back, fast processor, fingerprint sensor - even wireless charging. (That's right, you iPhone addicts - Samsung has literally been doing it wirelessly for years)
The Note5 introduced the clickable S Pen too, a stylus that actually feels like a pen, with a lot more functionality.

Probably the best phone of 2015 by quite some margin. So if you're still using one today, you'll be feeling pretty smug about the fact other manufacturers are only now starting to successfully copy some of those features.

There wasn't a Note6. In order to sync up with the Galaxy S releases, 2016 meant the Note7 instead. As we now know, too hot to handle.

So how far has the Note come since August 2015?

I was a little surprised the first time I encountered the Note8 at its lack of curviness. For some time now, Samsung handsets have been whittling away the edges both front and back, pioneering the now famous no-bezel appearance. While the Note8's display does still reach right to the edge, there is now a noticeable ridge between the screen, the frame and the glass back. I believe this is supposed to make the phone easier to hold, but for me, it just makes it more uncomfortable and less sexy to look at.

In fact, due to its sheer size and weight, I initially felt as though this is probably the hardest-to-hold phone I've ever tried to get a grip on.

But, as is often the case, first impressions can be deceiving.

While both the Notes 5 and 7 featured 5.7" screens, the Note8 clocks up a mighty 6.3 inches. I assumed this would make it impossible to fit in my pocket but like the S8 and S8+ from earlier this year, the screen is much longer (or wider, depending on which way you're holding it) due to the 18.5:9 aspect ratio. In other words, the Note8 isn't fat, just tall.

So while the glassy finish and sharp edges make it slippery, at least it's still narrow enough to wrap one hand around.

What keeps the Note8 looking better than many other phones in its class (not that many are in its class) is the fact the dual-lens rear camera now fits completely flush with the back of the handset, making it less prone to dirt and scratches. Although some people lost their minds when Samsung moved the fingerprint sensor from front to back on this year's S8s - it's still there, thankfully, as it's the obvious place for a finger to go when you're holding a phone this big in one hand. In response to the moaners who were too uncoordinated to keep their fingers off the camera lens, Samsung have moved the sensor slightly further away by placing the flash in between.

The other important physical feature of any Note, is of course, the on-board S Pen. Still the most versatile stylus available, you can draw, write, highlight, select, drag and drop more effectively than ever. There's something tactile about clicking the S Pen out of its slot to make a quick note - even when the screen's off. This season's S Pen can help you translate whole passages of text with one easy selection. There's also a fun feature called Live Message, which creates an animated Gif of your hand-written note you can then send to someone else. Very bespoke.

I could rabbit on at length about the speed and reliability of the Note8, but the sad fact is, I take all that stuff for granted now. Samsung have been making amazing devices for a long time and I've been using them for so long that it's only when I'm reviewing another brand I appreciate just how well every part of a high-end Samsung works. In saying that, the processing power of 6GB is not to be sneezed at, but that's the sort of grunt you need for the top-level dual-lens photography on offer, not to mention the Note8's multi-tasking abilities, now enhanced by a new Edge Panel feature that allows you to open two apps with one swipe.

In fact, I used to find the Edge Panel used to be a bit of a gimmick but it's now been refined to be genuinely useful, accessible even from a locked screen if you like.  Your calendar, favourite apps and contacts are now only a swipe away.

I remain less convinced about the practicality of Samsung's virtual assistant, Bixby. Like the S8s, there's a dedicated Bixby button on the Note8, with more and more Bixby functions being introduced all the time. I'm not really sure why we need Bixby when all Android phones offer Google Now already. In saying that, I have definitely made use of some Bixby features, especially converting images to text (like a scanner). This is one trick Bixby performs really well.

I was surprised by the sound quality offered by the Note8. Strangely, still no stereo speakers here but in terms of sheer volume, I was impressed. What's more, the latest bluetooth connectivity seems more reliable and powerful than ever. Me likey.

There are so many other features that make this a great phone, but as I've already said, you'll find most of them on previous Samsung devices. Fast, wireless charging, water resistant, amazing battery life, user-friendly yet high quality cameras, brilliant accessories... it's all there.

As for the exploding elephant in the room, I have talked to the Samsung people personally and they have convinced me their new safety and quality control regime is rigorous and includes independent checks to ensure these phones keep their cool. Given the success of the Galaxy S8 and S8+, it looks like they're on the right track.

At $1599, the Note8 had better be the coolest phone you've ever experienced. It probably is. 

What's more, if you're still using that Note5 from 2015, definitely time for an upgrade.
Click here for more information about the Samsung Galaxy Note8