Nici Wickes: Savoury Muffins
Author

Section

Publish Date

Saturday, 22 July 2017, 10:10AM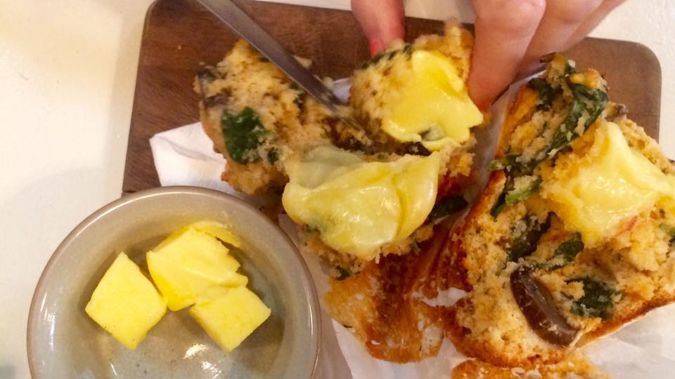 When is muffin more than a muffin? When you're in Melbourne with one of your darling sisters and she's taken you to an amazing local cafe!
Thank you Stuart McKenzie for your startlingly gorgeous cafe South of Johnston (aka SOJO) and Chef Jeanette for sharing her muffin recipe! Like a true chef, it's a bit of this and a bit of that...and they're sensational. 
Savoury Muffins
Makes 12-15
2 scoops with a round takeaway container of self-raising flour (or plain with 4 taps of baking powder)
Three finger each pinch of salt and pepper
3 eggs
1/2 cup oil
1/2 cup milk + extra
2 large handfuls spinach, wilted
1 cup sliced mushrooms
1/4 tomato chutney
15 x 3cm cube Swiss cheese 
Preheat oven to 180 C. 
Grease and line muffin tray with squares of baking paper.
Sift flour and seasoning into a large bowl. 
Whisk eggs, oil and milk together and pour into dry ingredients.
Add vegetables and chutney and stir until just combined. Don't overmix.
Spoon into muffin tray. Poke cheese cubes into top of each until they're half submerged.
Bake for 15-20 minutes until golden and cooked through.
Do eat with lots of soft butter!!