Michael Van de Elzen: Anchovy crusted pork
Author

Section

Publish Date

Sunday, 30 April 2017, 11:09AM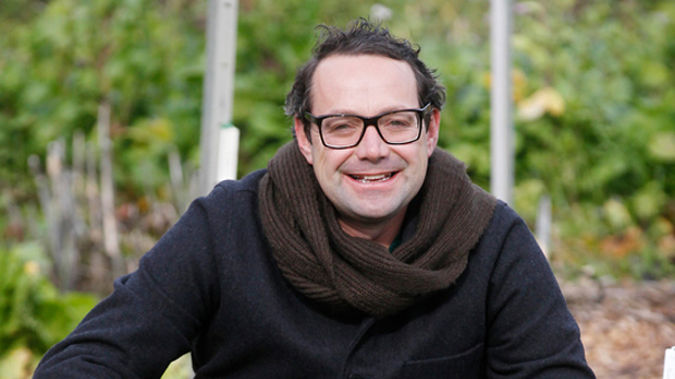 As part of our preparation of getting our own pigs, I spent the day at the Soggy Bottom pig farm in Ngaruawahia on Friday
I first met Jono the owner about 3 years ago whilst filming the Foodtruck. He is passionate about his pigs and his farm, his philosophy is very similar to my own. 
Total control over the process from Paddock to plate. 
They farm free range Heritage Tamworth and Wessex Saddleback pigs which are a little smaller than modern pigs but are hugely affectionate so suit us!
They do a number of classes one of which is called a pig in a day which I did. We spent the breaking down a pig making bacon, sausages, chops and even a pigs head terrine.
So this week I have included one of my favourite pork recipes, its a bit fancy but so tasty!
Anchovy Crusted pork with gremolata and pecorino:
Make 6 servings / prep time 5 minutes / cooking time 5 minutes
4 cloves garlic, roasted till golden
10 anchovy, salted in oil
3 free range eggs
150 ml fresh cream
2 Tbsp olive oil for frying
50 gm pecorino cheese, finely grated
300 gm pork escalopes cut into portion sizes
1 cup plain flour
salt and pepper
Using an ovenproof fry pan, sauté the roasted garlic adding the anchovy and continuing to sauté until garlic and anchovy are well caramelized. Place in to a pestle mortar and crush until smooth, add to lightly beaten eggs and cream, season with cheese, salt and pepper
Heat clean fry pan and add oil and run the pork through the seasoned flour follows by the egg batter. Lightly fry on a medium until golden on one side, then turn and continue to fry until golden. Should take no more than 2 minutes on each side to keep pork moist and tender.
Pecorino gremolata:
1 cup flat parsley, reserve ½ for garnish and chop the rest
2 cups wild rocket, reserve ½ for garnish and chop the rest
100 gm pecorino, finely grate ½ for gremolata and shave the rest
1 Tbsp capers, chopped
4 Tbsp avocado oil
1 lemon, zested
1 garlic clove, crushed
½ tbsp flaky salt
Combine all the above ingredients
To serve dish, plate the pork, topping with the gremolata. Garnish with parsley and rocket, shavings of pecorino and splash of avocado oil