The Soap Box: Future trade deal with UK just talk
Author

Section

Publish Date

Tuesday, 25 July 2017, 5:54AM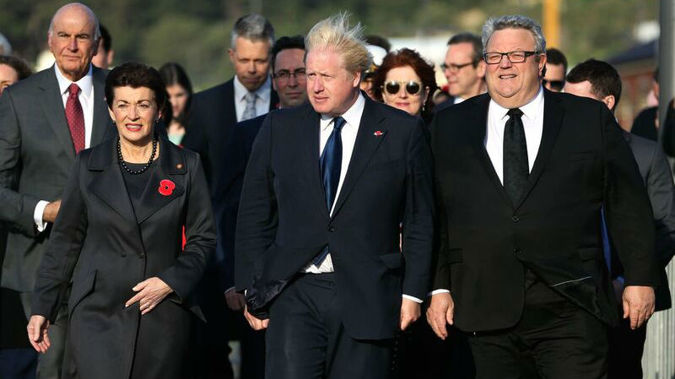 As bad hair goes Boris Johnson's almost right up there with Donald Trump, although unlike the American President clearly hairspray isn't part of the British Foreign Secretary's cosmetic kit.
And unlike The Don, the Brit makes more sense, even if his view of the "beautiful hongi" he received, he said, could be misinterpreted in a Glasgow pub if anyone was game enough to try it and expect to come away with their head intact!
He's obviously been well briefed about the couple of hundred British tourists who were stranded in Kaikoura after the earthquake there last year and how some of them might have overstayed their welcome, overwhelmed at the generosity of the locals who served up crayfish for breakfast.
He got a taste of the delicacy himself and was probably also reluctant to leave the area yesterday, given his view of the countryside as "the most mind-blowingly, mind numbingly beautiful country" he'd ever seen. Boris will be brought down to earth today when he sits down in the Beehive with Bill English and his kiwi counterpart Gerry Brownlee.
So what to expect today? A lot of mind numbing talk about a future trade deal with Britain if his promises of an "all singing, all dancing" FTA with Japan, where he was before coming here, is anything to go by. The fact that we can't actually start talking in earnest about one until they Brexit Europe is neither here nor there, it seems it's the thought that counts.
Boris' thinking when it comes to this country is important, given that he's widely tipped to succeed Theresa May as Prime Minister if she she's rolled, which is very much on the cards following her recent disastrous election effort where her majority became a minority. And if that does happen, it's being speculated the OE right of passage to the UK for young kiwis could again become a reality, in view of the right noises being made about that by Johnson when he was London's Mayor.
But in reality noise is all it's likely to be considering Britain's anti immigration and pro nationalist stance exemplified by Brexit, before and since, which was championed right from the start by the Foreign Secretary.
At least his frequent rushes of blood to the scruffy head ensures the cameras are never far away, more than you could say for his predecessors William Hague and the rather imperious Philip Hammond who've both been here in the past four years.
And don't be fooled by Boris Johnson's demeanour, his former deputy headmaster at the exclusive Eaton College, kiwi Ian McKinnon once told me he was one of the brightest students he'd ever taught.