Sri Lankan PM heads south to Waikato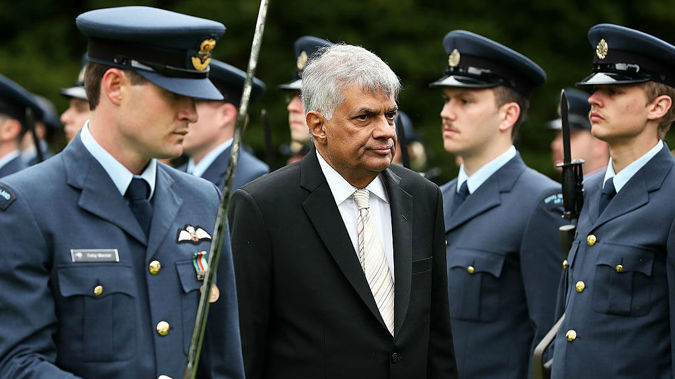 Sri Lankan Prime Minister Ranil Wickremesinghe is heading to Waikato to see a Fonterra factory after already noting New Zealand farming is impressive.
He'll have a look around Fonterra's processing site at Horotiu and will meet the co-operative's chairman, John Wilson.
"New Zealand really is far ahead on agriculture. We have a lot to learn," Mr Wickremesinghe said on Saturday.
It's the first bilateral visit by a Sri Lankan prime minister to New Zealand and comes after Prime Minister John Key visited Sri Lanka in February.
After meeting Mr Key in Auckland on Saturday the two said they would set up high commissions in each other's countries.
They also announced New Zealand will work with Sri Lanka to pilot New Zealand's Farm IQ technology, a digital farm management and monitoring system, there.
Primary Industries Minister Nathan Guy said the system captures and analyses data so farmers can better link on-farm practices to farm outputs and revenue.
"The Sri Lankan FarmIQ pilot will specifically measure the impact of dairy farm inputs and practices against milk output, quality and profitability, and will help support overall dairy sector development in Sri Lanka," Mr Guy said.
The initiative is another activity under the Dairy Cooperation Arrangement signed between the two countries.
"I visited Sri Lanka in 2014 and got a good understanding of some of the challenges their small-scale dairy farmers face," said Mr Guy.
"While we export milk powders to Sri Lanka, Fonterra also has in-country facilities that process local Sri Lankan milk, benefiting farmers from both countries."
Mr Key said Sri Lanka is a market of 21 million people nestled in a part of the world with high demand.
"We see it as a regional gateway."
Mr Wickremesinghe will also visit Hobbiton, a leading tourist attraction in Waikato.