Soldier awarded for courage under fire
Author

Section

Publish Date

Friday, 1 December 2017, 5:10PM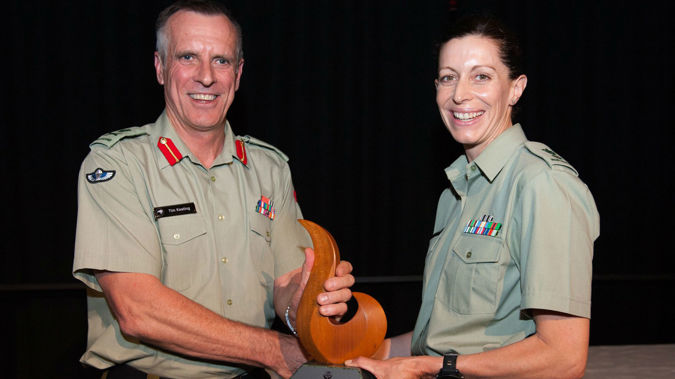 A Kiwi trooper recognised for her courage under fire in helping refugees at a UN base in South Sudan has been named the New Zealand Defence Force's Person of the Year.

Lieutenant Colonel Melanie Childs picked up the honour on Friday at a ceremony held at the Air Force Museum of New Zealand in Christchurch.

Chief of the Defence Force Lieutenant General Tim Keating described her as a courageous leader, who had already been recognised this year with the Defence Meritorious Service Medal.

She earned the medal for her bravery over a five-day period in July, 2016 when heavy mortar, machine gun and rocket-propelled grenade fire broke out between rebel groups near the United Nations Headquarters in Juba, South Sudan.

"Lt Col Childs took charge of infantry and police units that were in disarray, and helped shepherd thousands of displaced refugees who had been living in camps around the UN base, to areas that offered them greater protection," Lt Gen Keating said.

She has also shown resolve at home by challenging inappropriate behaviours within the Defence Force and recently lectured at the Kofi Annan Peacekeeping Training Centre in Ghana.

In her role as chair of the Linton Army Camp's community board, she helped co-ordinate family days and fun activities, while still finding time to compete in triathlons, winning a silver medal in her age group at April's World Masters Games in Auckland.

Lt Col Childs said she was humbled and honoured.

"I'm in a bit of shock. To be standing here in my home town is a bit surreal" she said.