Newstalk ZB's US Election Results
Author

Section

Publish Date

Friday, 21 October 2016, 10:43AM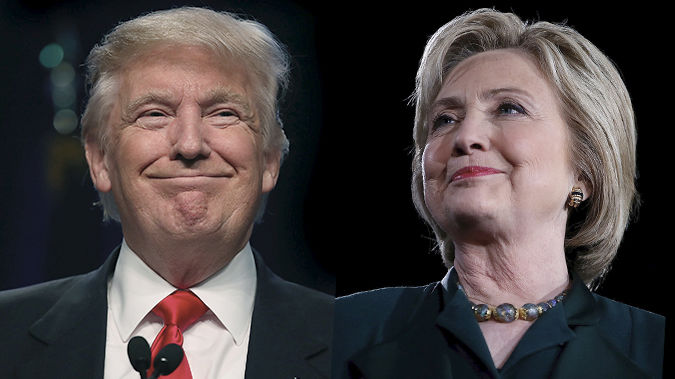 LISTEN LIVE: Newstalk ZB's Rolling Radio Coverage of the 2016 US Election
ELECTION RESULTS:
ELECTION DAY:

NEWS: Shots fired at Californian polling station

A polling station in California is on lockdown after officials say at least four people have been shot nearby.


NEWS: Trump holed up in Tower, Police on guard
Donald Trump is tucked away, holed up in a war room in Trump Tower in New York City. Newstalk ZB content director Nadia Tolich is there and said it's pandemonium.


NEWS: Gun control measures expected to win on state ballots
In Maine and Nevada, residents are voting on whether to mandate universal background checks for firearm sales, including private handgun transactions.


NEWS: US Election - Nadia Tolich in New York
Newstalk ZB Content Director Nadia Tolich talks to Chris Lynch from New York City, as the madness of the US Election continues.


NEWS: US Election: Whoever wins, history made

Hillary Clinton would of course be the first woman President - but Donald Trump would be the first President who is a Washington outsider who's never held an elected office.

NEWS: Clinton leads polls, Trump legal challenges dismissed
Hillary Clinton has been given a more than 80 per cent chance of being the next US president in an average of final polling.
Meanwhile, a judge from swing state Nevada has rejected a request from the Trump campaign for an order to be issued regarding concerns about voting in Las Vegas.
AUDIO: US election tipped to have highest voter turnout

AUDIO: Mike Hosking hits the streets of New York to meet voters 
AUDIO: Political advisor Mark McKinnon more worried about election aftermath than the result itself


LIVE BLOG: Keep up with the NZ Herald US Election Live Blog


OPINION: Barry Soper: History expected to be made with the first woman US President
Hillary Clinton has the experience and was less scary than Donald Trump. And that's been the common theme from voters in the lead up to today's vote.
OPINION: Rachel Smalley: Clinton's there on political merit, Trup's there because he could fund a campaign

Yes, it was amusing at first, and then slightly alarming when Trump won the nomination. But this is serious now. There can only be one president. And she's not a crotch-grabber.
8/11/2016
AUDIO: US election same odds as a coin toss
Turn-out for the American election is shaping up to be high, with whoever getting the most people out to vote, expected to win.
AUDIO: Trump will win, says professor who predicted last five US elections
Professor Helmut Norpoth, who has successfully predicted the US election winner since 1996, talks to Larry Williams about why he's "very certain" Donald Trump will win.
NEWS AND AUDIO: Trump, Clinton make final pitches ahead of historic election
The candidates rallied voters late into the night, a frenzied end to a bitter election year that has laid bare the nation's deep economic and cultural divides. 


7/11/2016
AUDIO: Very few people yet to make up their minds in US election
Stephanie Cutter, former deputy senior advisor to Barack Obama and Michelle Obama's former chief of staff, spoke to Rachel Smalley
OPINION: Barry Soper: Americans feeling a little punch drunk
If they listen to Donald Trump, a vote for Hillary Clinton is a vote for one of the most crooked politicians in the nation's history. But if they listen to Clinton they'll be voting for a tax dodging, sexual bully.



3/11/2016
NEWS AND AUDIO: Economists say Trump win could be devastating for NZ
Possible fallout from the US election is already making its way to New Zealand shores.


OPINION: Barry Soper: Election has exposed an ugly side of America
"This election has exposed an ugly side, fuelled by the inflammatory statements of the participants who should know better."
2/11/2016
NEWS AND AUDIO: Trump overtakes Clinton in new poll
Donald Trump surpassed his rival, Hillary Clinton, in a new poll published a week before the US election.


AUDIO: Jennifer Strong: Weiner emails and narrowing polls
US Correspondent Jennifer Strong tells Rachel Smalley there are conflicting reports as to how long it will take the FBI to scan through the 650,000 emails discovered on the laptop of Anthony Weiner.

OPINION: Barry Soper: It's obvious the US political system is breaking down

"It's been crumbling for some time now, and the establishment elite know it and they're properly frightened."
1/11/2016
NEWS AND AUDIO: Trump fights to raise doubts over Clinton's emails
"Hillary Clinton is not the victim. You, the American people are the victims of this corrupt system," he said.
31/10/2016 
NEWS AND AUDIO: Warrant to examine Clinton's emails secured, claims FBI has broken the law
Democratic strategist Robert Weiner and USA Today reporter Paul Singer talk to Rachel Smalley about Hillary Clinton's email investigation


AUDIO: Nick Bryant: FBI 'very vague' on new emails linked to Clinton
US correspondent Nick Bryant tells Mike Hosking it's unlikely the public will see the content of the newly-discovered emails until after the election.
29/10/2016
NEWS: Weiner probe finds more Clinton emails
New emails the FBI is examining related to Hillary Clinton's use of a private computer server were discovered after the agency seized electronic devices belonging to Clinton aide Huma Abedin and her husband, Anthony Weiner.
25/10/2016
NEWS: Trump 'proving what it means to have an unqualified commander in chief' - Clinton
Hillary Clinton has slammed her rival Donald Trump for saying that the week-old effort to retake the Iraqi city of Mosul from the control of Islamic State is going badly.
21/10/2016
NEWS: Trump: I'll accept the result of the election - if I win
Donald Trump says he'll accept the result of the November 8 election - "if I win" - fuelling Republican concerns his stance would make it harder for his party to maintain control of Congress.
ARCHIVES
Search all stories tagged Donald Trump
Search all stories tagged Hillary Clinton
Search all stories tagged Bernie Sanders