How to privatise the most vulnerable
Author

Publish Date

Fri, 5 Jun 2015, 12:57PM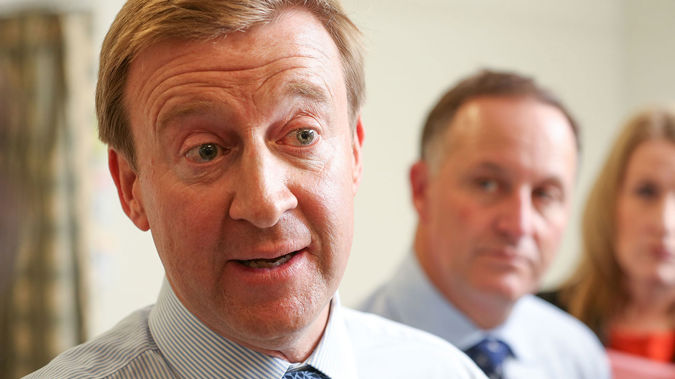 How to privatise the most vulnerable
Author

Publish Date

Fri, 5 Jun 2015, 12:57PM
Within a fortnight, the government closed the heavy doors of Relationships Aotearoa and opened up a new floodgate for "private investment" into mental health.
This is the culmination of five long years of deep funding cuts to various agencies and NGOs tasked with helping the most vulnerable: Relationships Aotearoa, which had 60,000 clients nationally and treated 30,000 Cantabrians for post-earthquake trauma, shut. Access to WINZ disability benefits has been narrowing for years. Women's Refuge safehouses have been crowdfunding their operating hours. Rape Crisis centres close, as do local community NGOs such as New Plymouth's Like Minds which shuttered last week.
To counteract these cuts and still retain a look of sincerity in the face of genuine pain, the government revealed its plan to privatise and commoditise mental health.
Social bonds, although cluttered with wretched biz-speak, are fairly simple to understand: An NGO partners with investors (banks, philanthropists) and signs a contract to deliver a particular service. If the "outcome" is favourable, the investor gets their money back. If not, the investors lose out.
Such an apparently radical scheme looks like a win-win-win for all involved. However, the first of four social bonds announced will 'encourage' mental health patients into work – not treatment.
Some very pressing questions arise from the idea: Has it been tested before? Will investors have sway over how people are treated? Isn't this just selling out the most vulnerable?
Under Health Minister Jonathan Coleman, social bonds have come to fruition. Publicly, he has justified them by citing a tiny test case – about which nothing has been revealed. No figures, no data, no "outcomes".
In a statement last weekend, Coleman referred to a "small and successful pilot delivering employment services to people with mental health conditions." This is the same pilot he again referred to on Morning Report, claiming it was "Very successful [in getting] people with mental health issues into work. It's working."
When asked about this pilot Coleman's office refused to give details, insisting only that it was run from a single GP practice. They would not say where in the country it was, nor how many patients it worked with. They claimed "confidentiality" when declining to reveal what type of employment the patients were encouraged to perform.
The obvious question should be asked: if the Minister wants to sing the praises of the very idea from which the wider social bonds plan takes its inspiration, why not reveal just how "successful" it is?
Of course, there is no reason at all why social bonds must be tested on mental health "guinea pigs" (as Annette King put it). The cabinet paper which approved social bonds in 2013 does not mention mental health. Nor does the right-wing thinktank the New Zealand Initiative, which produced a report praising social bonds, and praised the government in turn. Instead, both the cabinet paper and the NZI report notes the trialling of social bonds in other countries to stop criminals reoffending. Recidivism has been the focus in the UK, three states in the US, and Canada. Mental health is not mentioned at all.
Inevitably, the focus on "outcomes" and "targets" for mentally unwell citizens casts aside any consideration of treating them in the long term. It is about employment, not treatment. Work, not genuine improvements in their lives. Paying tax, not ensuring they remain functioning members of society.
There is a clue to this mindset in the 2013 cabinet paper mentioned above. It says "government agencies are now focusing on what is being achieved, not how services are delivered." [their italics]
Such abrasive commoditisation produces only one thing: human beings with very real and genuine sensations become statistics. Their reality is ignored in favour of slotting them into a spreadsheet which might earn an investor a nice five percent return on their cash.
In the UK, this monetised and numericised kind of existence has led to some very real humiliation. When the British government outsourced a scheme to get people with disabilities into work, some very troubling things happened: A Falklands veteran with one leg and terminal cancer was deemed fit for work. Absurdly, a woman in a coma was told she was suitable for "intensive job-focused activity." Doctors were told to keep quiet about work assessments while whistleblowers called attention to strict interpretations of what it meant to be able to perform work.
When investors are given sway over how services are delivered, this exploitation is likely. To his credit, Coleman has stated in parliament that mental health patients will not be abused, and investors will not be allowed to "fudge results", but this is very faint assurance indeed.
There is also a larger point to be made here about language: the words and terminology that agencies, businesses, and ministries use to discuss complex problems, the weight of which cannot be understated. Just like job cuts are referred to as "restructuring" and "disestablishment", the lives of people living with disabilities are reduced to throwaway obfuscations like "social outcomes" and "performance targets". The KPI-sation of society's most pressing concerns should be very troubling for anyone who wants to treat real people as exactly that: real people.
The latest double-hand of funding cuts and privatisations are yet more evidence that this government has no intention of either treating mental illnesses with genuine compassion or sincerity. The end goal, according to Jonathan Coleman, is "to help them get back into work", and nothing more. Compassionate conservatism indeed.