Mike Hosking: What people are ignoring when it comes to Australia's bush fires
Author

Publish Date

Mon, 20 Jan 2020, 5:03PM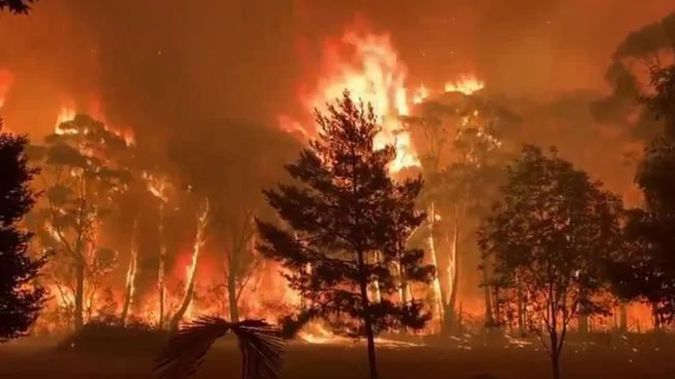 Mike Hosking: What people are ignoring when it comes to Australia's bush fires
Author

Publish Date

Mon, 20 Jan 2020, 5:03PM
So what have the big stories of the holidays been ? Well in the answer lies a sort of irony.
The big stories are Iran, the royals and the fires. They have dominated weeks of coverage, speculation, analysis and debate. And not one of them happened here.
What happened here? Nothing. Literally nothing.
Car crashes, accidents, press releases, seasonal warnings, about food, drowning ,disease, the odd social cause, the usual array of insignificant holiday talk amounting to virtually nothing.
Some might argue that's good: isn't it nice to have a break from the madness of the year.
Anyway, social media has been alive with madness. Our kids tragically have been caught up in it and our kids have half a brain, so I fear for those who don't. That bit's important, because they are of voting age now and there are elections in America as well as here.
And social media, as well as just about everyone else in Australia, has decided Scott Morrison is a dufus. He went on holiday while his country was burning. His country wasn't burning of course, but facts sadly these days very quickly get lost in the emotional madness that drives most debates.
The trip was of course a mistake, even he's realised that, and not blaming climate change was also a mistake, something he's also rectified. Now, whether climate change is at fault or not doesn't matter, because debates are no longer debates the same way facts are no longer facts.
If its collectively decided someone or something is to be blamed then that becomes the way it is.
India, of course, as well as America and China burn a lot more coal than Australia does and they're not on fire. But none of that is worth raising, because if you do, you are  an idiot or you don't get it.
Nor is the differentiation between natural climate change, which has been happening for ever, versus man made climate change which may or may not be happening to the extent that it sets bits of countries on fire.
The fact Australia, like California, has had fires forever is also not to be raised, nor is living is a dry hot country next to gum trees that explode.
The real issue is what a nob Morrison is, and how we should all pile on the bandwagon and raise money for people. The irony of raising money for people is we don't do it for the recipients but for ourselves.
Australia, given everyone seems to have forgotten, is in fact not in need of money. It is in fact a very wealthy country, more than capable of funding, giving, gifting, looking after all their people, it doesn't actually need financial assistance. They are not an impoverished island nation or third world African back water.
Money isn't their issue, but we seemingly only have one response to disaster, that's to blame something, and raise  money. It's cathartic.
Which is not to dismiss the tragedy itself, but it is to put it just a touch of perspective.
The real issue is, going forward, what to do and how to do it. The royal commission seems one of the few sensible contributions made so far. Once the bandwagoners have long forgotten their burnings maps, and pictures of flames in space, the going forward bit will still need dealing with.