Homes 'obliterated': Cyclone Yasa brings 'never before seen' destruction to Fiji
Author

Publish Date

Fri, 18 Dec 2020, 9:20AM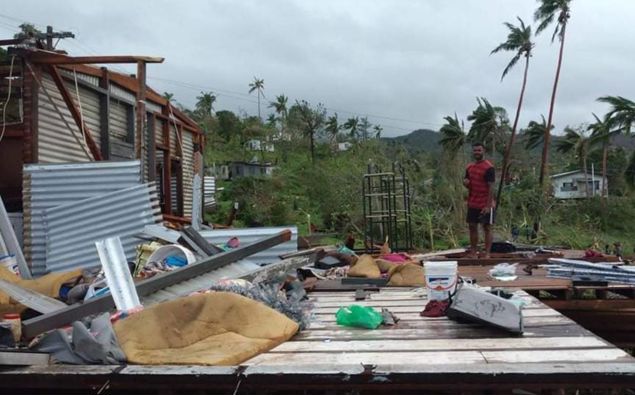 Homes 'obliterated': Cyclone Yasa brings 'never before seen' destruction to Fiji
Author

Publish Date

Fri, 18 Dec 2020, 9:20AM
Tropical Cyclone Yasa made landfall in Fiji overnight - with powerful gusts reaching up to 350km/h near the eye of the storm.
Photos and footage of the damage are starting to appear online, as Fijians wake up to the devastation left behind - with reports of houses flattened, trees ripped out of the ground and roads flooded.
There have been no reports of any casualties.
KKU The Fijian Artist posted a series of photos from his brother based in the Bua province - located in the west of the northern island of Vanua Levu, which was hit overnight.
"Big bro just (messaged) finally...thank God he is ok. Sent this in from Nabouwalu, Bua."
Metservice Fiji's forecast track map for cyclone Yasa. Photo / Metservice Fiji
'Every single home was obliterated'
Local journalist and correspondent, Lice Movono, said initial reports indicated mass devastation in the north.
"The words I'm hearing are 'absolutely terrifying, never seen anything like it before, it was so long and just so ferocious'," she told NewstalkZB.
"What I'm hearing is that the winds lasted for quite a while. it moved slowly as it was making landfall.
"I've heard of entire yachts disappearing from the harbour...and just trying to verify reports that in some villages, every single home was obliterated."
Early this morning, the Fijian weather authority said a hurricane warning remains in force for half of Vanua Levu, Taveuni and nearby smaller islands including Yacata, Nayau, Vanuabalavu, Lakeba and Moce.
Storm warnings are still active for the western part of Vanua Levu, Cikobia and the rest of the Lomaiviti group.
Gale, strong winds, storm surges and "damaging heavy swell" warnings all still remain in force also.
\Locals are also being warned of potential floods and there are flash flood warnings in place for low lying areas also.
In its current state, weather experts say the eye of the cyclone is expected to have average winds up to 205km/h and momentary gusts to 285km/h.
It is now moving southeast at about 22km/h and is expected to be located near the Lau group about 9am local time.
The latest information issued by the Fiji Meteorological Service just before 11pm local time (shortly before midnight NZT) said Koro island was now experiencing gale-force winds.
Gusts of up to 109km/h were recorded at 9pm local time on the island - which has a population of just under 4000 people.
"It will soon start to experience hurricane-force winds," the Fiji Met Service said.
Maps now indicate that the cyclone is moving away from Fiji and towards New Caledonia and even getting close to New Zealand.
Despite last night's powerful winds and the storm around them, locals hunkering down have stayed positive - with photographs of smiling police officers getting people to shelters and videos of children singing throughout the night.
One video, posted on Twitter by Alisi Lutu, showed dozens of people on mattresses on the floor in a room - the children clapping and singing.
"About six families sheltering here," Lutu said.
"Spirits are high and positive as we look to our heavenly father to take us through the night. Pray for Fiji."
A state of natural disaster has been declared in Fiji and the nation has been told to prepare for incredibly strong, "damaging and destructive" winds.