Goff labels chaotic travellers 'trash', 'a***holes' as one is arrested
Author

Section

Publish Date

Tuesday, 15 January 2019, 7:59p.m.
The travellers have also come under fire for not having proper car seats in place. (Photo / NZ Herald)
One member of the group of chaotic travellers that has caused problems throughout the North Island has been arrested.
The unruly travellers made headlines after they were caught dumping rubbish on Takapuna Beach, allegedly threatening to run over a witness and accused of scamming restaurants and cafes by refusing to pay for their meals.
This afternoon, a 26-year-old woman who is part of the group has been arrested and charged with theft.
She will appear in Hamilton District Court tomorrow. 
It comes after a string of incidents that have seen one of the country's top politicians become involved. 
Auckland Mayor Phil Goff weighed in on the group, labelling them "a***holes" and "trash" in an explosive interview on an Auckland radio station.
Talking with bFM's Mikey Havoc, Goff let loose saying they should be thrown out of the country.
Auckland Mayor Phil Goff has blasted the tourists. Photo / Greg Bowker
"They're a bunch of a***holes. Sorry for the spirited language," Goff told the student radio host.
"These guys are trash. They are leeches.
"I just saw what they did on Takapuna Beach... We know who they are. I've asked the council to follow up because I want to see them loaded with an infringement fine for trashing our country.
"They shouldn't even be here."
The rogue travellers have been seen at a number of cafes and restaurants in Auckland's CBD and on the North Shore, with numerous claims the group have walked out without paying for food.
On January 9, three members from the group entered the Montrose Cafe and ordered more than $110 worth of food before shoving food into an employee and making a daring escape without paying.
An inner-city coffee shop lodged a complaint with police after a group refused to pay for a chocolate cake and abused the owner.
Backyard Bar & Restaurant also said the group of 13 caused a ruckus and refused to pay for meals.
Today, the family were spoken to by police and immigration officers in Hamilton after complaints from staff at Burger King Te Rapa.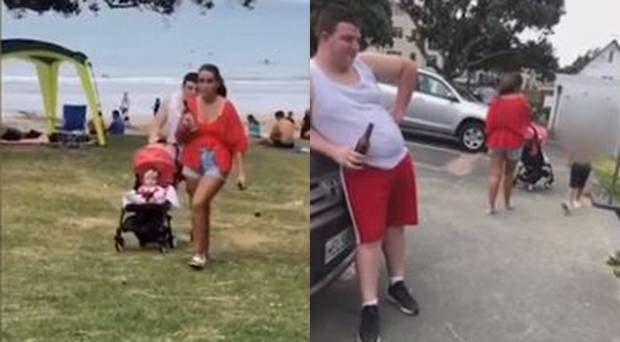 Auckland Mayor Phil Goff has weighed in on the Irish travellers who have been running amok across Auckland, labelling them "a**holes" and "trash" in an explosive interview. Photo / Supplied
President of the Restaurant Association Mike Egan told Andrew Dickens that this doesn't happen often at all.
"I'm really pleased that social media and professional media are getting out there and alerting people about this mini-crime wave."
He says that he has not heard of these types of incidents reaching these levels in his 30 years in the industry.
Egan says social media is the best way to deal with this type of behaviour.
"I think social media's finally got a great use."
The troublesome tourists have also caused drama after being pulled over by police and being warned about inappropriate child restraints just hours after being served a deportation notice.
The group was pulled over in Harrowfield, a northern Hamilton suburb and told two of the three children aged under 5 in the car were not in the correct child restraints.
Police took one of the adults to The Warehouse so they could purchase the correct car seats before taking them back to their car, Waikato Police senior sergeant Gill Meadows said.
Meadows said warnings were given for the children not being in the appropriate car seats. Police did not pay for the car seats.
"It was just about education, prevention and taking care of the young ones in the car."
The travellers talk to Police and Immigration officers in Hamilton. Photo / Belinda Feek
The car was pulled over by two police cars as part of a routine check about 3.45pm.
Immigration staff who served Deportation Liability Notices (DLN) on people in the group at Burger King just after 3pm today were also at the Harrowfield stop speaking to some members of the party.
The Herald understands police left a group of about nine people standing on the street while they took them to get car seats.
The group of about 10 people was then seen putting car seats in the dark green vehicle before driving further into Harrowfield.
One Harrowfield Drive resident told the Herald she asked the group what they were doing and were told they were waiting to be picked up.