Shane Jones enters war of words with Northland transport boss
Author

Section

Publish Date

Tuesday, 12 February 2019, 4:56p.m.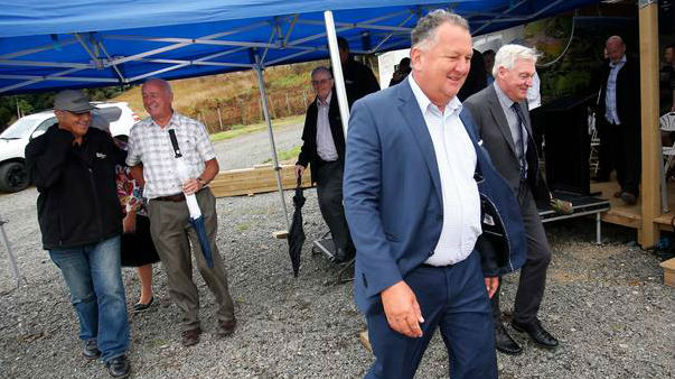 Shane Jones is putting the heat on Northland Regional Transport Committee chairman John Bain, but Bain is standing firm.
A war of words started between the two at a sod turning for upgrades to the Loop Rd and State Highway 1 intersection south of Whangārei.
During his speech, Jones turned his attention to the much discussed four lane highway between Whangārei and Auckland, and said he and Bain were on "different sides of the debate".
"I thoroughly disagree with John's advocacy that all of our problems are going to be solved by this cargo cult mentality, that all of a sudden we are going to get a four lane highway. It was never funded by the last regime."
He said his priority is "the most egregious cases of roading failure in the north".
Jones said he does not accept the mistruths and the agenda that somehow the Government is failing the north by not rapidly turning the road into a four lane highway.
Later, Jones said there were two "endangered species" at the event. One was the nationally protected green lizard, which are being relocated before the project begins and the other was "nationally orientated" chairman John Bain.
When asked if he thought Bain should resign he said: "I think John's had his day".
Bain said Jones' barbs would not stop him pushing for a four lane highway.
"Of course not, our job on our particular committee is to make sure the people that are in power understand that we have a real problem with our roading."
"He can make his threats and he can make his comment and it doesn't change the fact of life that we still need a four lane highway to make sure that we are prosperous in north and we are at least on a par with the rest of New Zealand."
He told Larry Williams that some of the facts Jones is quoting are simply not true. Bain says he has a letter from the previous transport minister saying that $250 million had been committed to the project by NZTA.
"The fact of life is that it was planned, it is planned, and that it is of importance to all the councils in Northland."   
Jones says that the highway wouldn't be open until 2058, which Bain says is unacceptable.
He says that the link is massively important to Northland, both for the people and for the ports should part of the Auckland system move further north.
"The plan will go ahead, and I'm certain it will be done long before then."
Bain says the highway is "key" to ensure people would come to Northland and help change the economy.
"I think the public of Northland know what's best for Northland, and the councils that are promoting the highway have the right way to go."
He says that multiple governments have long ignored Northland, and they had allowed the roads to fail without doing anything to upgrade it.
"We cannot get a decent road and a decent transport system that is safe and resilient."
Northland's National MP Matt King said he had spoken to "literally thousands of Northlanders and the four laning is front and centre to their wants and needs".
"John Bain, the Northland mayors and the business community, and the wider community support this much needed road."
He said they were "typical comments by Shane Jones to attack the messenger when he doesn't like the message".