Andrew Dickens: Māori vaxx rates still the biggest issue
Author

Publish Date

Mon, 8 Nov 2021, 12:22pm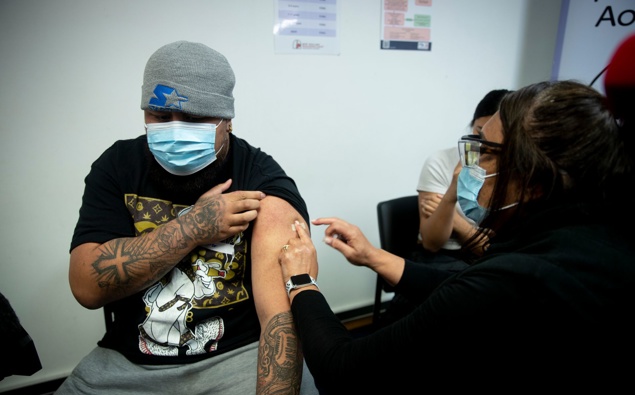 Follow the podcast on
Andrew Dickens: Māori vaxx rates still the biggest issue
Author

Publish Date

Mon, 8 Nov 2021, 12:22pm
So once again, we await another announcement about our gradual stumble towards something someone might laughably call freedom  
At 4pm, the Government should confirm their in-principle agreement to lower Auckland to Level 3 Step 2.  Otherwise known as a bit of a shop and up to 25 people outdoors, otherwise just as you were, please.  
The whole thing is dependent on vaccination rates and hospital beds.  The Government has specified 90 percent double jabbed for freedom, but that could all be reversed if a surge depletes our hospital capacities.  
So, everything is based on vaccinations.  
Which is why the conversation needs to be re-framed.  It's not about taking Auckland out of lockdown and allowing them to travel.  Auckland has beds and will break the 90 percent barrier in just over a week.  
It's about closing down the areas with the lowest vaccination rates and least hospital beds.  Which is why Christmas holidays are still under threat.  The places with the best beaches have the worst vax rates.  
Gisborne, Coromandel, Whangamata, Northland and even glitzy Matakana.  
It's time for the tourism entities and local DHBs to step up and demand an effort.  The sort of effort Auckland has already done  
Meanwhile the vexed vaxxed issue continues to be Māori rates.  
They continue to lag.  
Jack Tame yesterday on Q and A said Māori disparity the biggest failure of Covid response. 
But who's failure?  
I asked the question on Twitter yesterday. Based on their experience and the carnage of the 1918 Spanish flu then I would have thought that Māori would crawl over broken glass to get the jab. What do you call this hesitancy and it's motives  
In response, a Māori intellectual, who only got double jabbed this week, wrote me this.  
"I'd call it post-colonisational trauma, mistrust of abusive authority, loss of rangatiratanga, reactionary expression of cultural suppression, defensive response to perceived threat based on historic experience, ingrained lack of self-value arising from generational state abuses"  
That, to me, is an over intellectualisation and considering it comes from leaders it's concerning.  
If you don't want a repeat of your great grandparents slaughter, get to a pharmacy now guys. It's sounding like martyrdom if you don't.