'This is all lies!' - Mladic found guilty of Bosnian genocide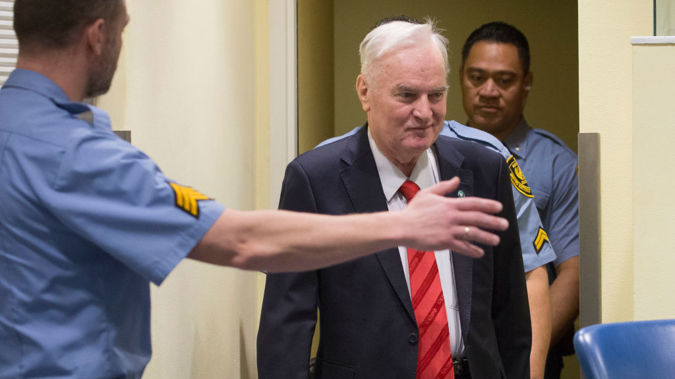 Former Bosnian Serb military leader Ratko Mladic will appeal his conviction and life sentence after a UN war crimes tribunal found him guilty of genocide.
"It is certain we will file an appeal and the appeal will be successful," attorney Dragan Ivetic told journalists after the Wednesday ruling.
Mladic, 74, was hustled out of the court minutes before the verdict for screaming "this is all lies, you are all liars" after returning from what his son described as a blood pressure test which delayed the announcement of the judgement.
LISTEN: Julian Bolger - Butcher of Bosnia brought to justice by international court
The three-judge panel in The Hague convicted Mladic of 10 of 11 counts in a dramatic climax to a groundbreaking effort to seek justice for the wars in the former Yugoslavia.
Presiding Judge Alphons Orie read out the judgement on Wednesday, saying: "The crimes committed rank among the most heinous known to humankind."
Mladic was charged with genocide for the slaughter of 8000 unarmed Bosnian Muslim men and boys rounded up in the town of Srebrenica, and his forces' 43-month-long siege of Sarajevo in which thousands of civilians were killed by artillery, mortar, tank and sniper fire from the rugged hills ringing the capital.
Mothers of Srebrenica's victims clapped when the convictions were read out. Mladic's son Darko said: "I'm not surprised. The court was totally biased from the start."
UN High Commissioner for Human Rights Zeid Ra'ad Al Hussein hailed the conviction as a "momentous victory for justice".
In a statement, he said Mladic is "the epitome of evil, and the prosecution of Mladic is the epitome of what international justice is all about".
"Mladic presided over some of the darkest crimes to occur in Europe since World War II, bringing terror, death and destruction to thousands of victims, and sorrow, tragedy and trauma to countless more.
"Today's verdict is a warning to the perpetrators of such crimes that they will not escape justice, no matter how powerful they may be nor how long it may take. They will be held accountable."