Police: Sydney knifeman was carrying information related to Chch attacks
Author

Publish Date

Tue, 13 Aug 2019, 4:38PM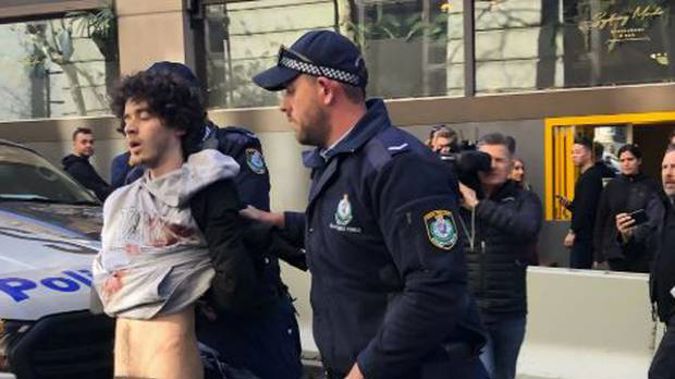 Police: Sydney knifeman was carrying information related to Chch attacks
Author

Publish Date

Tue, 13 Aug 2019, 4:38PM
A man who went on a knife rampage through Sydney CBD appears to have been carrying information relating to the Christchurch mosque attacks.
The 21 year old ran through the streets of the Australian city, stabbing at least one woman before being restrained by bystanders.
Police have now linked the man with the death of a woman in a nearby unit, and expect to charge him with her homicide, as well as serious assault.
New South Wales police commissioner, Mick Fuller says while they don't believe it to be terrorism, he appears to have links to a terrorist ideology.
"There was certainly information found on him about other crimes of mass casualties and mass deaths around the world. Some of them around North America, and some are more recently around New Zealand."
Members of the public confronted the man, who was holding a large kitchen knife, and restrained him until emergency services arrived. Photo / Twitter
The Daily Telegraph reports the woman was found with her throat cut.
Police have confirmed the apartment death is linked to the knifeman's stabbing rampage.
Multiple news outlets are reporting the accused knifeman's name is Mert Nay, of Marayong, near Blacktown in Sydney's west.
The incident is reportedly not related to terrorism. The accused knifeman is an escaped mental patient, according to The Daily Telegraph.
It appears the man in question has been arrested. pic.twitter.com/hMLyKhUDZi

— Laura Jayes (@ljayes) August 13, 2019
Clarence St Cyclery, the shop that sits directly below the apartments where the woman was found dead, was forced to close this afternoon after police set up crime scenes in front and behind the shop.
An employee from the shop told news.com.au he saw the armed man run past.
"There's something going on upstairs," he said.
"They've had a whole lot of top brass police go up there."
NSW Police confirmed one victim, a young woman, was stabbed in a hotel near Clarence St and King St in the central city. She has been taken to hospital in a stable condition.
Video of the incident showed members of the public and a firefighter restraining the man on the ground with cafe chairs and a milk crate.
The man has blood on his hands and shirt. He had earlier been yelling "Shoot me, I want to die."
NSW Police Superintendent Gavin Wood said the alleged offender has tried to stab multiple other people.
"Those attempts thankfully were unsuccessful," Wood said.
Wood praised the bravery of bystanders who helped apprehend the man.
An uber driver who was on King Street near the Grace Hotel told 2GB Radio that he saw the terrifying incident unfold.
"Next thing I see this guy jumping over the car, over the bonnet … he had a knife in his hand," the man said.
"He had a bit of blood on his shirt.
"There were police, people with their phone out, there were fireys trying to contain him."
Video of man being arrested after police operation in Sydney's CBD on King and Clarence St. #SydneyCBD #BREAKING pic.twitter.com/cTs063eKM5

— Daniel Timms (@deadsetdaniel) August 13, 2019
Adrian Papaianni was leaving his office on Clarence Street when he heard people screaming.
"There were a stack of people running down Barrack Place saying that there was a guy with a knife," Papaianni told news.com.au.
"I ran into the Woolworths and people inside got them to shut the glass doors. I was feeling OK until I saw a mother crying with her baby in her hands, trying to get into the Woolies.
"Police started arriving about a minute later and started to chase him."
Witnesses say a fireman from a truck that happened to be at the scene leapt out with an axe in a bid to apprehend the man.
Just witnessed incredible bravery from members of the public and ⁦@FRNSW⁩ officers chasing down a man on a stabbing rampage in Sydney's CBD. He is now under arrest. ⁦@7NewsSydney⁩ pic.twitter.com/wNKatejHVp

— Andrew Denney (@Andrew_Denney) August 13, 2019