Ardern to bring up human rights with Philippines President Duterte
Author

Section

Publish Date

Tuesday, 14 November 2017, 6:36PM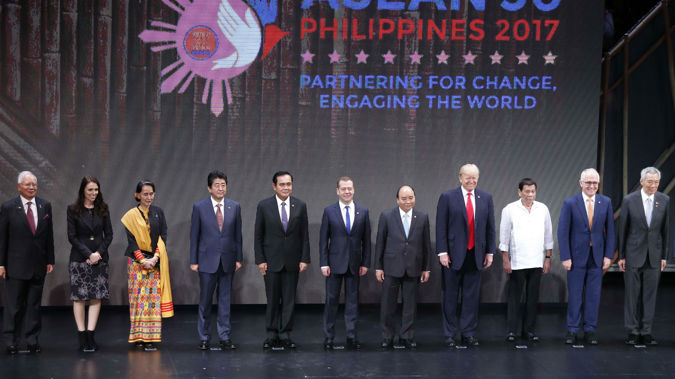 Prime Minister Jacinda Ardern will be raising issues of human rights with the President of the Philippines tonight.
She's heading to a business breakfast this morning where she'll discuss shared tourism prospects and civil defence matters, before a number of other bi-laterals throughout the day.
Those include side meetings with Indonesian President Joko Widodo, the Prime Minister of India Narendra Modi and the President of the European Council, Donald Tusk.
Ms Ardern says when she meets with Rodrigo Duterte later tonight, she'll be raising her concern with his murderous drugs policy.
"There have been various attempts for there to be oversight into some of the executions that have occurred. Our view is that number of deaths requires investigation and oversight, at the very least."
North Korea and regional security will also be on the agenda.

Philippines President Rodrigo Duterte used his speech at the opening of the ASEAN summits on Monday to raise the issue of the rise of Islamic State in his country and Ardern expects that he may bring it up again in the formal meeting.

The random nature of recent terror attacks are a concern for New Zealand, Ardern said.

"New Zealand of course has a focus on making sure we take a preventative approach and we use our international forum to talk about that approach, making sure we don't have young people who are isolated, who become preyed upon for any extreme acts," she said.

Part of that approach taken by other countries, including Five Eyes intelligence partner Australia, has been to publicly name foreign fighters who have left New Zealand to fight either for or against Islamic State and other terrorist organisations, as well as to identify returnees.

That's not an approach that was taken by the National government and not one Ardern has considered yet either.

"That's not an issue that's come up for me yet," she said on Tuesday morning (local time).

"Our focus at this stage when I say preventative measures is very much working alongside our communities, making sure we don't see that kind of isolation and any ability to use propaganda to recruit people to extreme activities."

The Prime Minister said she couldn't predict whether the plight of Rohingya in Myanmar would also be discussed by the leaders.

She has had some face time already with Myanmar's leader Aung San Suu Kyi - they sat next to each other at the APEC gala dinner in Vietnam last week and stood side by side in the ASEAN family photo on Monday.

Ardern has spoken to her about what she called "an intensely complex situation".

"I think it's absolutely fair the international community has raised concerns over what they'e seen and the plight of those now refugees," she said.

"Myanmar trough is constantly probably aware of the civil conflict they've had in the past and the role of the military is obviously still strong, but I join with others in the concern over what has happened in that state."
Not scheduled is any formal meetings with American President Donald Trump, but the Prime Minister has had a few words with him while the leaders were waiting to be paraded in front of the cameras.
"We were all in a holding room. There's no one else essentially with us, so that's where conversation generally happens. People drift around and just greet one another. So in passing I've had a couple of those encounters."
Ardern declined to say what they spoke about, specifying that "usually someone else was leading the conversation."
- with content from NZ Newswire