Why John Key benefitted the most from Obama's visit
Author

Publish Date

Fri, 23 Mar 2018, 1:16PM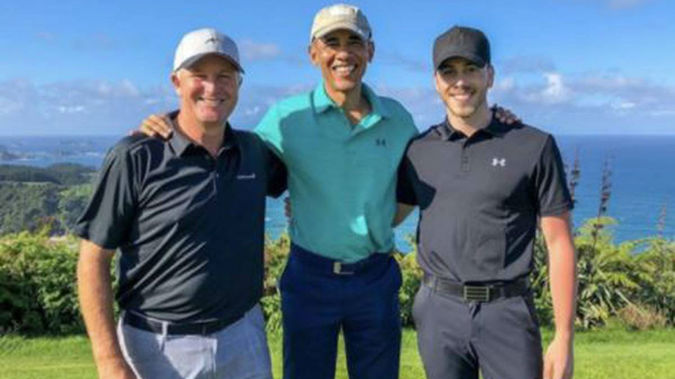 Why John Key benefitted the most from Obama's visit
Author

Publish Date

Fri, 23 Mar 2018, 1:16PM
It cost three sponsors a cool $500,000 to bring former US president Barack Obama to Auckland for a couple of days of golf and an invitation-only dinner - and a marketing expert doesn't believe any of them got the most value out of the visit.
Air New Zealand, Mastercard and Westpac each chipped in to share in the glow of the widely publicised event, but marketing strategist Martin Yeoman told the Herald the best Obama brand association went to a different entity entirely.
"The organisation that benefitted the most from the Obama trip was John Key inc," said Yeoman, who now runs the independent marketing agency The Enthusiasts.
Yeoman said the association with Key was so strong that many people he spoke to thought the event had, in fact, been sponsored by ANZ bank, which is chaired by the former prime minister.

READ MORE:
Sir John Key: I was the bait for Obama's visit
Mike Hosking: I give Obama 4 out of 10
This confusion also extended to Obama himself, who during last night's exclusive invite-only dinner joked that's Key's prowess on the golf course suggested that he wasn't spending quite enough time on his job at "West Bank".
Yeoman said this all contributed to the focus being pulled away from Westpac, which is exactly what you don't want when sponsoring an event.
Asked which of the other two sponsors he thought got the most out of the event, Yeoman said it was probably Air New Zealand.
"To be honest, I don't think many members of the public even realised there was a third sponsor [Mastercard] involved," said Yeoman.
‌In addition to dressing Key in a branded golf shirt and tweeting a few images from the two golf courses, Air New Zealand pay for the exclusive dinner for a collection of prestigious guests.
The event attracted extensive press attention, but Yeoman questioned whether the extreme exclusivity around the dinner – and the entire visit for that matter – wasn't perhaps a missed opportunity in terms of including the New Zealand public.
"Why didn't they sell tickets for a speaking event at Aotea Square? This would've been brilliant.
"I would have definitely bought tickets for my kids to see one of the great orators of our time."