Thousands without power after 240km/h winds recorded, flights delayed, roofs ripped off, trees down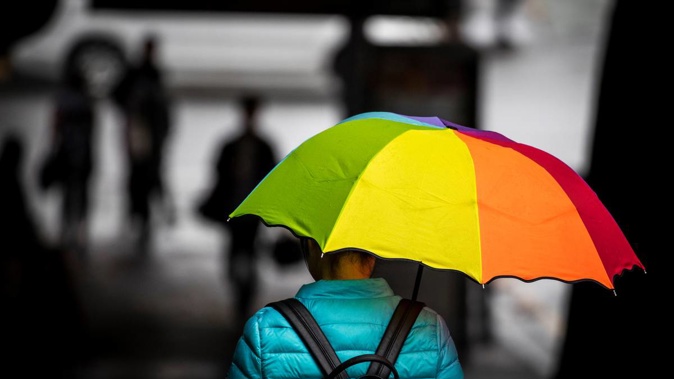 Thousands without power after 240km/h winds recorded, flights delayed, roofs ripped off, trees down
Some 2500 houses in the North Island still have no power after damaging severe winds overnight, while strong winds have also cut power to areas of the South Island.
Wellington Electricity said more than 10,000 people lost power last night, the central branch of Fire and Emergency NZ dealt with 184 callouts between 6pm-11pm as the winds wreaked havoc over the lower North Island.
FENZ central shift manager Chris Dalton said the calls ranged from roller doors and windows being blown in, roofs ripped off, flying wheely bins and downed trees as well as vegetation fires and a house fire in Paraparaumu.
The South Island's fire call centre had to take over communications for a large vegetation fire in Hawke's Bay as the central call centre was so busy, Dalton said.
Wellington City Council said last night was "pretty dramatic" and crews were kept very busy by fallen trees and debris.
"There is a bit of clean up mahi this morning," a spokesperson said.
If Wellingtonians see any weather-related damage they are encouraged to report it via the FixIt app, or by calling 4994444.
Damaging severe winds of 240km/h were recorded last night on the East Coast of the North Island, nearing the strongest-ever wind gusts recorded in Aotearoa.
Metservice meteorologist Kathryn Hodge said it was "one for the books".
The very exposed weather station at Cape Turnagain measured a gust of 246km/h between 8-9pm - its fourth strongest wind gust since measurements began at the spot in 2008.
A Castlepoint station recorded 174km/h while the summit of Remutaka Hill saw an 187km/h gust.
"We had a strong wind warning out for that area so were expecting gusts of 130km/h," Hodge said.
"In Wellington [it was] pretty severe with planes not able to land - that's unusual for Wellington because the pilots are so skilled."
In Wellington the winds had now eased but it's still windy further south, with Invercargill getting gusts of 107km/h before 6am.
The wind is expected to ease in the south today and there will be more settled conditions for the first part of the week as a ridge of high pressure arrives.
Ferry, flights, roads affected as gales batter lower North Island
The gale-force winds battering the lower North Island forced the closure of a major state highway, lifted roofs, smashed windows, felled trees, blown vehicles from roads and cut electricity to thousands of homes.
A ferry was forced to take shelter off the southern Wairarapa coast and flights were halted at Wellington Airport stranding passengers.
SH2 at Remutaka Hill was closed due to blustery conditions hitting Wellington and Wairarapa, with winds expected to reach up to 140km/h. The road has now been reopened.
Further south gusts of up to 200km/h were recorded in the Canterbury high country overnight, with unverified reports of a 217km/h reading at a rural fire weather station at Castlepoint and "hurricane" strength winds of up to 244km/h at Cape Turnagain, between Hawke's Bay and Cook Strait.
MetService confirmed last night that winds of up 240km/h had been recorded at Cape Turnagain, but said it was important to note this was an extremely exposed location and often recorded winds strengths twice that of areas close by.
The highest-ever wind strength recording in New Zealand was 250km/h, MetService said.
"It's a pretty good blow for this time of year, the strongest for quite a few springs at least - although we would need to check all the records,' MetService forecaster Alistair Gorman.
"The past few years Wellington has been lucky not to have such strong winds, but spring is the windiest time of year for New Zealand as a whole."
Paraparaumu resident Lisa Wylie said the weather was "very scary" as she sheltered inside with her two young sons.
"We are kind of just waiting here to see if your windows are going to blow in," she half-heartedly joked.
Fire and Emergency crews had been in her area multiple times in the last few hours attending to a variety of callouts, she said.
Severe gales in Wellington had prevented planes from landing at the airport since about 5.30pm.
Wellington Airport posted on social media: "It's very windy here in Wellington! Aircraft are unable to land at present due to the wind. Passengers are advised to check directly with their airlines for the status of flights."
Air New Zealand cancelled all flights into Wellington for the rest of Sunday.
Wellington Region Emergency Management Office said strong wind warnings for the Tararua district and Wairarapa north of Carterton were extended to 6am Monday.
The gales also forced an Interislander ferry to anchor off the south coast of Wairarapa.
An Interislander spokesperson said the Kaiarahi ferry was sent to Cook Strait yesterday for tests, but could not return to dock due to the high winds.
"It has been forced to anchor in a sheltered area until the winds die down."
The Aratere Interislander ferry sailings were cancelled for Sunday.
The Bluebridge website said sailings last night were going ahead but customers were warned to expect very rough conditions.
A MetService spokesperson said they "wouldn't be surprised" if rural parts of the Wairarapa were receiving 200km/h winds last night. However, more densely populated areas were not recording wind gusts that extreme.
Some of the fiercest gusts to strike the Wellington area yesterday evening were in Kelburn which recorded 125km/h, Wellington Airport at 110km/h and Seaview at 130km/h.
The conditions sparked warnings to motorists to take care on the roads, with reports of vehicles affected by strong winds.
A campervan rolled into a ditch on Mt Cook Rd at 1.50pm on Sunday and a caravan went down a bank on Tekapo-Twizel Rd about 1.45pm. There were no major injuries.
Roberts Line in Manawatū was closed between Railway Ave and Kelvin Grove Rd due to downed power lines. And there were reports of a car hitting downed trees just north of Himatangi Beach turnoff and Milner Rd on SH1.
High winds kept Fire and Emergency New Zealand (Fenz) busy. There were reports of corrugated iron roofs lifting, windows breaking, trees falling and a trampoline in Wainuiomata crashing into a house.
An NZME reporter said a roof had landed in her Kelburn garden.
The Wellington City Council said there were also "reports of wires down and lamps swaying and branches breaking", but still not widespread problems.
Tree debris is marked off by cones at the Northland Tunnel in Wellington. Photo / Katrina Bennett
A tree was blocking the Northland tunnel and a slip on Glenmore St has been reported. There were reports of a lamp post coming down on the motorway by Grenada Village and a tree down on a house at Wainuiomata.
"We've got crews out just making sure things are safe. I'm told some temporary canvas roofing came loose at a school in Ngaio early [Sunday] morning but it was looked after by Fire and Emergency."
More than 7000 customers were without power from Kaitoke down to Miramar due to the extreme weather, according to the Wellington Electricity website.
"The largest of the faults has taken out power supply for around 6000 customers in the Hutt Valley. The fault involves damage to two high-voltage power cables which supply the area.
"Our crews are currently in the field locating the source of the damage and will begin restoring power when it is safe to do so. We would like to thank customers for their patience as our crews deal with very challenging weather conditions."
The agency was asking people to secure trampolines and outdoor objects to prevent them from damaging powerlines.
Residents have taken to social media to discuss the stormy conditions.
"Hard to tell if wind or earthquake right now," Fleur Templeton wrote.
Gwynn Compton said: "Wow! We just had a 106km/h gust in Paraparaumu... it's brutal out there at the moment."
Waka Kotahi NZ Transport Agency said it closed the Remutaka Hill road for safety reasons as the wind intensified.
State Highway 2 has been closed at Remutaka Hill due to high winds.
The strong winds also fanned a vegetation fire in Canterbury on Sunday afternoon.
Fenz said firefighters were working in windy conditions to contain and suppress a hedge fire at a rural property at Charing Cross in the Selwyn District which was threatening structures.
"The initial report of a hedge on fire was received at 3.50pm. By 4.30pm, 11 fire trucks and tankers were at the scene, supported by two helicopters and a command unit.
Crews were responding from Darfield, Burnham, Hororata, Kirwee, Rolleston, Coalgate, Rakaia and West Melton.
As of 4.35pm, the fire had extended 200 metres along the hedge.
By 7pm, five rural crews were mopping up remaining hotspots using hand tools and hoses. The other crews and a helicopter had been stood down.
Two crews remained at the scene overnight to ensure the fire didn't flare up again.
The beginning of spring brings heavy rain and blustery winds for most of the South Island and the bottom half of the North Island.
MetService forecaster Aidan Pyselman said northwesterly gusts of over 200km/h were recorded in the Canterbury high country the previous night.
"It is also very windy in and around Wellington, with gusts of 120-130km/h on the Remutaka summit," he said.
Wind warnings were set to expire in Hawke's Bay, Tararua, Southland, Fiordland and Stewart Island early on Monday morning.
Yellow wind watches remained in place for Kāpiti Coast, central North Island and Otago until early this morning.
Take your Radio, Podcasts and Music with you