Teacher finds pin buried in kids' strawberries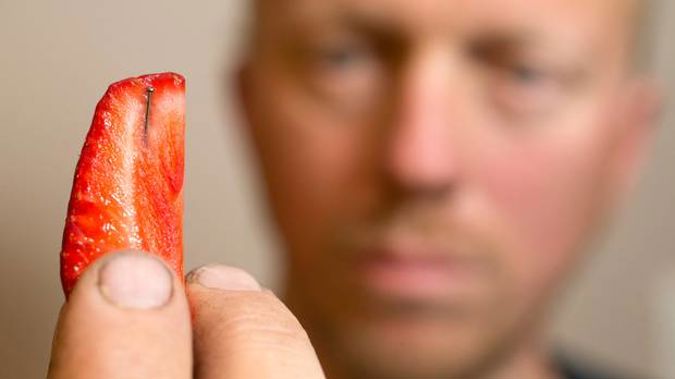 A shocked Tauranga family found a pin in a strawberry tonight as they were cutting up fruit for their children's meal.
The matter has been referred to police and the supermarket where the strawberries were purchased has pulled the remaining stock from its shelves.
Michael Rayner said his partner was chopping the strawberry with a knife in their Matua home about 6pm when she found the silver pin buried inside the fruit.
The couple had been preparing the strawberries for their two children, aged 3 and 7.
Rayner, a 45-year-old teacher, said he immediately called the Pak 'n Save Cameron Rd store where the strawberries were bought this morning, as well as police.
Police confirmed the matter had been reported and said they had referred it to the Ministry for Primary Industries (MPI).
Rayner said the strawberries were in a punnet. The foreign object had a standard pin head and was "completely hidden inside the strawberry".
"She was cutting them into pieces and literally hit the pin.
"What kind of sicko does that?"
In future he would grow his own.
"There's no way in God's green earth we're buying anymore strawberries this summer."
Rayner said he immediately called Pak 'n Save and was asked to return the fruit to the store.
"I said you need to get into a car now and come around here to pick this up."
He also called police who instructed him not to pass the product back to the supermarket. Instead the contamined food they would be collected by MPI staff.
The Herald contacted the North Island brand named on the punnet. A spokeswoman was not aware of the find and said she didn't believe it.
She referred questions to Strawberry Growers New Zealand.
"I'm not going to comment. I don't believe it. I just think the media should not report it because that's when you get copycats."
Foodstuffs NZ spokeswoman Antoinette Laird said the company was "aware of an issue with a customer finding a pin/needle in a punnet of strawberries" purchased at its Tauranga Pak n' Save store.
The remaining product has since been removed from the store's shelves.
"We are liaising with the authorities directly regarding this and as such we are unable to comment further.
"Customer safety is our number one priority and we encourage all customers to contact stores directly should they ever encounter a tampering issue with a product."
MPI said it had spoken to the complainant and was working with Pak n' Save to investigate the incident.
The discovery is the latest in a string of disturbing incidents involving needles in fruit.
A needle was found inside a punnet of strawberries purchased at a supermarket in the South Island last month.
Police were investigating the incident and said the fruit was purchased in South Canterbury's Geraldine.
In September three needles were found in three strawberries in one punnet at Countdown St Lukes in Auckland.
An MPI spokeswoman said then they were aware of a report of needles being found in imported Australian Choice brand strawberries at the store.
Customers were advised to return the brand as a precaution, though the brand was not implicated in the Australian strawberry contamination and associated recalls that created shockwaves over the Tasman earlier this year.
Police are also investigating after a needle was found in a capsicum bought at a Countdown store in Tauranga last month.