SOUL calls for Police, Fletcher to leave Ihumātao as protest continues
Author

Publish Date

Mon, 29 Jul 2019, 2:04PM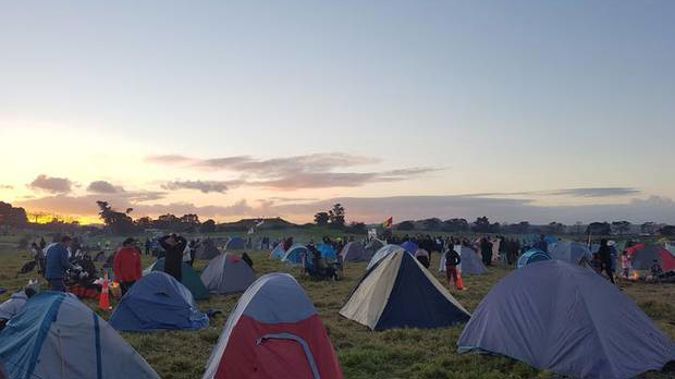 SOUL calls for Police, Fletcher to leave Ihumātao as protest continues
Author

Publish Date

Mon, 29 Jul 2019, 2:04PM
A sea of tents at Ihumātao and amenities fit for a small town as protesters settle in for the long haul.
Thousands of visitors passed through the south Auckland site at the weekend and hundreds remain there today.
It's as staunch opposition to a multi-million dollar Fletcher Building housing development continues.
Last week, eviction notices were served to the protesters after they'd occupied the land for months, prompting a renewed focus on the conflict.
The Prime Minister on Friday announced no development will take place until the issue is resolved.
"It's become clear to us over the last week that things have escalated in recent times in the dispute that we've seen around the housing development in south Auckland." she said.
She said government held a meeting with mana whenua, Government and Fletcher Building - with Auckland Mayor Phil Goff and other councillors also present.
"It was clear to all of us: we have heard here the strong voice of young people, the rangatahi, who feel a really strong connection to the land."
"At the same time, we hear the perspective of mana whenua, who do want to see their people housed on ancestral land."
The Prime Minister is visiting the New Zealand dependent territory of Tokelau this weekend.
Today, Save Our Unique Landscape (SOUL) spokesperson Pania Newton said they were not a part of those discussions.
SOUL is currently seeking written confirmation from Fletcher and the Government of their promise that there'll be no construction on the land until all parties have reached a resolution.
"We are asking that Fletcher and Police officers leave the land, with all their equipment, so that we are able to reenter the land and exercise our guardianship over the land and the stories that it holds."
She has also addressed reports that they are defying iwi elders' orders.
"It is disrespectful to our kaumātua and kuia to continue to hear this narrative around rangatahi versus rangatira," she says.
There's no date set down for talks - but Newton says they're open to coming to the table.
But, when asked if they're willing to compromise, she says "it is something our whānau is discussing". 
Students from Te Whānau a Apanui in the Bay of Plenty arrived this morning, immediately taking a place holding the frontline.
Head girl, Manaia Sorensen says they travelled six hours to get there.
"As soon as we get back to school, what we've learnt here, it won't stop at just us."
15-year-old Capone Herenaia hopes he is doing well by future generations by being there.
"It's pretty empowering to hear Pania's wero to us rangatahi to come out and support this kaupapa getting back the whenua."
Counties Manukau District Commander Superintendent Jill Rogers  says they're continuing to have ongoing, positive dialogue as they work together to ensure the protest remains safe and peaceful.
"A large crowd of supporters has been present at the protest site throughout the weekend and the atmosphere continues to be relaxed and calm."
Police are continuing to assess the situation and their operational response.