No criminal charges over Mt Ruapehu bus crash that killed schoolgirl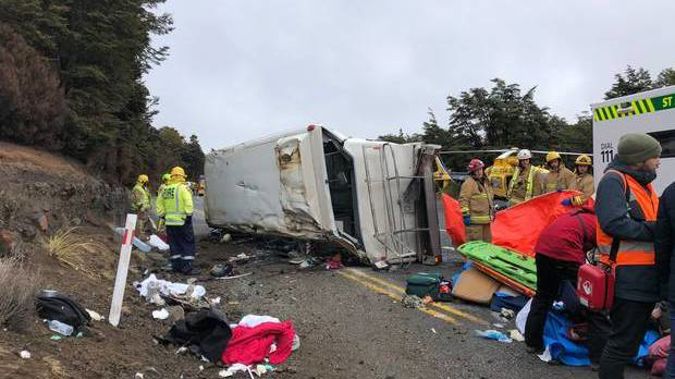 No criminal charges will be laid in relation to a Mt Ruapehu bus crash that killed a West Auckland schoolgirl.
A police investigation into the crash on mountain road, on July 28, has just been completed.
The crash happened near the Turoa skifield and killed 11-year-old Hannah Francis, from Auckland.
Detective Inspector Ross McKay, crime manager for the central district CIB, said: "Police will continue to provide support for other agencies in their ongoing investigations.''
McKay said the matter was being prepared for a coroner's hearing.
Hannah Francis had been on a skiing trip with her father, Matthew Francis, and step-brother Joshua that day.
Matthew broke his scapula and multiple ribs and Joshua broke his clavicle, and has spinal fractures and concussion.
"On top of the unimaginable loss of Hannah this has been a very difficult time for our family," the family has previously said in a statement.
Hannah's mother Michelle, step-father Shane and sister Charlotte Bruton said the moment they found out that Hannah had died, their lives fell apart.
"As Hannah's mother my heart has literally broken, there is no feeling like this in the world to compare it to," Michelle said.
"We are taking baby steps each day to try to learn how to carry this grief with us. It will never ever go away, the loss of Hannah is very real.
"This loss as we are beginning to realise is insurmountable."
Hannah was described as being "the sunshine in every day" and a special child who had the kindest heart and soul.
"To have her taken from us in such a cruel way is becoming the reality we now have to live - to now have the rest of our lives ahead of us without Hannah there is just heart-breaking," the family statement said.
The family also thanked police and the investigation team who are looking into the crash.
"Firstly we would like to thank everyone who has supported us over the last few weeks in regards to the loss of our beloved Hannah. It has been very heart-warming to know that we are in people's thoughts and prayers."
It was reported that the bus that crashed had failed multiple Certificate of Fitness (COF) inspections.
The 1994 Mitsubishi Fuso bus had failed nine inspections between 2005 and 2016, and at the end of May this year had recorded 277,885km.
The bus failed its COFs on July 29, 2004; November 23, 2005; December 21, 2005; May 8, 2008; May 14, 2009; June 17, 2010; May 3, 2011; June 14, 2012; June 6, 2014; May 13, 2015; and on December 8, 2016.
An Automobile Association (AA) vehicle history report obtained by the Herald had shown the bus had also recorded "inconsistent" odometer readings.
In July 2010 the bus' odometer reading showed the bus had travelled 199,639km, but declined to 118,044km by May 2011.
The AA report says the odometer may have been tampered with, explaining the drop in kilometres.
"Inconsistent odometer readings - possibly around-the-clock, wound-back or human error. The vehicle's odometer readings appear to go backwards," the report says.