McCaw joins exclusive club in honours list
Author

Section

Publish Date

Thursday, 31 December 2015, 6:07AM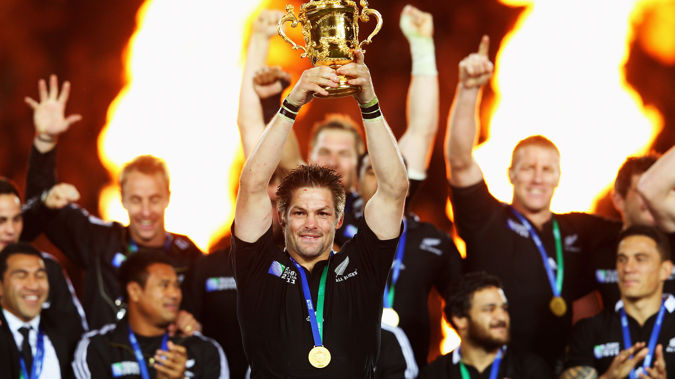 Richie McCaw has leap frogged Knights and Dames to join the most prestigious group of New Zealanders.
The World Cup winning All Black captain has been appointed to the Order of New Zealand in the New Year honours.
He won't be Sir Richard, but he will now be on an exclusive list, limited to a maximum of 20 living people at any one time.
MORE: Legendary Te Kuiti shearer wins Knighthood
All Blacks coach Steve Hansen doesn't feature, presumably because he is still on the job.
Other notable retiring All Blacks, including Ma'a Nonu, Dan Carter, Conrad Smith, Tony Woodcock and Keven Mealamu have all been honoured, along with former team doctor John Mayhew, scrum coach Mike Cron and psychologist Gilbert Enoka.
Gilbert Enoka said the likes of All Blacks strength and conditioning coach Nic Gill, physiotherapist Pete Gallagher and muscle therapist George Duncan are unsung heroes.
We have two new knights and two new dames.
They are film director Jane Campion, company director Paula Rebstock, champion shearer David Fagan and Supreme Court judge Terence Arnold.
LISTEN: John Minto: Honours system is politicised
Te Kuiti competitive shearer Sir David Fagan admits it's one out of the box.
"Almost disbelief, it was a bit of a shock I suppose, and excitement all rolled into one. My wife and I were blown away really."
Sir David said it's nice for him personally but it's particularly good for rural New Zealand.
Jane Campion said the honour is different to a lot of the recognition from her peers - which comes from films going toe-to-toe at festivals, and juries deciding whose they prefer.
LISTEN: Jane Campion - Identifying with New Zealand
She says over her 35 year career she's had to 'man up' - because it can be a tough industry.
In 1993 Dame Jane became the first female filmmaker to receive the Cannes Film Festival's prestigious Palme d'or - for The Piano.
MORE: One of our own: Bill Francis honoured
NEW YEAR HONOURS 2016
The Order of New Zealand
ONZ
To be a Member of the said Order:
Mr Richard Hugh McCaw - For services to New Zealand
DNZM
To be Dames Companion of the said Order:
Ms Jane Campion - For services to film

Ms Paula Rae Rebstock, CNZM - For services to the State
KNZM
To be Knights Companion of the said Order:
The Honourable Terence Arnold - For services to the judiciary

Mr David Alexander Fagan, ONZM - For services to shearing
CNZM
To be Companions of the said Order:
Professor Max Wenden Abbott - For services to health, science and education
The Honourable Pamela Jean Andrews - For services to the judiciary
Dr Ian Donald Shepherd Civil, MBE, ED - For services to health
Mrs Corinne Barbara Haines - For services to business
Mr Robin Michael Hapi - For services to Māori, the community and governance
Mr John Allandale Lee - For services to business and tourism
Mr Christopher Pell Liddell - For services to business and philanthropy
The Honourable Alan Donald MacKenzie - For services to the judiciary
Mr Peter Hanbury Masfen - For services to business and philanthropy
Mr John Brodie Matthews - For services to the arts and engineering
Professor Lesley Margaret Elizabeth McCowan, ONZM - For services to health
Ms Virginia Margaret Radford, QSO, JP- For services to Girl Guides
Ms Penelope Elsie Simmonds - For services to education, sport and the community
Joyce Adele, Lady Simpson - For services as a philanthropist
ONZM
To be Officers of the said Order:
Dr Simon Gardiner Allan - For services to palliative care
Mr Brian John Anderton - For services to the racing industry
Mr John Brodie Armstrong - For services to journalism
Mrs Bice Awan - For services to mental health and rehabilitation
Mr James Barker - For services to the transport industry and philanthropy
Professor Mere Anne Berryman - For services to Māori and education
Emeritus Professor Alan Russell Bishop - For services to Māori and education
Mr Stephen Lewis Boock - For services to sport and the community
Mr Daniel William Carter - For services to rugby
Mrs Victoria Mary Carter - For services to the arts, business and the community
Mr David Alexander Civil - For services to the dairy industry
Mr Neil John Craig - For services to business and philanthropy
Mr Robert Davison - For services to the sheep and beef industries
Dr Joanne Dixon - For services to clinical genetics
Mr Gilbert Ernest Enoka - For services to rugby and sport psychology
Mr George Roger Wayne France - For services to business
Mr William Peter Francis, JP - For services to broadcasting and cricket
Professor David Barry Gauld - For services to mathematics
Mrs Dianne Glenn, JP - For services to disabled women and the environment
Mr Kevin James Hickman - For services to aged care and sport
Professor Charles Franklin Wandesforde Higham - For services to archaeology
Emeritus Professor Janet Holmes - For services to linguistics
Mr Derek Roy Johns - For services to electrical safety standards
Professor Helen May - For services to education
Dr Richard John Mayhew - For services to sports medicine
Mr John Mervyn McDonnell - For services to cycling
Dr Andrew Durrad McEwen - For services to forestry
Professor Kevin Craig Pringle - For services to paediatric surgery
Mr Phillip Graeme Shatford - For services to boxing
Mrs Annette Julia Smith - For services to children's literacy
Mrs Waimarama Taumaunu, MBE - For services to netball
Ms Jane Tolerton - For services to historical research
Archbishop William Brown Turei - For services to the Anglican Church
Mr Stephen Patrick Vaughan - For services to the New Zealand Police and the community
Dr David John Walker - For services to the State
Mr John Anthony Waller - For services to business and the community
Professor Norman Williamson - For services to the veterinary profession