IRD and MBIE staff strike in Auckland for higher pay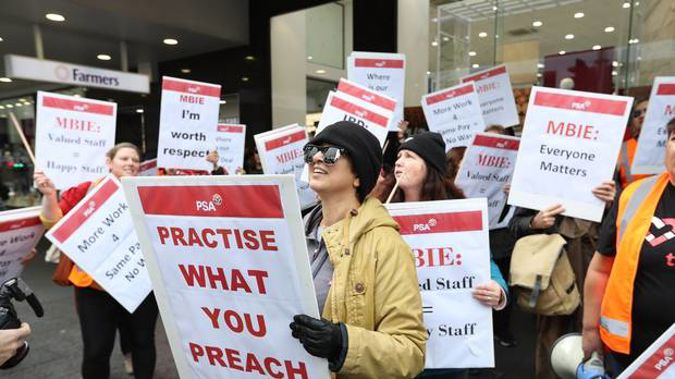 A swarm of Inland Revenue Department and Ministry of Business, Innovation and Employment staff are marching in central Auckland for higher pay.
The protesters started making noise at 1.15pm at the intersection of Queen and Victoria Sts, chanting that "we want fair pay and we want it now".
PSA assistant secretary Basil Prestidge said "We are protesting here trying to get a fair deal with IRD and MBIE".
"Wage rates have been suppressed and held down relative to other agencies. Even people doing the same jobs get different rates of pay.
"They have got a rate for the job which is too low and people aren't even getting paid that rate."
The number protesting at three points of the intersection has swelled to about 120 as more members arrive for the two-hour strike.
They are making a racket, hitting protest signs with sticks and blowing whistles.
Last month PSA claimed that Inland Revenue's IT system could not process the new Best Start tax credit which kicks in next week as part of the Government's Families Package and it would have to be done manually.
PSA national secretary Erin Polaczuk said last month that members took their jobs very seriously and they're trying desperately to keep the system on track while IR presses ahead with its Business Transformation project which will see 1 in 3 staff let go by 2021.
"It starts on 1 July, and members are told they will have to process this manually, drastically increasing their workload," Polaczuk said.