Indian students will leave church and NZ
Author

Section

Publish Date

Friday, 17 February 2017, 4:09p.m.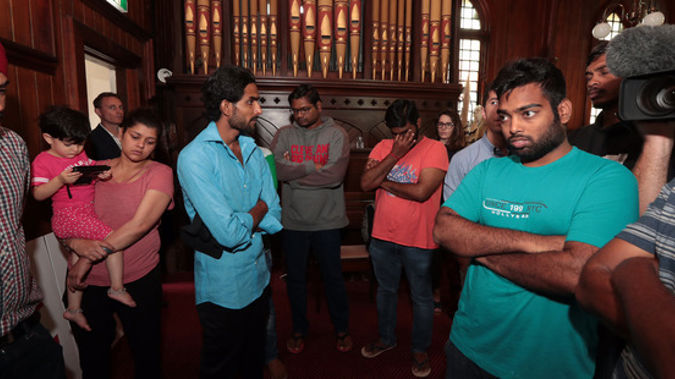 UPDATED 6.37PM Nine Indian students who have taken refuge in an Auckland church for the past 12 days will leave the church tomorrow after talks which may let them reapply for visas from India.
The students have asked supporters to join them at the Unitarian Church in Ponsonby at 2pm "as the students farewell sanctuary and say their goodbyes".
Immigration NZ general manager Stephen Vaughan has confirmed that the agency had agreed not to enforce deportation orders against the students while it considers a request from their lawyer to let them leave the country voluntarily.
Their lawyer Alastair McClymont said the agency had agreed not to enforce the orders before next Wednesday, February 22.
He said he had a commitment that Immigration NZ was willing to discuss a mechanism which may enable the students to reapply for NZ student visas once they returned to India, without suffering the five-year ban on new visa applications that normally applies to people who are deported.
"Our view is that INZ are willing to discuss a mechanism which would enable the students to depart voluntarily," he said.
However Vaughan said: "There was no offer from INZ to the lawyer for the students to depart voluntarily and there is no deal."
"INZ can confirm that the lawyer for a group of students had approached it to ask whether the students could depart voluntarily," Vaughan said.
"INZ is considering that request and has undertaken not to take compliance action while it considers the request.
"INZ's position remains the same that the students must depart New Zealand."
McClymont said the arrangement was "a win" for the students.
"This is exactly what we have been asking for - a fair hearing," he said.
"They just want their cases to be heard fairly. If they have to go back to India in order to have their cases assessed fairly, then they are happy to do so.
"This is an agreement by INZ that they are willing to negotiate with the students about a solution that would enable them to test their eligibility for visas from offshore.
"If they were deported, they would be prevented from ever applying to come back to New Zealand or any other country."
He said the arrangement applied to the nine students who have taken refuge in the Unitarian Church in Ponsonby since Waitangi Day, and two other students in Christchurch.
The agreement was reached too late to apply to another student who was detained at his home address in Blockhouse Bay on Wednesday and was deported to India this afternoon.
All the students have said that they were not aware of fraudulent documents submitted to Immigration NZ by their agents in India.