Solid Energy says no to Pike River Mine re-entry
Author

Section

Publish Date

Thursday, 6 November 2014, 10:04AM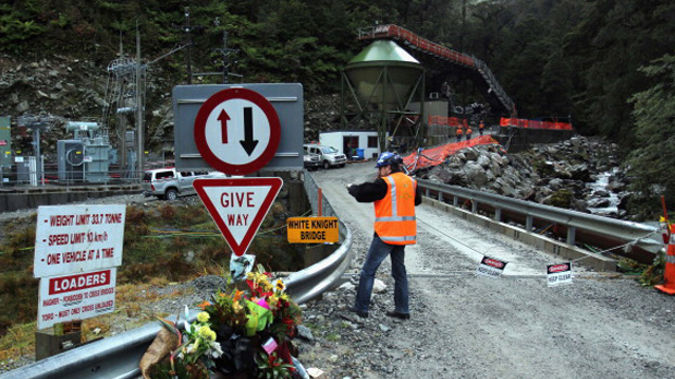 UPDATED 1:19pm: Pike River families are adamant the Government should introduce corporate manslaughter charges in New Zealand.
The family spent time with John Key after Solid Energy's announcement to back out of a re-entry project into the Pike River mine.
This request comes in a list of requirement the families has issued.
Family lawyer Colin Smith says they will push for law changes to be made.
"That the government reconsider the introduction of a corporate manslaughter provision within the criminal legislation.
"All requirements, families consider, will be respectful of their men, where they lie."
Solid Energy says despite its best endeavours it can't safely re-enter Pike River Mine.
It's told the families of the 29 men killed in the explosion that it considers the risks to life remain too high.
Board Chair Pip Dunphy says safety has been their primary focus throughout the past four years
"Despite developments of more than 600 controls to manage foreseeable risk, no option provided the necessary confidence we could avoid loss of life."
Dunphy says the board is making this known now in an effort to provide certainty.
Hague slams government over decision
However, the government is accused of "morally failing" the Pike River families with Solid Energy's decision to abandon the mine re-entry.
Green MP Kevin Hague says it never should have been left to commercial interests to make that decision.
"Their interest is in maximising profitability. There's none in going after those bodies."
He says John Key and his ministers are ultimately responsible for the state-owned company's decision.
"John Key clearly has failed to meet the promise that he made. He promised that he would do everything that he could. He has not."
"It's government that should have been responsible for ensuring that everything was done to recover those peoples' remains and government has failed to complete that duty."
Monk unsure of future
The spokesman for some of the Pike River families is at a crossroads as he takes in the news that Solid Energy won't be re-entering the mine.
The company says the risks involved are too high.
Before the announcement Bernie Monk said the families would challenge a 'no-go' decision, if the call was made.
But now that it has been - he's no longer so sure.
Mr Monk says he wants to bring the men home, but at the same time he has to get on with his life.
Board Chair Pip Dunphy says now the decision is made, they want to look to the future.
"The board is making this known now in an effort to provide certainty. Further steps are a matter for the government."
Meanwhile, the father of one of the Pike River victims says he expects it will be some time before the next steps in the saga are worked out.
Laurie Drew's son Zen was killed in the tragedy.
He says he's accepted the reality of the situation.
Drew says everyone was prepared for it but now a reality check has come in, they'll have to work out the final details from here on.
He says it's going to be pretty tough, especially when it comes to reunions.
Earlier, there were calls of 'shame' as the Prime Minister arrived in Greymouth for a face to face meeting with Pike River families.
The families were called to the meeting by mine owner Solid Energy to discuss the possibility of re-entering the mine, nearly four years since the explosion which killed 29 men.
Ashen-faced family members entered the meeting armed with pictures of their loved ones with yellow ribbons pinned to their clothes.
Bernie Monk brought with him a box of files ready to argue against the expected claims from Solid Energy that a re-entry operation isn't feasible.
A small group of protestors also gathered outside the meeting, playing music and holding signs demanding re-entry to Pike River.
MORE: Tony Kokshoorn talks to Newstalk ZB's Chris Lynch
Solid Energy statement - Risks to Life too high
Solid Energy will not re-enter the Pike River Mine drift because the company considers the risks to life remain too high, Board Chair Pip Dunphy says. 
"We know this decision will be very disappointing to the family members and friends of the men who died in the mine," Ms Dunphy says.  "However any further loss of life in this mine is unacceptable and any possibility of other families having to go through what the Pike families have suffered is not something our Board can support. 
"Solid Energy was tasked with developing a re-entry plan that is technically feasible, financially credible and safe. In doing so, we have undertaken a rigorous risk assessment process supported by input from independent technical advisors.  Safety has been our primary focus throughout. Despite our best endeavours we have been unable to reach a level of confidence that any re-entry plan can adequately protect the lives of those who would undertake the work. 
Our analysis shows that, despite every effort to control or eliminate risks to life, there remain a number of potentially fatal risk factors. These include:
-       Risks associated with deterioration in the conditions inside the mine. For example it is impossible to rule out some degree of significant fire-related damage to parts of the roof and the associated potential for collapse.
-       Risks associated with managing and maintaining gas and ventilation in an environment compromised by difficult terrain, unpredictable weather and unreliable services and infrastructure including electricity supply. 
-       Risks associated with the sheer complexity of implementing 600+ risk control activities, where failure of one or more controls due to human error or events outside of our control could have fatal consequences. 
-       Entrapment, for example as a result of roof fall or vehicle fire.
These are all foreseeable risks, which escalate as the distance from the portal increases because of the distance to safety.  Ultimately, we need to be able to rescue people if they became trapped. That would require us to be able to communicate to determine where along the 2.3km drift the entrapment occurred and be able to sustain life whilst drilling a rescue shaft.
"In recent successful rescues the location of trapped personnel was accurately known. They had to wait while a small diameter hole was bored to enable life to be sustained and then a large diameter bore hole was drilled, through which rescue was achieved.  In this instance, there is no guarantee we would be able to do any of these things.  The terrain alone is too steep and makes it impossible to site a drill rig of the size needed to facilitate recovery," she says. 
Now that Solid Energy has reached its decision about the Drift project the Board has decided to surrender the Pike River Mining Permit."
Ms Dunphy said the next steps are a matter for discussion with the Government.
Questions and Answers
Q         What is the agreement between Solid Energy and the Crown in respect the drift recovery project?
A.        As a condition of Solid Energy acquiring the assets of Pike River Coal in July 2012, the company undertook to develop options for the commercial re-opening of the mine and with each option, to consider whether body recovery could be achieved in a safe, technically feasible and financially credible manner
Q.        What steps has Solid Energy taken in respect of the re-entry to date?
            How much of the funding has been spent and on what?
A.        The physical work steps labelled 1-3 in the schematic showing the conceptual plan are complete.  That is, plugging and appropriately capping the mine's former ventilation shaft, preliminary surface-based work for drift recovery including drilling additional bore holes and undertaking down-hole camera surveys. A good deal of the other surface work needed for steps 4-6 has also been completed, including the nitrogen inert gas generator and supply line and the sourcing of other necessary equipment. 
            To end-October 2014, approximately $5.2 million has been spent which breaks down as follows:  Shaft sealing  - $2.2M, Preparation for drift recovery - $2.45M,  Support services  - $0.5M.
Decision
Q.         What is the principal reason for the Board's decision? 
A.         The key issue for the Board was that there be no risks to life.  As explained, this is an issue of the overall complexity of the re-entry where despite more than 600 controls necessary to manage risk factors, we are still left with potentially fatal risks including the potential for people to become trapped and no certainty of being able to effect a rescue.   
Q.         What is the significance of the second egress issue? Solid Energy has said its legal advice is that a second egress is required in law, but others disagree.  
A.         This decision did not turn on legal advice.  However, the Board has taken note of Recommendation 2 of the Pike River Royal Commission of Inquiry. Every underground miner knows that they are much safer if they have at least two ways out from wherever they are working.  The fact that at Pike we do not have an alternative way out, and that building one if there was an emergency would be close to impossible, compounds the risk. Even if, as has been suggested, there may be circumstances where two exits are not required, it would not change the reality of the situation here. 
Q.         How long has the risk assessment process taken?
A.         Approximately 12 months, which is appropriate given the complexity of the project and the iterative nature of the planning and assessment processes. 
Q.         Why were the technical reports not provided to the families' advisors until last month?
A.         We always intended to make the material available to the families' advisors once it was complete.  The company's risk assessment process was not finished until it had been through the steering committee and those reports were finalised.  Once that was done, we provided the material to the families' group and arranged for their advisors to discuss the various reports with their authors and other members of the project team. 
            In respect of a wider release of the information, Solid Energy believed it was appropriate to wait until the Board had properly considered all the material, made its decision and communicated with the families before making the material publicly available. 
Q:         What re-entry methods have you considered and why were the others rejected?
The options, and variants, considered and assessed are:
-               (Staged re-entry) Using inert nitrogen gas to create a barrier from the methane-rich mine atmosphere and the Mines Rescue contractors working in breathing apparatus, moving in steps of perhaps 100m-300m at a time and building seals.  Once each seal is made the section on the portal side would be ventilated with fresh air.  This option, where activity is undertaken in an irrespirable atmosphere, was seen as less safe than the alternative, which is:
-               Using boreholes to place a remote plug near the top of the drift and then re-ventilating the entire drift.  This method was selected because it would allow underground work to take place in fresh air and would allow use of diesel-powered mobile plant to aid removal of debris and to provide a way of reaching the drift roof to install extra support where this was needed.
-               Materials considered for the remote seal were concrete and the expanding foam product Rocsil.  Concrete was rejected because of the risk of water build-up behind it and its potential to fail and injure or kill people.  As well, it would require a large number of helicopter flights to deliver it and it was anticipated there would be difficulties in placing it to get an adequate seal.
-               Rocsil was preferred because it is a proven product, which would allow water to continue flowing down the drift.
Variants and other controls considered include:
o     Remote controlled vehicles
o    Escape boreholes
o    Various partial re-entries
o    Building an access road up the mountain
o    Multiple boreholes and cameras
Q.        On what grounds was the advice put forward by the families' advisors dismissed?  
A:         We carefully considered the feedback from the families' advisors but found significant concerns in their approach:   
They acknowledged that entrapment could occur but gave no consideration as to how to rescue people if they became entrapped. Nor did they eliminate the risk that someone could be killed by entrapment.
Their approach to mitigate risk was to limit the amount of time that those undertaking the re-entry would be exposed to a risky situation – but time limitation is not a control for risk. It's like attempting to cross a busy road without looking, but mitigating the risk by running instead of walking.  Either way, it is still dangerous.
Fundamentally their advice reflects a reactive approach to risk that is not consistent with our Health and Safety Management System. i.e. that it is satisfactory to identify the risks of re-entry by entering the drift and then dealing with them – and if you can't deal with them, withdraw and abandon the effort.  Our approach is to proactively look at the available evidence and consider on the basis of known recent events what is reasonably possible in terms of risk to life and then consider if there is a way to overcome that.  If we cannot satisfactorily do that, we will not send people into that drift. 
We are required by law to have the risk management process in place – it is not legally appropriate to rely on a reactive approach to risk.
Q.        The families' advisors put forward the view that re-entry is safe – why doesn't Solid Energy agree?
The families advisors supported our risk assessment process.  They also agreed that ground conditions at the Hawera fault (around 2,100m in) are very poor. However their advice was that they believed the risks could be controlled.  Their approach to mitigate risk was to limit the amount of time that those undertaking the re-entry would be exposed to a risky situation – but time limitation is not a control for risk. 
The project's external safety advisor Professor Jim Galvin of the University of NSW has stated that this omission of credible (i.e. foreseeable) events is the most important weakness found in risk analysis.
Our approach of forecasting risk on the basis of known recent events and developing controls on a proactive basis therefore underpins the difference in views on the safety of the re-entry. 
Q:         Why has Solid Energy rejected the suggestion of going in to around 1,700 metres?
A:         The only reason to go to 1700 metres is to ascertain whether it is possible to go further into the mine.  Implicit in this view is that it is relatively easy to go in 1700 metres – that is not the case. Those doing the work would still be exposed to the risks we have described.
We then have to ask – to what end?  Our objective in re-entering the drift was to recover any human remains.  But based on the evidence that has already been collected there is no liklihood of this occurring in the stretch of the drift to the 1,700metre mark. During the recovery operation, the Australian remote surveillance robot provided a thorough photographic record of drift conditions to the 1600 metre point. The electrician drove in and out of the drift to about 1600m. We know also that Daniel Rockhouse walked out from an area approximately 1800 metres.
We were not prepared to put anyone at risk in this situation.
Surrender of permit
Q:        Why has the Board decided to give up the mining permit?
        Solid Energy has reviewed all its permit holdings in the past year or so to ensure its portfolio is appropriate for current and expected market demand.  The Pike River mining permit was included in that review and now that we have made a decision about the drift project, we believe the families should know what our intentions are regarding the wider asset.
            If that coal permit was available today, it is very unlikely the company would be interested in acquiring it.  In the current and expected market, no mining solution could be developed which would be profitable.  This is extremely challenging terrain and any mining option would likely face huge challenges in getting access to the coal and appropriately managing run-off and other environmental issues. 
Q.         What will happen to the SE staff currently employed at Pike River?
A          We will be discussing that directly with our employees. It is important that we speak to them first.