Anger after lives put at risk by rocks thrown onto motorway
Author

Section

Publish Date

Friday, 29 September 2017, 11:26AM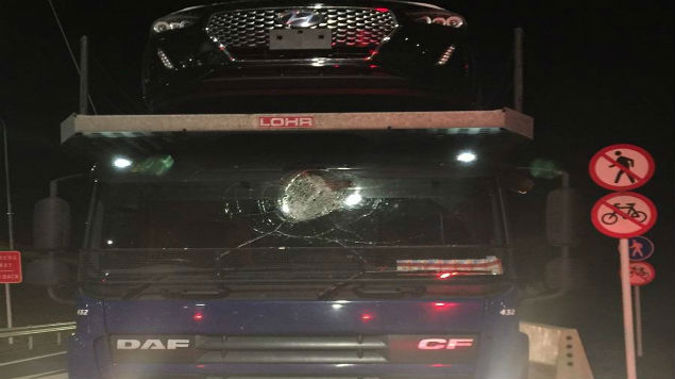 Anger from a trucking company after one of its drivers had a rock thrown onto his windscreen in Wellington.
The rock was thrown from an overpass onto the Kapiti Expressway and could have killed the driver.
Police said five trucks and a car were damaged after the items were thrown from the Ngarara Road overpass around 2.30am yesterday.
The truck was carrying more than a million dollars worth of cars when it was hit by the rock which smashed the front windscreen.
Wellington Car Distribution Group dispatcher Matekino Shelford said the driver is lucky to be alive.
"In this case because it hit the centre of the window the glass that shattered on the inside missed the driver, if it had of hit in front of the driver the driver would have more than likely crashed."
Shelford said he wants the person responsible to know it was a close call.
"I know what would like to do with them, but I think in reality it would be nice for them tom be educated more than anything else and shown the consequences of their actions."
Mr Shelford said the driver is a bit shaken up but returned to work last night.
Police say this type of behaviour is extremely dangerous and could easily have caused serious injury or even death.
A man was killed in 2005, when an 8kg lump of concrete was thrown through his front windscreen on an Auckland motorway.
Police want to hear from anyone who has information about the person or persons responsible for the Kapiti incidents.