Closures from Canterbury to Wellington after quake
Author

Section

Publish Date

Monday, 14 November 2016, 7:35a.m.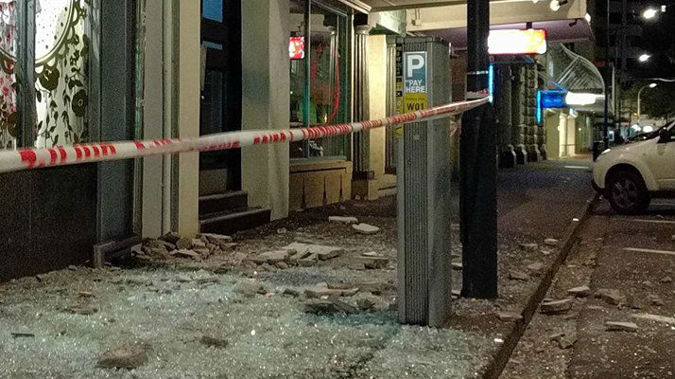 UPDATED 10.58am: Schools and early childhood centres from North Canterbury right up to Wellington are being urged to close today.
The Ministry of Education says buildings need to be checked before they're opened again.
NZQA has now postponed all New Zealand Scholarship exams.
NCEA exams are continuing however, at schools which are not affected by the earthquake.
If exams do not take place, students will receive a grade based on their internal assessment performance.
Some of the worst quake damage in Wellington appears to have occurred on the waterfront. A large number of cracks have emerged in the tar-sealed roads near the BNZ building on Waterloo Quay. Some of the cracks are up to 10 metres long, and in one spot, the road has warped and pushed up by around half a metre.
The Interislander ferry terminal also sustained some damage. The bridge which links an overpass to the ferry has bent sideways. All ferry sailings have been cancelled.
All Ministry of Justice sites in Wellington including the national office and courthouses in Wellington, Lower Hutt, Porirua and Blenheim are closed this morning while engineers check  the safety of buildings. 
NZ post said in a release there are currently no courier deliveries to businesses in the Wellington central business district, the airport, Island Bay and Petone.
Mail deliveries are not being made in Petone, Kilbirnie and central Wellington.
Box Lobbies are closed in the Wellington central business district, Lower Hutt and Te Puni.
CIVIL DEFENCE INFORMATION AS OF 7.35am:
Wellington
Wellington Civil Defence said a small tsunami is possible for eastern parts of the region. Tidal gauges in Wellington Harbour indicate that the largest waves have passed within the harbour, so we have turned off the sirens.
The Fire Service says TSB Arena and BNZ Centre on Wellington's waterfront have sustained most damage.
Civil Defence are strongly advising people not to come into the CBD today to give time for cleanup and owners to check buildings.
Meanwhile, residents of low-lying areas or coastal areas in Wellington are urged to evacuate and stay inland or on high ground due to the continuing threat of a tsunami following this morning's earthquakes.
The advice from the Ministry of Civil Defence is that people living in the tsunami 'red zone' - very close to sea level or adjacent to beaches and the coast - should evacuate inland or to higher ground until further notice.
Affected spots include seaside areas of Wellington's south coast, Seatoun and Eastbourne.
The Wellington City Council Emergency Operations Centre and the Wellington Region ECC has been activated following the earthquake just after midnight.
Other main points so far:
· A number of multi-story buildings have received damage - both internally and structurally
· Glass from buildings has fallen into a number of central-city streets
· Hundreds of CBD residents have self-evacuated and are in safe areas of the city
· Power is off in isolated areas of the Wellington region.
Wellington Region CDEM Controller Bruce Pepperell says inspections are under way of bridges and tunnels around the region - and, given early reports of damage to some Wellington CBD buildings - including water damage - it is likely that many CBD workers will be advised to stay home tomorrow.
Civil Defence advises to steer clear of all beaches throughout Lower Hutt. The red zone in Lower Hutt is all areas on the beaches throughout the area. Stay clear of beaches and tidal estuaries.
Canterbury
The small North Canterbury township of Waiau is feared to be worst hit following the 7.5 magnitude earthquake in the early hours of this morning.
Power is out and phone lines are down but the potted information coming into Cheviot police and fire is that it has received widespread damage.
Entry to the town has been closed after the violent shaking ripped open the roads.
The Waiau river bridge has been badly damaged, with reports it has sunk as much as 400mm.
Residents have had to walk across one of the township's bridge to reach help.
Christchurch Civil Defence and Emergency Management has activated its Emergency Operations Centre and is currently responding to the earthquake.
Civil Defence Controller John Mackie says people in low-lying coastal areas within one kilometre of the Canterbury coast are instructed to evacuate inland or head to higher ground.
Tsunami sirens have been sounding for some time and there operation may be intermittent but the precautionary evacuation order remains in place.
"We are expecting wave heights of between three and five metres from Blenheim to Banks Peninsula. Waves may arrive over the next few hours."
An evacuation centre is being set up at Linwood College. It is expected to be operational from about 4am.
Mr Mackie encouraged people to try to find friends and family to stay with if they can.
"Akaroa School Hall is also open for people who need somewhere to go in the Peninsula."
Other centres will be opened in the city as required.
There are two rest homes in areas affected by the evacuation order. One has been evacuated and the other is progressing with moving residents out.
Civil Defence is also in contact with the port and has advised that large moored vessels are safer out at sea.
Police have a road blocks to prevent people going back to the coastal areas that may be affected by a tsunami. Residents will be advised when it is safe to return.