Piha residents angry after leaking oil barrels dumped in car park
Author

Section

Publish Date

Wednesday, 3 January 2018, 6:33p.m.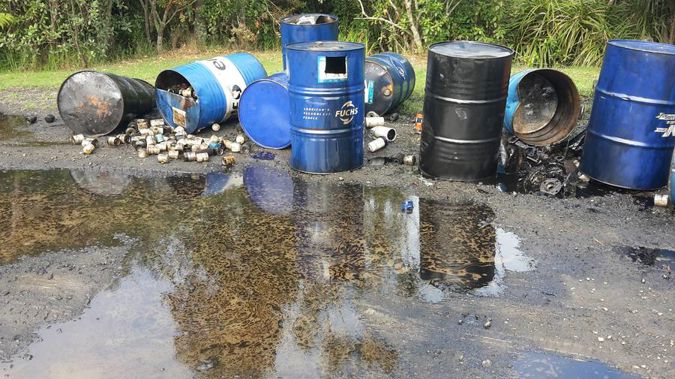 Piha residents found an unpleasant surprise this morning after 28 barrels - some filled with used oil - had been dumped at two car parks on Piha Rd.
Some of the barrels had tipped over and spilt the oil on the ground.
A police spokeswoman said that police had contained the spill but it could have been dangerous to locals.
"The spill has now been contained but could have run into the upper Nihotupu Reservoir which had the potential to contaminate the water supply," she said.
Police are taking forensic evidence and speaking to witnesses to track down those responsible for the offload.
It's been contained but could have contaminated a water source.
Piha Domain Camping Ground manager Fiona Anderson said it's the worst local case of pollution she's seen.
She said it's clearly someone involved with a commercial mechanic or garage, and has her own idea of punishment if she was the judge.
"Criminal prosecution, no doubt about it. Prison would be too good. 1000 hours community service to be served in the Waitakere Ranges putting some of the destruction right."
She said locals wouldn't hold back if they found out who's responsible.
"Locals are very angry. if they were caught doing that, I wouldn't want to be in their shoes, that's for sure."
Police have labelled the behaviour as extremely concerning and they are keen to hear from anyone who may have witnessed any suspicious activity.
"Anyone with information can contact Constable Kelly Johnson on 021 192 3033 or you can call Crimestoppers anonymously on 0800 555 111."
Auckland Council's regulatory compliance team manager Adrian Wilson said the areas have been taped off by police and they were working to contain the spill.

"We are working to contain any spillage that may get into nearby waterways.

"We will also undertake an investigation to try to determine the identities of the people who dumped the drums."
- with content from NZ Herald