ECan protesters arrested yesterday to continue fighting on
Author

Publish Date

Fri, 21 Dec 2018, 5:34AM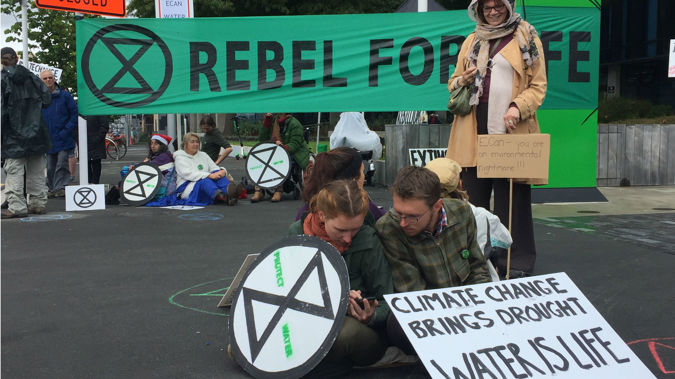 ECan protesters arrested yesterday to continue fighting on
Author

Publish Date

Fri, 21 Dec 2018, 5:34AM
Arrests haven't put a damper on the spirits, or plans of a Christchurch environmental action group.
Five "Extinction Rebellion" members were dragged into a police van yesterday, after Environment Canterbury called police in response to protestors turning their office water supply off and chaining themselves to it.
The group is calling for ECAN to 'start caring', and claim the regional council has turned rivers toxic, cut down trees, killed soil and emitted dangerous amounts of carbon into the atmosphere in allowing industrial farm expansion.
Protestor Nick Hanafin says they won't stop til their demands are met.
He says yesterday's demonstrations were a success.
"We were aiming to show the managers of ECan and councillors and commissioners their decisions of late have not been in line with what the people of Canterbury want from their water supply."
Hanafin says they were worried ECAN's staff would think they were the target.
"But it was amazing to have messages of support from staff today as they came past. There were lots of thumbs up, and people saying thank you for what you're doing."
Hanafin believes protestors were able to be a voice for staff unable to be free with the press.