Christchurch locals shocked after bus and car crash
Author

Section

Publish Date

Wednesday, 16 January 2019, 5:26a.m.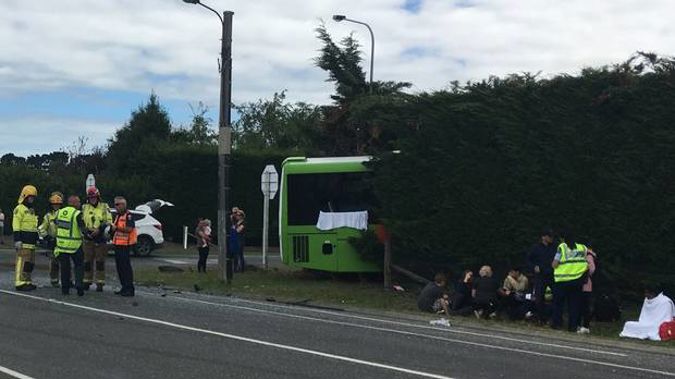 Christchurch locals are shocked after witnessing a serious bus accident in Prebbleton yesterday afternoon.
A car failed to give way at an intersection, with a commercial bus swerving into a hedge to avoid it.
The car then drove into the door of a nearby garage.
Twelve passengers were taken to Christchurch Hospital, with one person seriously injured.
Ambulance territory manager Craig Downing said it's lucky it's still school holidays and no children were involved.
Neighbours said they've been lobbying the Selwyn District Council for greater safety measures, after about a crash a month.
Resident Claire Thomason said they've put up bigger stop signs, but it doesn't make any difference.
She said she wants to see traffic islands put in the middle of the road.
"High hedges on either side. The positioning of the signs and the fact that the road is so wide, they get tunnel vision and go straight through. There's no braking until its too late because they don't see the stop sign."
"People do not see the stop signs. Every single accident that we have attended is because people have gone through the stop sign."
She said it's worrying.
"There's the cycleway right across the road, there's lots of families walking up and down there. Are pedestrians going to get hit?"
Thomason and other neighbours intend to continue lobbying the Selwyn District Council for action on the intersection.
However, the council's deputy mayor is laying some of the onus for numerous accidents on bad drivers.
Malcolm Lyall said it's disturbing that people don't stop or give way when they should.
"We can put in signs, we can do all sorts, but it is down to the individual driving the vehicle to obey the road rules. And unfortunately many of these accidents are down to poor driving."
Lyall said he's asking staff to re-asses previous decisions for bigger 'stop' signs only.